That Peter Stuyvesant sure got around.
The famously bitchy Director General of the New Amsterdam colony has his fingerprints all over lower Manhattan in the vicinity of his old farm.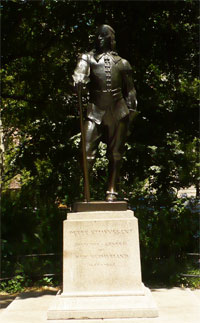 Very close to
Stuyvesant Cove
, Stuyvesant Town, oddball Stuyvesant Street (it runs due East-West in defiance of the rest of the Manhattan street grid), the original location of Stuyvesant High School, and the remains of old Peter himself, you can set a spell in
Stuyvesant Square
.
This double rectangle of green, sandwiched between the Beth Israel medical complex and the grand old St. George's Episcopal Church, is a respectable old park, a little dingy around a couple of the edges but very verdant, with plenty of benches, flowers in season, water, trees, lots of bushes, and in general a generous amount of good-natured parkitude.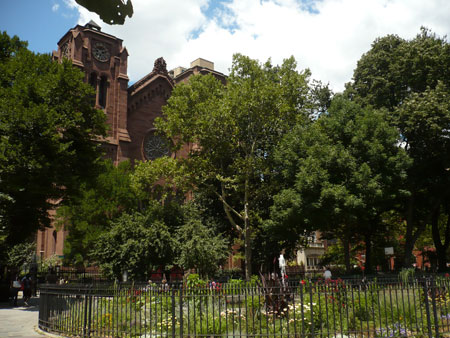 J. P. Morgan worshipped at St. George's, a magnificent Romanesque Revival church that predates the Civil War. Originally it had Gothic stone spires, which you can see in a drawing over at
New York Architecture
.
As for the hospital, we can let these folks represent: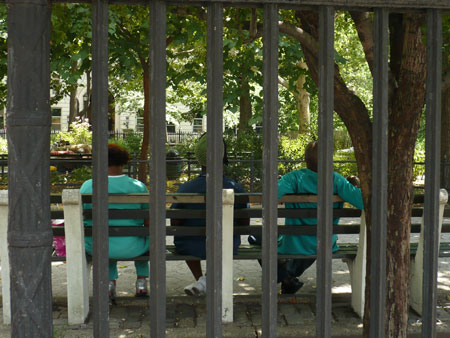 There's water shooting up and flowers shooting up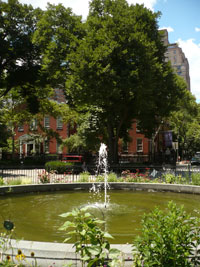 but as far as I've seen on my numerous visits, no junkies shooting up. (Junkies don't shoot up any more, do they? And they're not called "junkies" either. Am I still living in the 70's? Yes, I suppose, in some ways. You dig?)
Stuyvesant Square Park is split down the middle by Second Avenue, but even so it's a nice size, a legacy of Peter's descendant, Peter Gerard Stuyvesant, who bestowed four acres of the old farm on the city for the express purpose of creating a public park.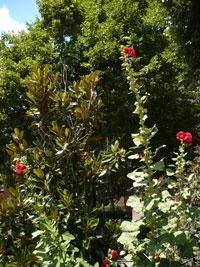 The statue of the legendary Director General (photo at the top of this article) is by sculptor Gertrude Vanderbilt Whitney (yes, of
those
Vanderbilts).
I'm more partial to the likeness by the renowned sculptor Ivan Meštrović of the composer Antonín Dvořák, who lived nearby on East 17th Street.
But sculptures do not make a park. The nicest parts of Stuyvesant Square Park provide peaceful spots to, uh…lose yourself in a tiny screen held on your lap—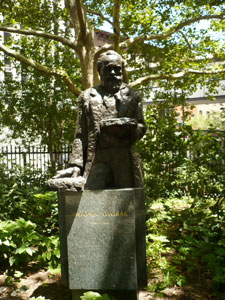 while, however, breathing some extra oxygen from all the plants.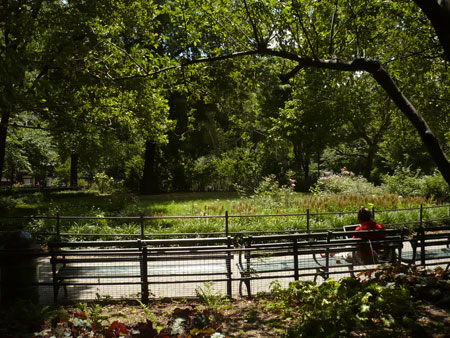 This fly is in fly heaven: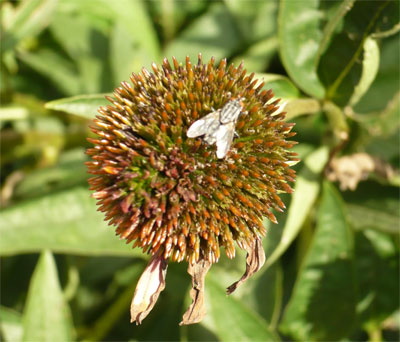 So we've got Stuyvesant for history and Dvořák for music. Finally, for literature, I give you novelist Gary Shteyngart, who in
this video
is shown writing away in Stuyvesant Square. (It's 1:49 in.) Never let it be said we're not fully cultured here at the Park Odyssey blog.