I'd planned to make my "official" visit to
Sara D. Roosevelt Park
in the summer, when its athletic fields would be in use and its garden green. But as it turns out there's life in this long, Lower East Side strip-park even amid the snows of January.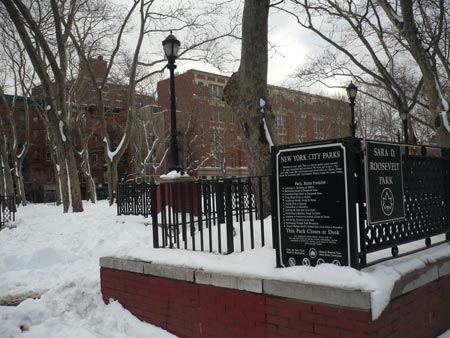 Somehow paths get dug and a bench gets cleared, allowing this woman to sit and chat on her cell phone, winter be damned.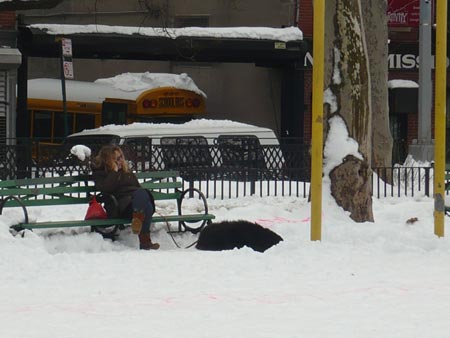 Could that be Sara D. Roosevelt herself?
Back from the grave?
Signs point to no, but we shouldn't rule anything out. Named for the philanthropist mother of President Franklin Roosevelt, Sara D. Roosevelt Park (D is for Delano) runs down the Lower East Side for half a mile or so in the narrow space between Chrystie and Forsyth Streets, from Houston all way south to Canal. In 1934 when it was dedicated, the President's mother was still alive. Cannons were fired and, according to the
Parks Department website
, the Parks Department Orchestra played. There is no other mention of this orchestra anywhere else in the online universe (I even Binged it!), so if anyone has information on this mysteriously vanished outfit, please share.
But here's why I'm posting this in the winter: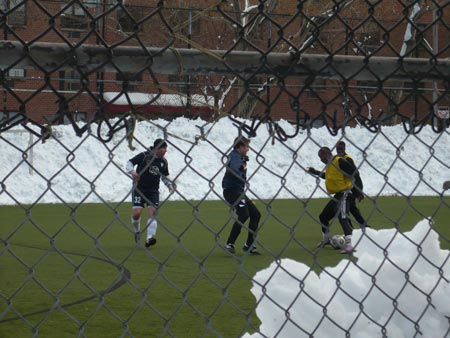 That's right, a soccer field is available. After 19 inches of snow fell on top of many more inches that had never melted, somebody got out a big machine and shoved all the snow clear of this field so these guys could play.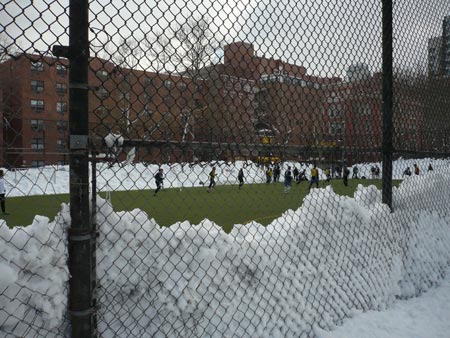 Nearby, the
M'Finda Kalunga Garden
awaits the Great Snowmelt and the return of its dozens of gardeners. The name honors a nearby African-American burial ground that dated back to 1794. The cemetery was closed in the 1800s when the need for land for development became more important than the memory of "mere" black people, and though most of the remains were moved, they missed some; workers found remains when they were digging the foundation of the
New Museum
on the Bowery just a few years ago.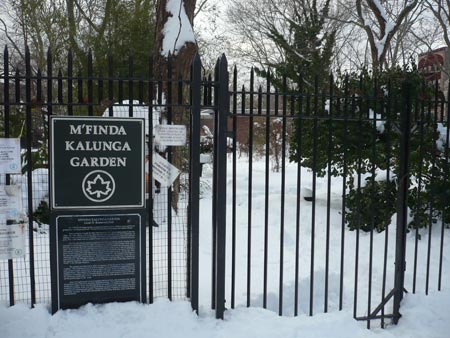 The name, by the way, means "Garden at the Edge of the Other Side of the World" in the Kikongo language. Kudos to the poetic soul who thought of such a name. By the "other side of the world," did he or she mean the Great Beyond? The Land of the Dead? Is this garden really a portal between universes?
Could that be how Sara Roosevelt came forward in time, to sit on a 21st-century bench in the park named after her, phoning instructions to her stockbroker?