Staten Island: The Next Hot Borough?
The topic of real estate guarantees every New York City social event against uncomfortable lapses into silence. Among the non-rich people I usually hang with, the talk turns to where within the five boroughs it might still be possible for regular people to afford to live. Brooklyn having ascended out of reach, Staten Island has become, suddenly, one of the places that sound interesting to struggling "creative class" types.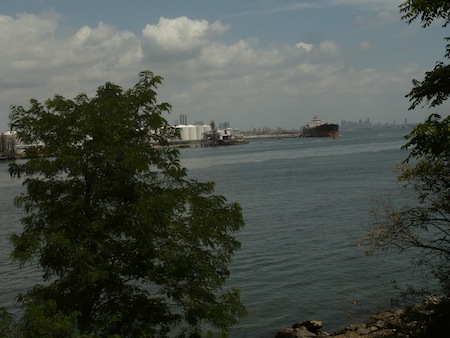 View from Richmond Terrace, Staten Island across the Kill Van Kull to Bayonne, NJ
It isn't just my friends. The City Council is talking about increasing the frequency of Staten Island Ferry service. Council Speaker and mayoral front-runner Christine Quinn is proposing a whole new ferry line to West 39th Street in Manhattan, and her campaign visits to Staten Island are heavily covered. (Quinn knows, of course, that Mayor Bloomberg wouldn't have been elected in the first place without the votes of the relatively white and conservative Staten Island population.) Residents themselves are becoming more vocal in urging improvements to Staten Island Rapid Transit. And so on.
It's a big island and many parts are not easy to reach by public transportation from the ferry. Snug Harbor Cultural Center and Botanical Gardens, a former home for retired sailors, is, fortunately, a quick bus ride from the terminal, and a visit to review a production by the Harbor Lights Theater Company (also suddenly newsworthy) was the perfect excuse to check out the park as well. Here's the Music Hall, a former vaudeville house, a couple of hours before showtime.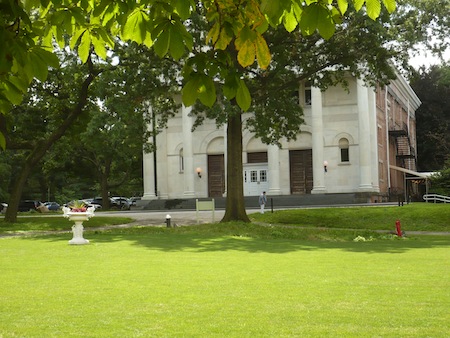 The park has numerous other notable structures, too.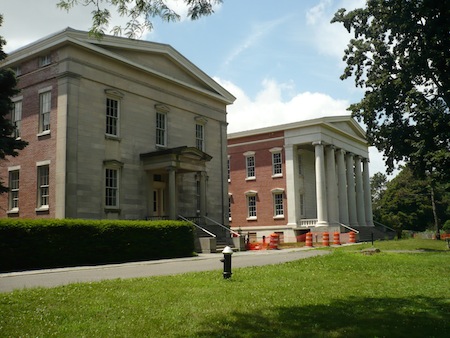 Unlike the show, the Neptune Fountain played (sprayed) for very small audiences on the extremely hot day of our visit.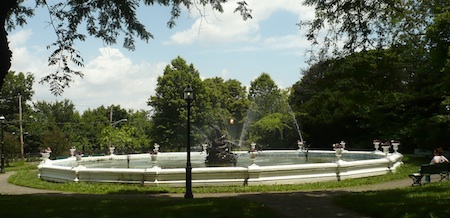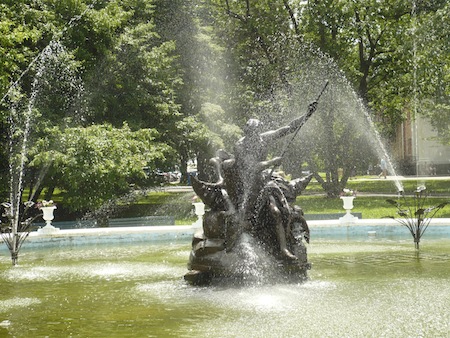 Snug Harbor houses botanical gardens that were in various stages of gorgeous hot-weather bloom.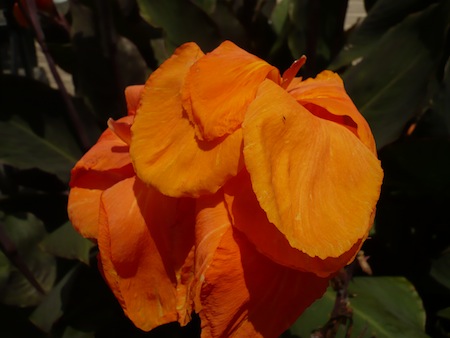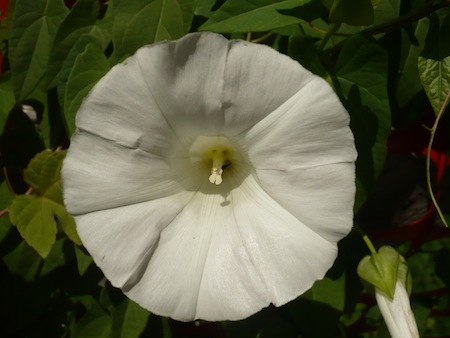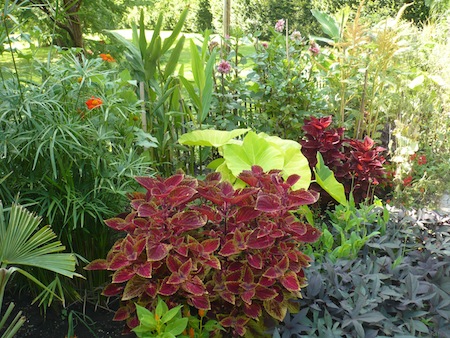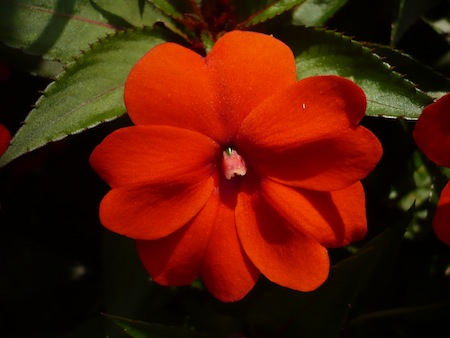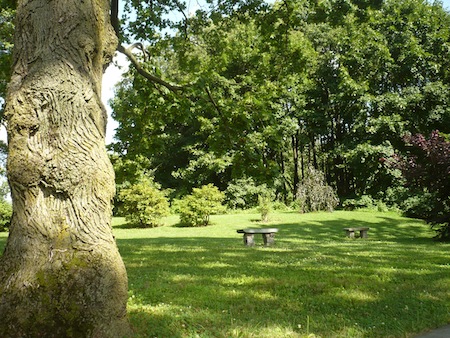 A walk through the Allée leads to more gardens – but to a lot more as well, including the Carlo Grillo Glass House, grassy vistas, and the Connie Gretz Secret Garden with its hedge maze.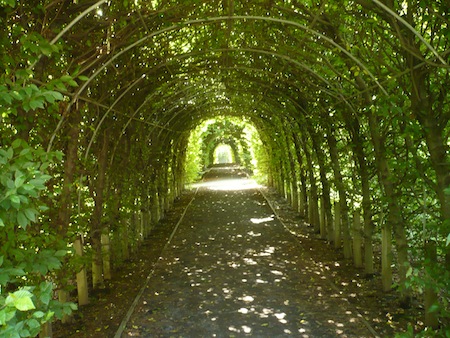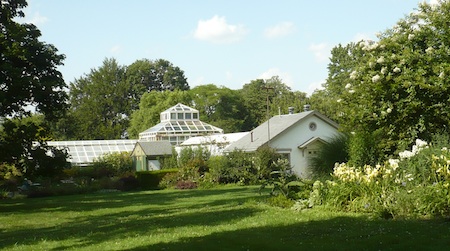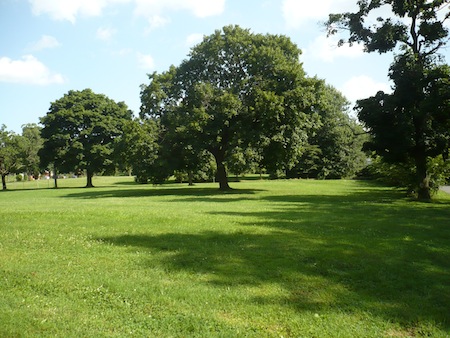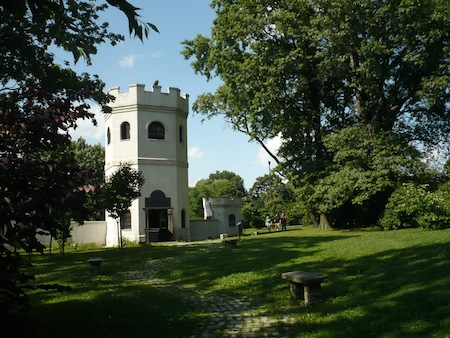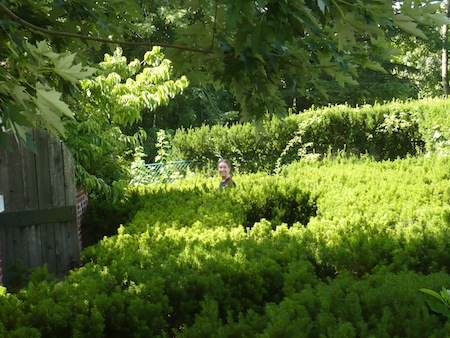 For me, the wetlands were Snug Harbor's biggest and happiest surprise. Nothing about the vista from the Richmond Terrace entrance – the impressive row of large museum-type buildings – suggests that this park pockets a soggy, quietly humming expanse of grassy waters. Nor does the crisply manicured terrain in the center, with its paved walkways, imply wetlands nearby.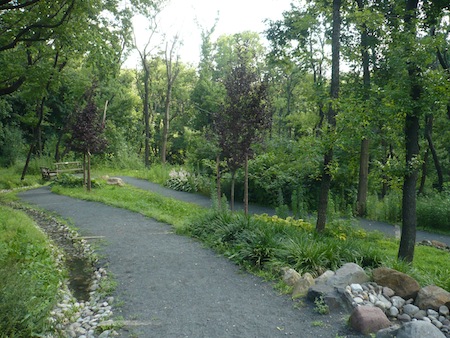 But there they are!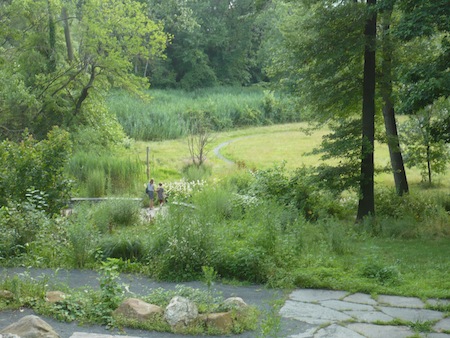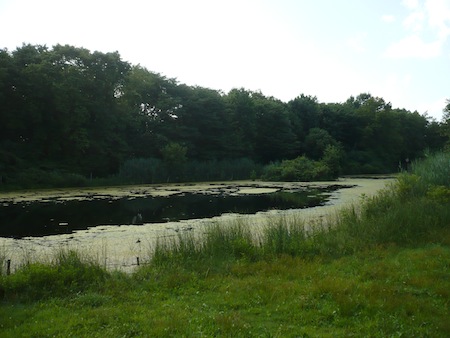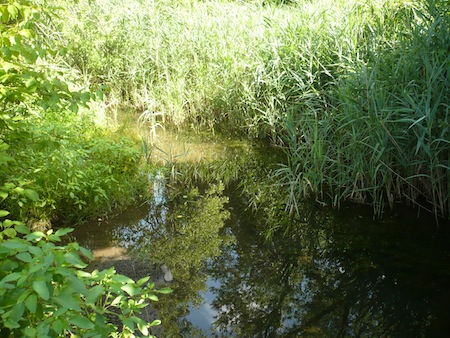 A look back up the gentle hill provides a glimpse into the Chinese Scholar's Garden (which wasn't open that day) and what surely counts as one of New York City's most beautiful willow trees.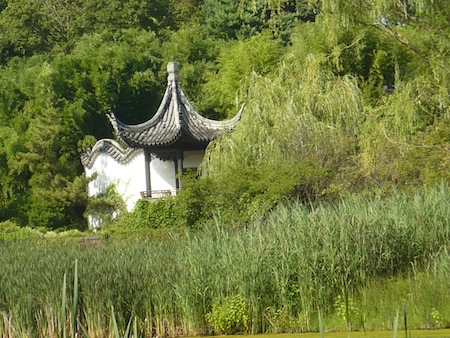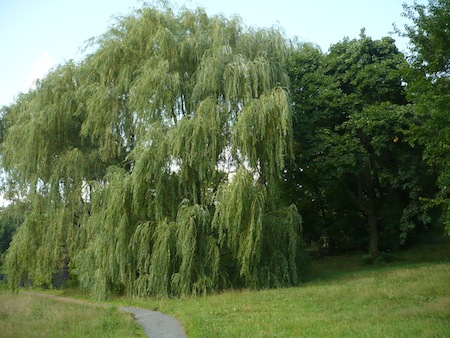 Great green masses grow everywhere here at the wild back end of Snug Harbor. You may be only a couple of hundred feet from a street with houses, but in most of this expanse you'd never know.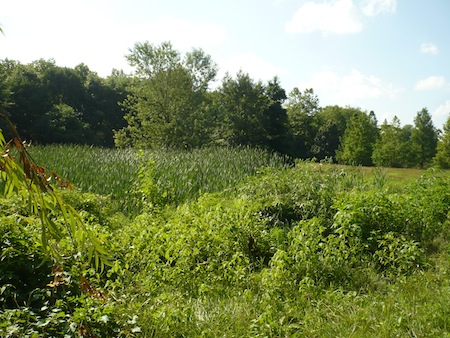 Here's one creature who seems to like this place as much as I do.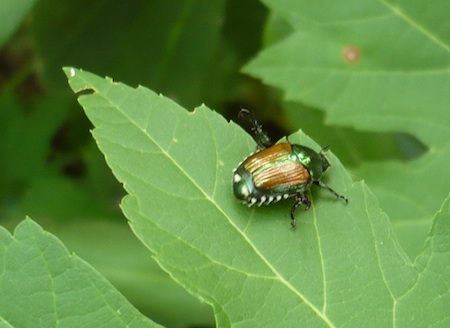 Finally defeated by the pounding sunshine, we headed out, but not before passing Cottage Row, which housed members of the professional staff back when this was a retirement spot for old sailors (the full name of the place is "Sailor's Snug Harbor," after all) and then provided space for artists-in-residence.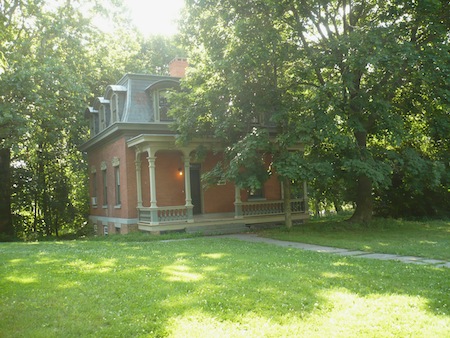 Altogether, Snug Harbor has a somewhat confused character. Gorgeous gardens and grounds contrast with buildings that look somewhat faded and even creaky, and with ruins like this old compass rose on the ground at the entrance.
And judging solely from the day of our visit on a hot but beautiful weekend, the place is severely underused. But as I said at the top, Staten Island may be getting hotter in culture and real estate terms. Those who live there now and in the future have a superb outdoor resource here. And I haven't covered all the gardens and attractions at Snug Harbor by any means.
While you're there, check out this bit of nearby history just up Richmond Terrace from the entrance.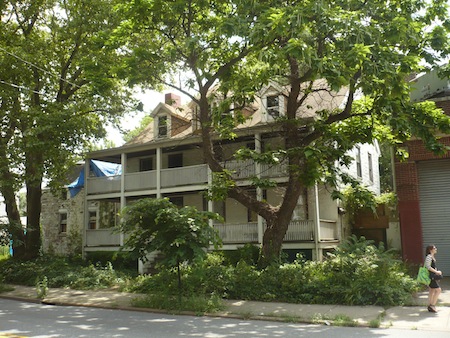 The Neville House was built around 1770 by retired naval officer John Neville, which fits the theme of Snug Harbor perfectly. So does its 19th century life as the Old Stone Jug tavern. A judge also lived there at one time. One of the few pre-Revolutionary houses still standing in New York City, it retains many original details and is a New York City landmark and, according to Wikipedia, on the National Register of Historic Places, though there's no plaque indicating the latter, so don't take my word for it.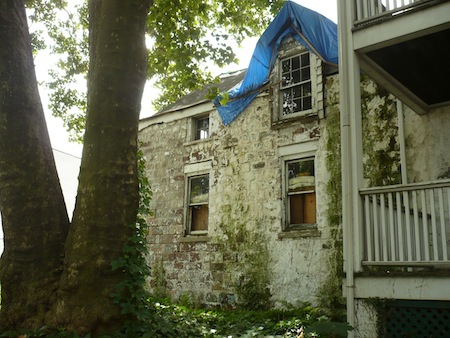 The house isn't done with us yet. In 2012 a new owner fell through the floor into a well.