I'm always glad to learn a new four-letter word. A gore, it turns out, is a triangular patch of land.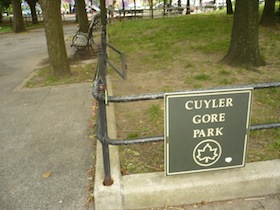 Parks all over New York City could be called gores, including quite a few "Squares." But only a few actually bear the "gore" designation. One is Cuyler Gore, or Cuyler Gore Park, where I stopped in after my excursion to the nearby and much more famous Fort Greene Park.
Nestled in the culturally humming and architecturally beautiful Fort Greene neighborhood, right near the Paul Robeson Theater – a synagogue turned church turned performance space that I mean to visit one day – Cuyler Gore feels a bit like a playful riff on the usual idea of a neighborhood park. Lots of parks have chess tables, but Cuyler has a chess floor.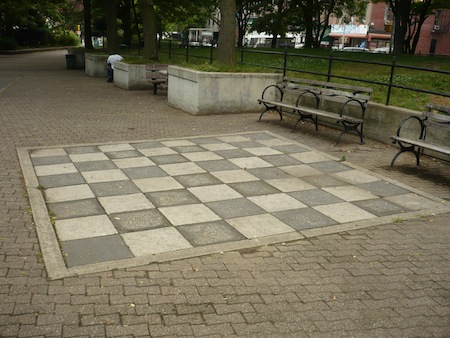 Despite the neighborhood's fairly upscale nature, an internet search for "Cuyler Gore" turns up news items detailing shootings, robberies, and rats. But I was there on a day too hot for criminals and vermin. Only a few people were using the park. No one was playing in the sun on the expanse of pavement in the next photo. The meaning of the origami-like shapes escapes me. Maybe it's a generational thing? The last reconstruction project here was back in 1989. Are these glyphs actually characters from a primitive video game? Does anyone know?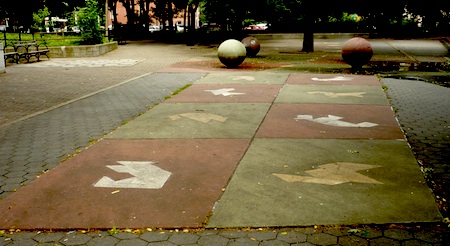 The following intriguing notation wasn't intriguing enough for me to obey, especially given the hot weather, but I did enjoy the orthography. Hey, they're artists, not spellers.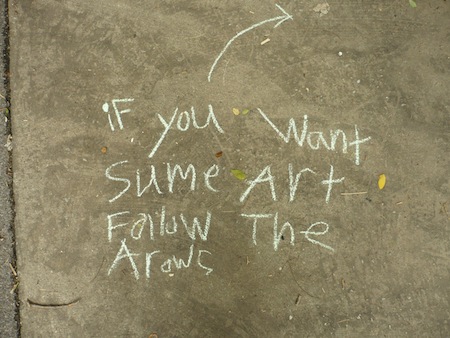 "This small triangular park is free of monuments," a Time Out New York "Kids" listing reported. True enough. This carefully placed rock has no notation whatsoever. (The little sign just says "DEP," for the NYC Department of Environmental Protection.) Unless it's an altar to the pagan god Anonymous.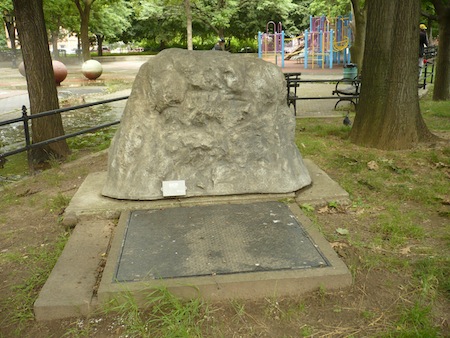 Cuyler Gore does have a modest row of handsome trees (oaks?).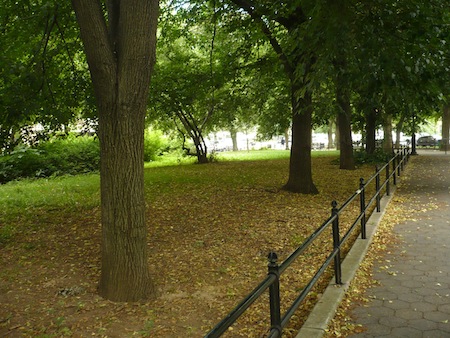 And it has one other thing going for it: it's easy to get to.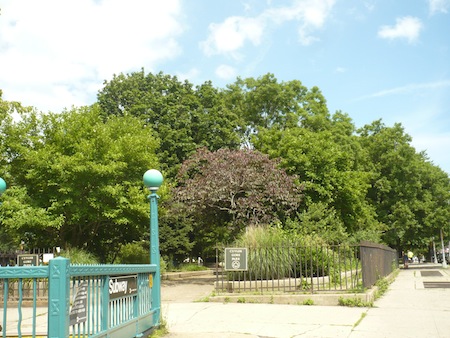 Now that I know what a gore is, who's Cuyler? Answer: a Presbyterian minister who died in 1909. This old park was named for him in 1901, when he was still alive. Clearly Dr. Theodore Ledyard Cuyler was a very well-respected man in town, but pretty much forgotten, I guess, today, except for his park. So it goes.