There are well-known, well-traveled parks; there are unfrequented gems, and unexpected green spaces hidden away; and then there are mysteries like Fairview Park in Staten Island. I spotted it on Google Maps only because it's near Killmeyer's Old Bavaria Inn, where we went for a late lunch after our recent visit to Conference House Park. Unmarked and generically named, it beckoned from the iPhone screen like one of Star Trek's strange new worlds.
We approached via Englewood Avenue, an obscure lane that juts east off Arthur Kill Road, passes a small batch of houses, and peters out at the edge of a grassy field which, judging from the lawn furniture, locals use as a backyard.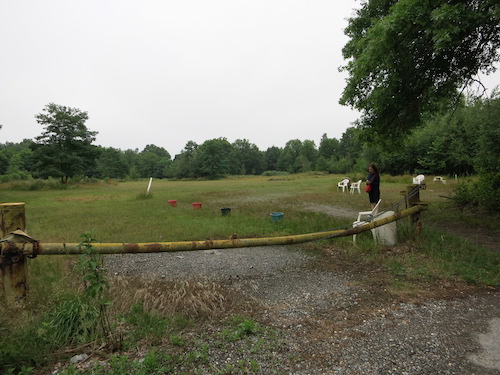 Fairview Park is an as-yet undeveloped "nature area" of some 42 acres in the Charleston neighborhood, near Staten Island's western edge. The Parks Department website has a page for it. The page says nothing. And nothing is pretty much what you get.
Facing away from the rustic barrier, all you'll see is a nondescript, grassy woods road.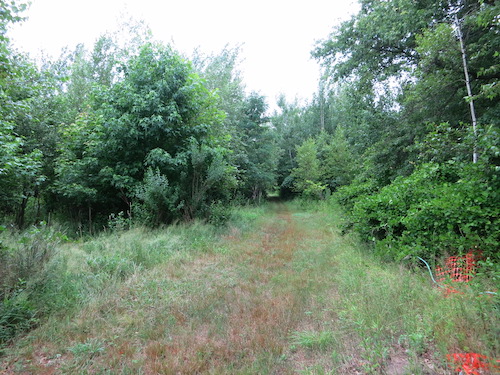 The day's intermittent light rain had turned spiderwebs into dizzying abstractions.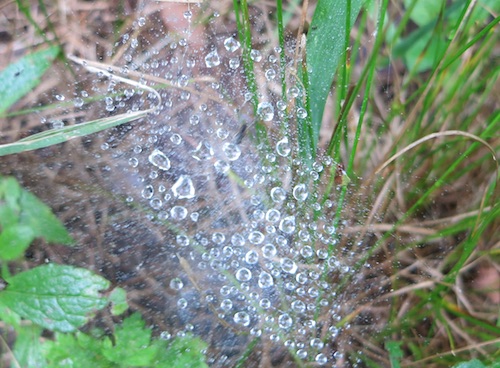 We followed the woods road for a short distance. It did indeed seem to lead precisely nowhere.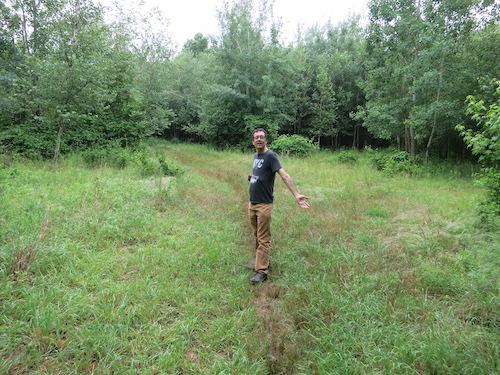 Sounds of human activity in the fuzzy distance spooked us, and we elected not to follow a rough path that diverged from the woods road – which seemed to be coming to an end anyway.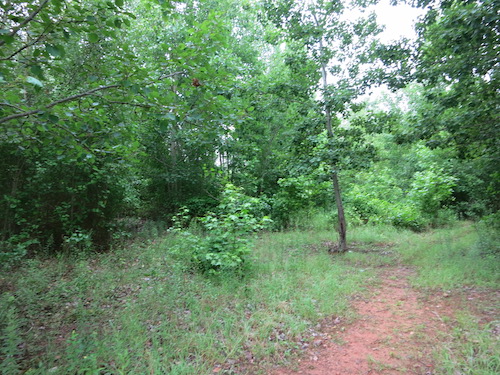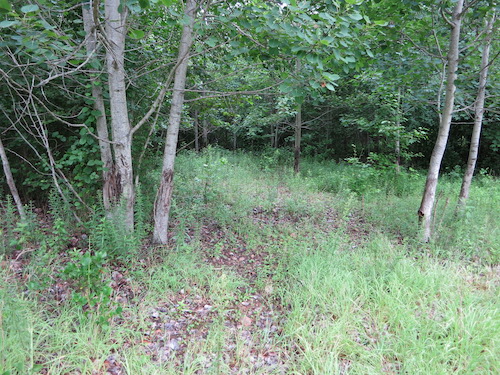 Since at least early in the Bloomberg era, Fairview Park has been slated for recreational development. This 2013 editorial in the Staten Island Advance refers to it as "the future site of Fairview Park." (Until you get a sign with your name on it, you're not really a park.) But just last month, SILive reported that money had been allocated to get things started. Fairview Park is to include "a new library [what's a park without a library?] and several athletic areas, including bocce courts, multi-use trails, a multi-purpose field, natural trails, tennis courts, pickleball courts, horse shoe courts and a baseball field."
Pickleball? Look it up. I did. When the construction is done – purportedly by 2020 – I'll meet you there for some pickleball.
All photos © Jon Sobel, Critical Lens Media