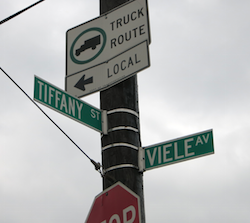 Drawn to Hunts Point in the Bronx by the recently identified slave burial ground at Joseph Rodman Drake Park, we stayed in the neighborhood for a look at the waterfront oasis of Barretto Point Park at the northern end of the East River.
Before we even entered the park, the city's history peered out at us from a pair of plain street signs at the corner of Viele Avenue and Tiffany Street. The former is named for Egbert Ludovicus Viele of Viele Map fame, while the latter memorializes H.D. Tiffany of the Tiffany & Co. family. In the 18th century Tiffany inherited the land that became Hunts Point from his aunt and uncle, Charlotte Leggett and William H. Fox. (Leggetts are prominent in the landowners' cemetery in Drake Park.)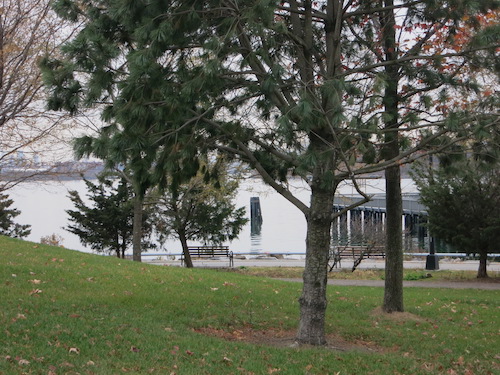 Built where once a sand and gravel operation and an asphalt plant stood, the park takes its name from Barretto Point just to the south, itself named for Francis J. Barretto, a 19th-century merchant and Westchester County Assemblyman who owned an estate in the area with his wife, Julia Coster Barretto (Coster Street, of course – named for her – is just two blocks away). Until 1895, Westchester County extended west to the Bronx River, just a mile or so to the east of Barretto Point Park.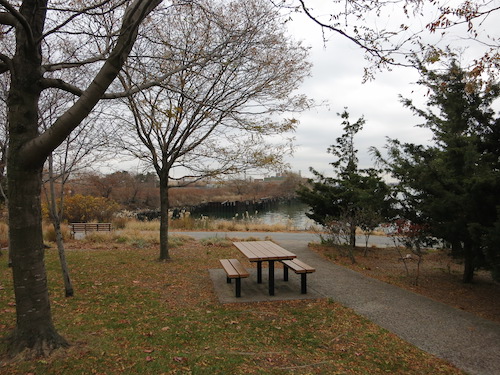 As ForgottenNY noted back in 2009, the park occupies "5 acres of East River waterfront…its presence is heartening in that even in NYC's most out-of-the-way, visitor-unfriendly areas, a brand-new park with views of the towering Manhattan skyscrapers is available." Upon its opening in 2006 Parks Commissioner Adrian Benepe truthfully called it "a new jewel in the crown of waterfront parks."
Much closer than those Manhattan skyscrapers is North Brother Island, most famous as the location of the long-abandoned sanitarium to which Mary ("Typhoid Mary") Mallon was exiled for much of her life.

You can also get a pretty good look at Riker's Island, New York City's infamous prison colony.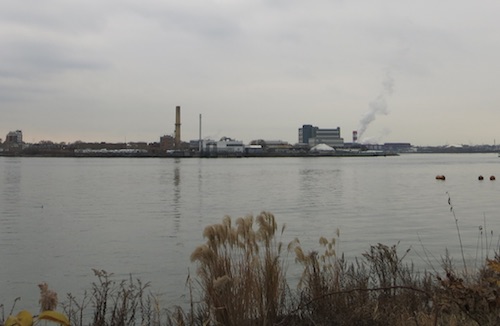 Much more than a vantage point, the park has fishing piers, canoeing and kayaking, basketball and volleyball courts, and in the summer an floating swimming pool offshore on an old barge (Curbed has photos.) There's also a small amphitheater and a really nice promenade.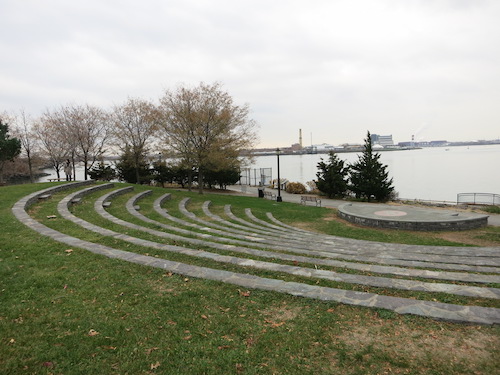 None of it was in use on a December weekend. No one was in the park besides us.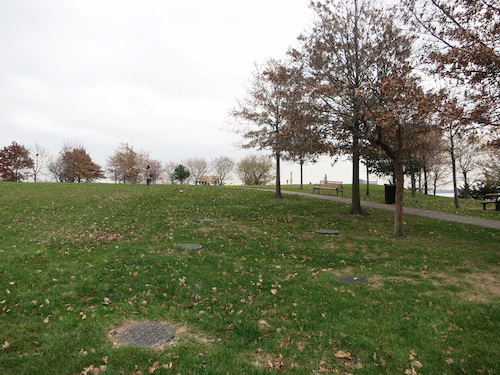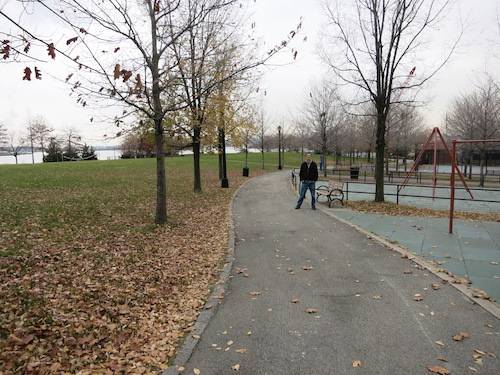 The grounds have been nicely laid out and cared for. The beach, not so much. Maybe it just has the wintertime blues, or maybe it suffered from Hurricane Sandy.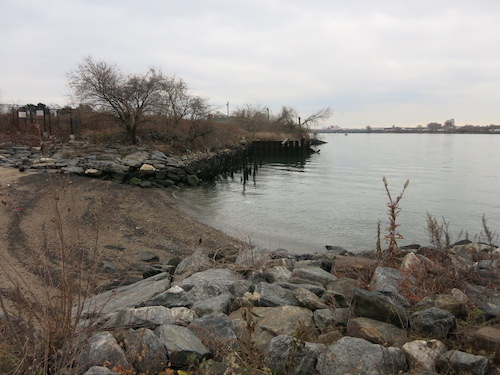 Abutting the park is the 450-foot Tiffany Street Pier, a neighborhood fishing favorite long before the park existed. As of this writing it's closed for repairs from damage from Sandy (projected completion: April 2018). Untapped Cities visited the pier and published photos just one year before the storm.
It's yet another reminder that while we enjoy our waterfront we should keep climate change in mind. Nothing lasts forever, but there is much that may be more speedily gone than we ever could have imagined.
All photos © Critical Lens Media