On a people-per-square-foot basis, the closest park to where I live may just be the busiest in the city. The whole world seems to pass through
Union Square
—workers and locals, shoppers, tourists, artists, drifters, noisy skateboarders, rabble-rousers, the roused and unroused rabble.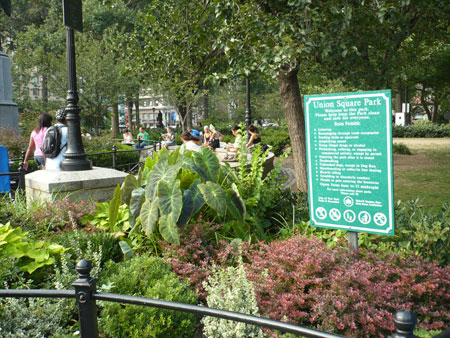 Union Square Park
is not named patriotically, nor for labor unions, but simply for the union of the important streets that meet here.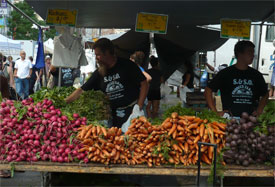 Sometimes it feels like a crossroads in time as well, as people with 1980s punk hairstyles jostle past stubbly chess sharks, American Indian t-shirt vendors, and bluegrass fiddlers. But the "Metronome" wall sculpture with its whizzing digital time display makes kinetically clear that the time is always now.
During the winter season the Holiday Market brings a circus of cheery commerce to the south side; four days a week, year-round,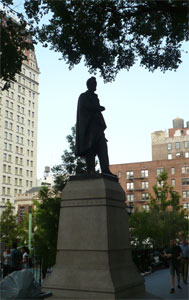 the Greenmarket takes over the western side of the park and on peak days the whole north end too, near where kids play in the new playground, oblivious to the statue of Abraham Lincoln high among the tall trees.
Neighborhood activists have objected to a restaurant plan for the north end, objecting that public parkland shouldn't be licensed to a private concern. It's hardly an unprecedented arrangement, though, and where there's money available to buy the support of local politicians, such objections haven't much chance of prevailing.
Sadly, the site of the former Zen Palate has recently been occupied by a Friday's restaurant, exactly the kind of mediocre chain fare a thriving neighborhood like Union Square doesn't need. On the other hand, Union Square West still offers homegrown restaurants like Republic and Union Square Cafe.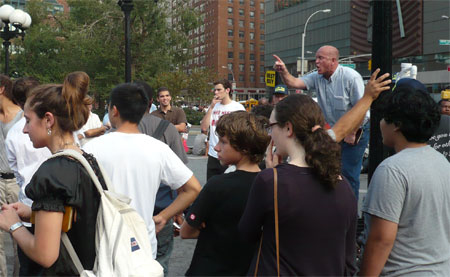 A preacher harangues a dubious crowd
And no one objects to the other chains around the Square: Whole Foods, Trader Joe's, Nordstrom Rack, Staples, McDonald's, Babies 'R' Us, DSW, and—amusingly housed on several
upper
floors of a 14th St. mall—Filene's Basement, where I buy my underwear, thank you very much. (In the age of Twitter, there's no such thing as too much information.) And facing the north side, near a multilevel Barnes & Noble just blocks from the book chain's original Fifth Avenue store, is my favorite Union Square establishment: Rothman's, a fine old men's clothing store where I buy those dressy clothes I almost never wear.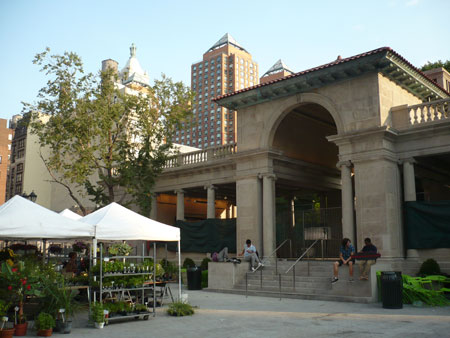 I see I'm digressing from the matter at hand: the park itself. But that's because Union Square Park isn't much of a park
per se
.
Oh, sure, there are plenty of benches, some trees, and lawn space that's open to the public on some summer days. In spring there's a nice flowery smell in the 15th street walkway.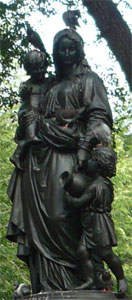 There are statues—not just Lincoln but Washington, Lafayette, Gandhi, and, my favorite, Temperance. In the center is the absurdly large base of the
Independence Flagstaff
with its overwrought relief sculptures. There's even a fountain near Gandhi.
But walking through the park, the overall impression one gets is not of a
park
. It's of a chaotic cultural center and urban
crossroads
, one that just happens to be free of vehicular traffic. Lacking the great piazzas of European cities, New York does the best it can. Given its location—about as central as central can be—Union Square (Park) is probably just about what it ought to be, no more and no less.