New York. It's the City of Many Parks...but so little parking.
Welcome to Park Odyssey.
I'm Jon Sobel, a writer, editor, musician, Manhattanite, hiker, and lover of cities and nature alike. I plan to visit every single New York City park and document the entire saga in this blog.
According to the New York City Department of Parks & Recreation
(Michael R. Bloomberg, Mayor, Adrian Benepe, Commissioner), the city is home to "more than 1,700 parks, playgrounds, and recreation facilities." The Parks Department website also says, "You can visit our Park List page to find a partial list of our parks." A partial list… better than no list, right? But the page is tough to find a link to.
Wikipedia to the rescue. Its
New York City Parks List
provides the link, and
here's the page
. What do we see? Just in the Bronx, over 300 parks—not including the properties listed as playgrounds, "park strips," or "Greenstreets" (which are greened-up medians or strips of street).
As for the unclear categories, from "sitting areas" to golf courses, we'll have to decide about them on a case by case basis. As a rule though, if there's a tree, or some grass, and a place to sit or walk about, then it probably counts as a park by my reckoning. But we'll have to cross some of those decorative park bridges when we come to them. Meanwhile, let's get started. We have a lot of parks to visit. My unofficial rough advance count:
just over 1,300 of them
.
There's a small park in lower Manhattan that's far from beautiful but loaded with history. (And rats, as a recent YouTube video
documents
.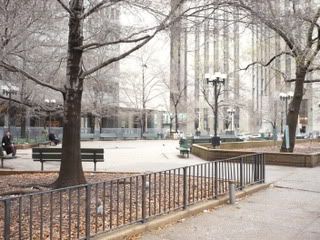 But hey, it's New York City.) There used to be a pond in
Collect Pond Park
, hence the name. "Collect" is a bastardization of a Dutch word; nothing was "collected" there, unless you count the water from the underground spring, which, legend has it, still springs eternal somewhere belowground. There are still puddles, but the pond is long gone, replaced by concrete, benches, trash, and a bit of greenery. At dusk, as the YouTube video demonstrates, rats overrun the little park. On a hot afternoon, pigeons gather (or "collect" if you prefer).
A Courthouse stands nearby, asserting the power of modern justice over the park and the nearby old Negro Burial Ground.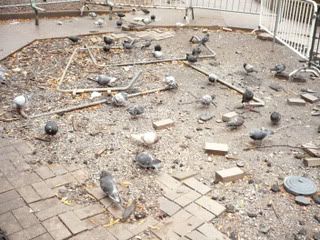 In 1741, on a now vanished island in the now vanished pond, a more savage kind of "justice" played out as several African slaves were hanged and left to dangle. Altogether, some 30 people were slaughtered in a murderous panic that swept through old New York after a string of fires had brought suspicion on the city's African population. (Jill Lepore recounted the story vividly in her book
New York Burning
.)
What
Collect Pond Park
lacks in beauty, charm, and size, it more than makes up for—if you just dig a little—in ghosts.