Now, I don't want all you other playgrounds getting jealous and agitating to get into this blog. As we said at the beginning, "parks" that have no element of passive enjoyment aren't parks for the purposes of Park Odyssey. First Park, though, gets a pass because of its name – if it's called First Park, it must be important, right? – and its location, at the intersection of First Avenue, East First Street, and Houston Street.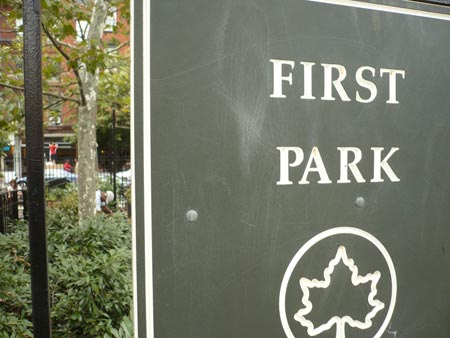 No, it wasn't the actual first park, not by any means. That honor goes to
Bowling Green
. First Park didn't even get its name until a 1997 renovation. But it has the benefit of its location at the First street and the First avenue in the First city. (We New Yorkers do like to think of our city as the First – in importance.)
The New York City Parks Department website uses its entry on First Park as an opportunity to
expound upon the history of playgrounds
in the city. The phrases "Robert Moses" and "years of neglect and disrepair" figure in the description, as they seem to everywhere in NYC history. I'd like to take
this
opportunity to mention my appreciation for the anonymous scribes who create the Parks Department park descriptions, which are posted on the
website
and also, often, on signs in the parks.
In fact, First Park isn't
all
playground. The southern tip features this attractive expanse of asphalt where people can sit, far enough from the play areas that you know they're not here keeping an eye on their children. Passive enjoyment, then; there you go. To the left is a typical London plane tree with particolored bark.