Battery Park
isn't the biggest park in the city, but it may well have the
most stuff per acre.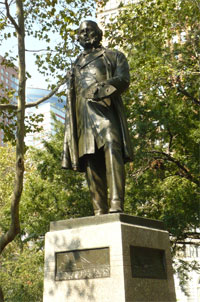 (At right: naval engineer John Ericsson, builder of the
Monitor
. He's also commemorated in
McGolrick Park
in Greenpoint, Brooklyn.) One blog post couldn't possibly do this jam-packed if unbeautiful park justice, and I won't try. But quickly for you out-of-towners:
Battery Park lies at the bottom tip of Manhattan. Its history goes back to the very earliest days of the Dutch colony. The original Fort Amsterdam was built here around 1626, and the park is named for the gun batteries that began to line the shore later in that century. Parts of it are landfill (e.g. Castle Clinton used to be on an island, but now the island is attached to the "mainland").
Most tourists probably only see Battery Park in passing as they line up for Statue of Liberty and Ellis Island tours, but it's worth exploring on its own.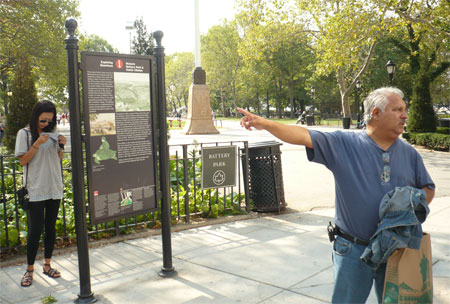 These typical New York figures posed helpfully for my camera
Appropriately enough for a site near Ellis Island, Battery Park has a plethora of international monuments.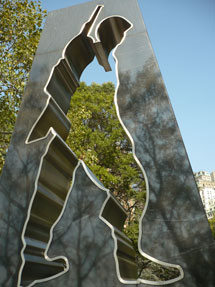 in addition to memorials to just about every major war the US has been a part of, there's Jerusalem Grove, a stone honoring the Walloon settlers of New Amsterdam, and on and on.
At left: the Korean War Veterans Memorial.
Fountains, gardens, memorials…it's endless. But if you've been reading earlier posts you know by now that I'm partial to smaller details, like the lamppost base below…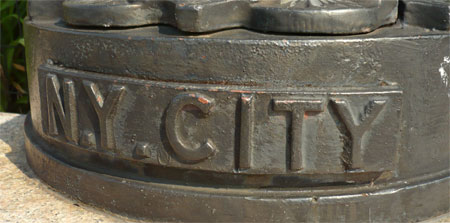 …and this section of fence along the water: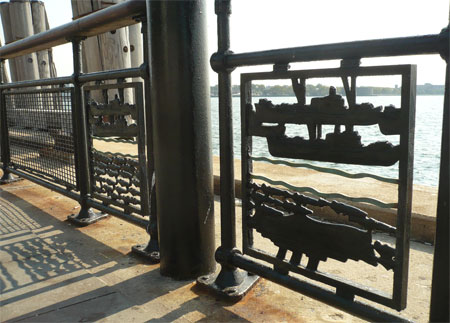 Speaking of water, there's some striking viewage by the harbor. To the far left, beyond this memorial to the US Merchant Marines, you can see the Statue of Liberty: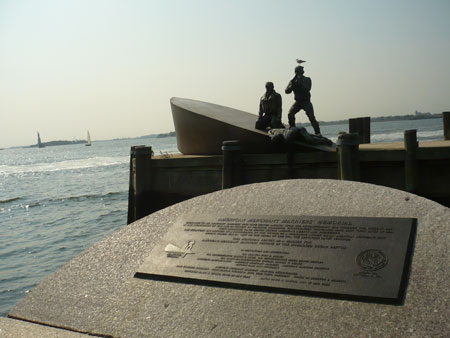 It's in this shot too, behind a fountain with a sketch artist plying his trade in the foreground: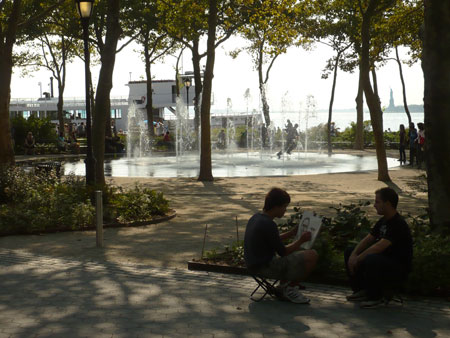 Away from the waterfront, Battery Park has an extremely urban feel, with a lot of pavement. Benches, paths, and trees make for some notable geometry…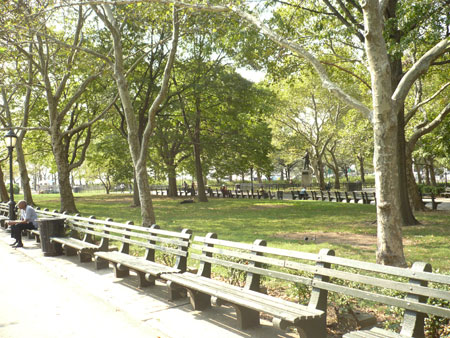 …but you can spot some controlled chaos, and some relatively dense green, if you look for it: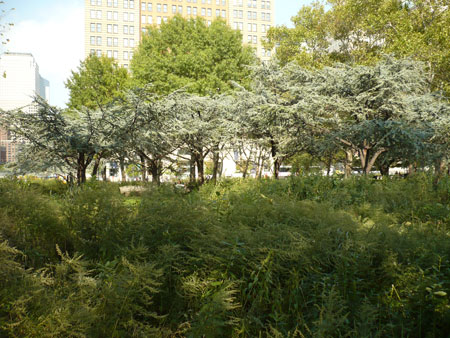 A list of monuments and sculptures would just get boring. Take a half hour and check them all out for yourself. I'll close with this view of the flank of the historically interesting, if not very grand, Castle Clinton.