Named after the longtime owner of the world-famous Second Avenue Deli,
Abe Lebewohl Park
is the more-or-less triangular plaza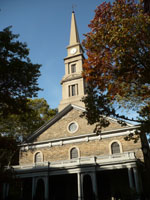 in front of St. Mark's Church-in-the-Bowery. Sitting in it is a pleasant way to take a break from a walk through the East Village. Talking about it is mostly just an excuse to mention
St. Mark's
, one of the most historic churches in the city.
And to mention Lebewohl himself, proprietor of the Second Avenue Deli, another historic item though of somewhat more recent vintage which was, in its time, like its owner, and like the church, considered a neighborhood treasure.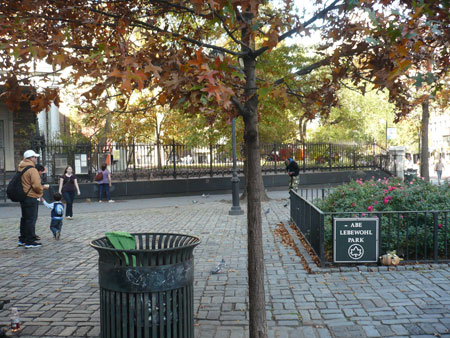 The park exists because the church is set at an angle to the neighborhood's regular street grid, creating a triangular space. Why? It's old. Really old. The present building, which dates from the 1790's, faces (or would if it were a block further west) Stuyvesant Street, an oddball block that actually runs east-west, cutting through the grid, a remnant of Dutch times. The church property has been the site of a chapel since at least 1660, when Peter Stuyvesant built one there. He's buried here too.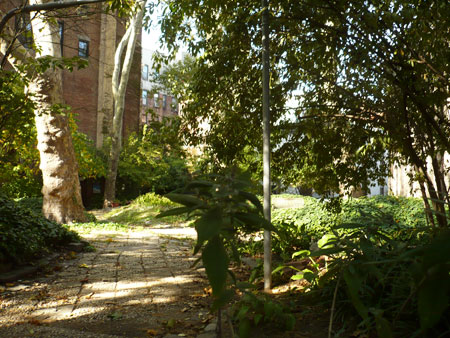 Not Abe Lebewohl Park. This is a view of the churchyard. Most often it's locked, but on some days in the summer it's open for a visit, and well worth it.
Oh, and the Second Avenue Deli? Gone. (There's a new iteration further uptown, of which reviews have been mixed.) But the name of Abe Lebewohl, murdered in 1996, owner of one the most famous Jewish delis, lives on in front of one of the oldest Episcopal churches in the country. That's New York for you.