Five-acre Devoe Park in the University Heights section of The Bronx dates to 1913-1915, when land acquired by the city beginning in 1885 was laid out with trees, curving paths, lawns, bushes, an iron pipe fence – you know, the usual stuff you have in parks – along with, according to the Parks Department website, thousands of tulip bulbs.
Tulips make perfect sense here since the original First Dutch Reformed Church used to stand on the site. Built in 1705, and "said to be the oldest Bronx church with a regular ministry," its building has been replaced twice. Among many prominent names, Alice (Mrs. Edgar Allan) Poe was a member. To be truthful, on my visit I didn't notice any Dutch Reformed Church. What I noticed (and visited, but that's another story) was Saint Nicholas of Tolentine Catholic Church, nicknamed the "cathedral of The Bronx" because of its size. Here it is through the trees of the park: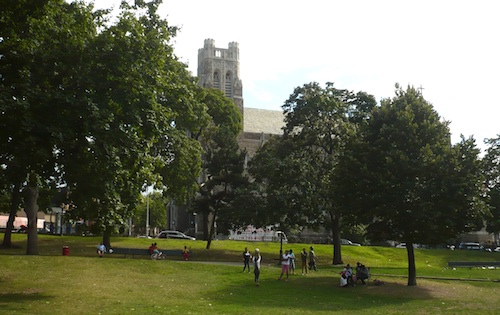 The tall trees in the next photo are pin oaks planted in 1995 during a reconstruction of the park. They make a nice change from the London plane trees Robert Moses planted all over the city. The short bushy tree on the right is, I believe, a scholar tree, also dating from 1995.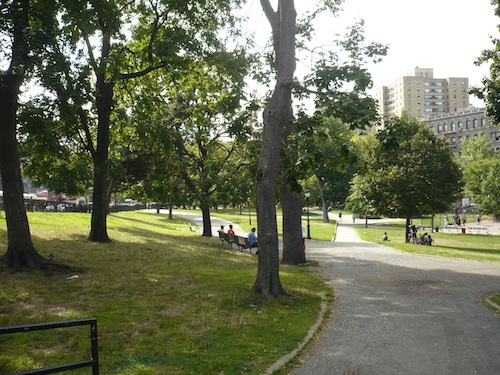 There was definitely some lying around going on in the park on the warm weekend of our visit…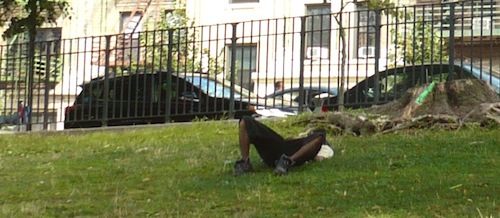 …and plenty of sitting, lounging, eating – all those "passive enjoyment" activities parks are meant for…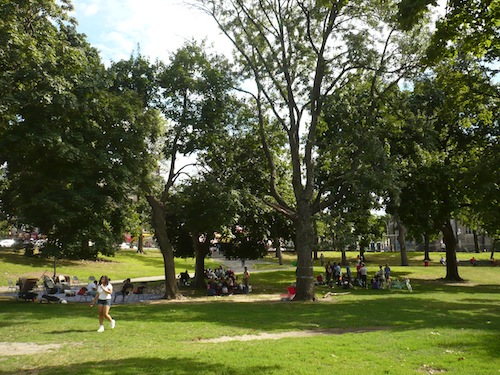 But there was action as well.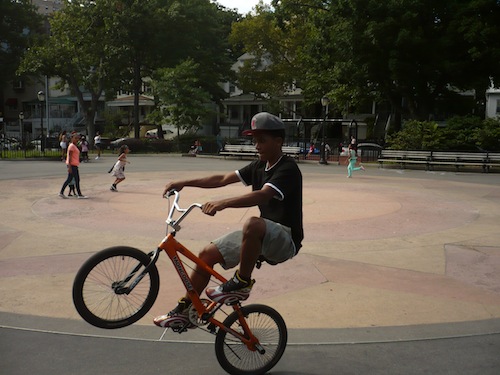 The playground itself, though, was quiet, allowing me to enjoy the sight of its vaguely walrus-shaped boulder to my heart's content.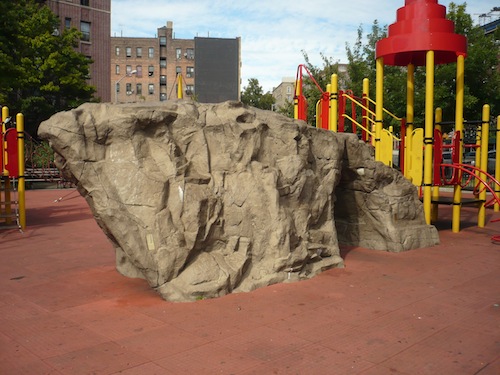 Devoe Park is named for one of the area's prominent 17th century Dutch families (there's a Devoe Avenue as well), but the ghostly Devoes don't have a museum or a preserved manor house. Just a humble but very nice neighborhood park.
Could do worse.
Sadly and not surprisingly, this being New York City, a Google search starting with "Devoe Park" suggests "Devoe Park shooting" which turns up this news about the recent conviction in a nearby 2011 triple shooting (and double murder). Let's hope any more shooting around this pretty park is done with cameras only.