We dutifully covered the High Line some time ago. As the most heavily hyped new park in New York City, it needed only a brief post from me – you can find all the information and coverage your heart could desire with a quick internet search. After all, I was the college student who refused to read The Hitchhiker's Guide to the Galaxy when everybody else I knew was reading it, precisely because everybody else was reading it. (Still haven't read that book.)
So I didn't feel the need to put up a big splashy post about the park everyone else was cooing and fawning over. But this summer, the Friends of the High Line is leading a series of walks on the unfinished northern portion of the elevated abandoned train line (above 30th St.), and that was a stop the Park Odyssey just had to make.
To begin with: I'm not going to hold you in suspense. The two photos below show the very end of the High Line, the northern tip where it curves east before joining up with the Hudson rail yards, which are soon to be covered over with a giant platform that will support yet another huge new development of apartment buildings for rich people.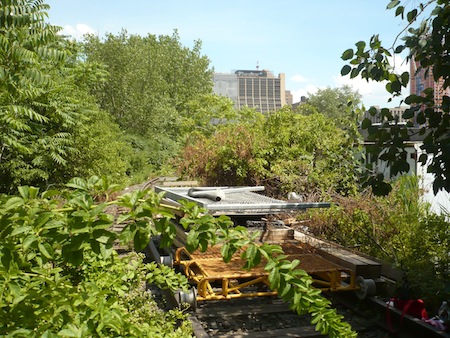 Rather than the carefully selected and landscaped native flora with which the High Line folks have dressed up the completed sections of the park, these little trees and this undergrowth has cropped up here naturally over the years from seeds that blew here or dropped off the freight trains that used to chug up and down all day long.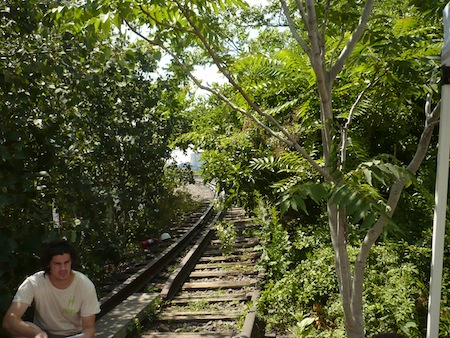 And we're off.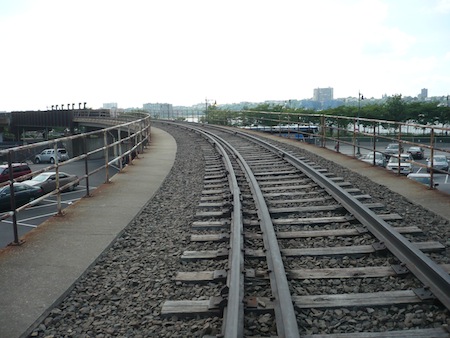 When this section is parkified, you won't be walking on this track. It'll be pulled up, or mostly pulled up, and there'll be easily navigable paving and pretty flowers to admire. This is more fun though. And it's not as if nothing blooms there now.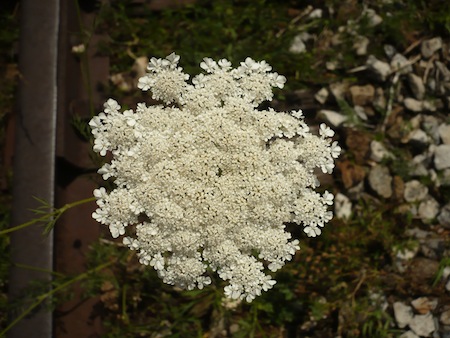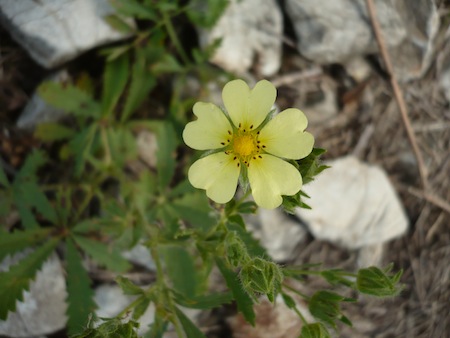 Interestingly, although this stretch is open now only for guided tours, it's been decorated with an installation of site-specific sculptures by Carol Bove. The artworks are, in fact, the professed justification for the walks.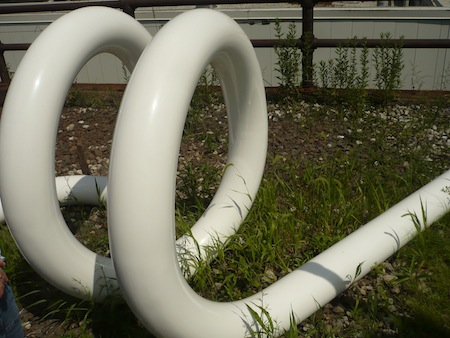 Even in the city, nature takes over when we let it: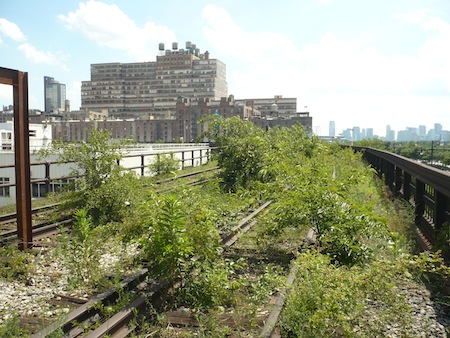 Smaller but more evocative than the sculptures is this old switch box.
I've mentioned before that the High Line isn't actually very high. It is lofty enough to give you a decent pigeon's eye view of Long Island Railroad trains in the yard and Circle Line tour boats motoring by...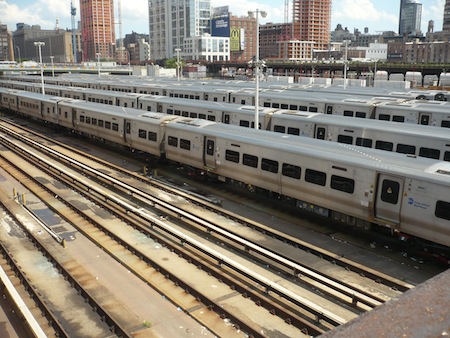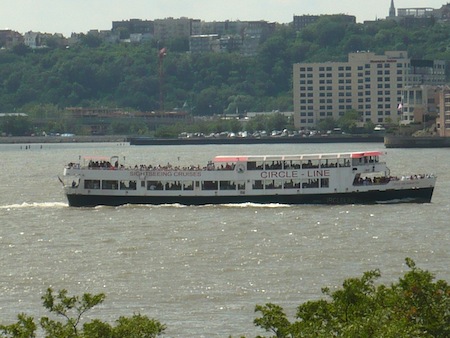 ...but you (or at least I) can mistake a passing cruise ship for just another building if you don't take a second to remember where you are.

This new section will surely be a nice addition to the High Line park, but we will lose something when the ratty charm of the actual abandoned tracks is entirely ripped away and replaced by a more manufactured sort. The remaining walking tours this summer are sold out, but you can sign up to receive announcements about the fall.