Some parks are hard to find. Others are hard to get to. Gramercy Park is hard to get into. A private park since its creation in the 1830s and '40s, this two-acre landscaped oasis is reserved for residents and institutions around the park who pay an annual fee and receive a key.
That's why in the six years of this blog I'd never set foot inside Gramercy Park. Until the other night, when we took advantage of the only time each year the park is opened to the public: Christmas Eve, for a one-hour caroling fest.
Hundreds of people lined up by the tall iron fence in anticipation of the 6 PM opening.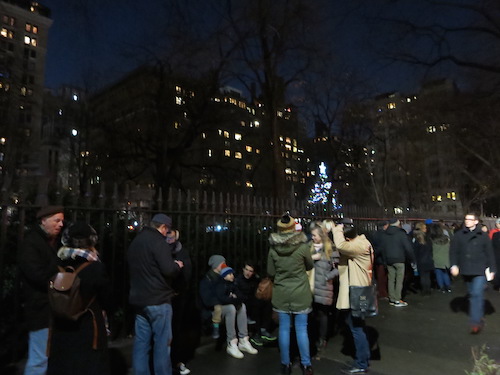 The first visitors squirmed inside and crowded around the bandstand, where a small choir and brass band had begun their program of carols (plus one Chanukah song).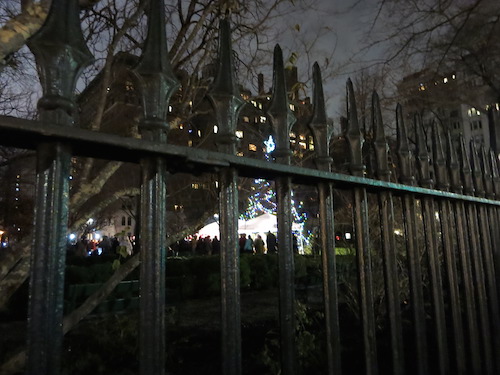 Few spectators were singing along. Most of the visitors had come, like us, mainly for the novelty of getting inside this normally off-limits reserve. Some took breaks on benches far from the bandstand, as if it were a warm summer day.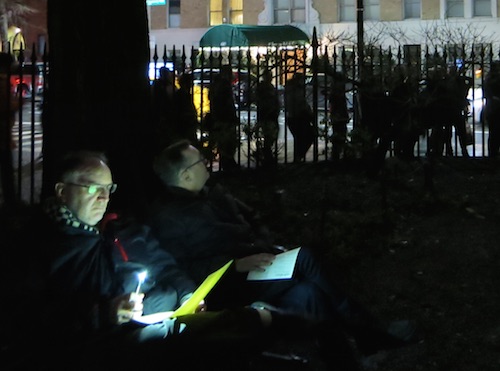 Walking around the park on the dirt paths was tricky, as the park wasn't lit. Later it became tricky in an additional way: as hundreds more people crowded in, the walkways began to choke up like the High Line on a sunny weekend.
Samuel B. Ruggles, the park's founder, was (per the New York Times)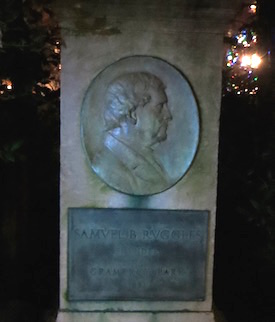 an "urban visionary who in 1831 deeded two acres of his property to be used as an ornamental park surrounded and maintained by a residential neighborhood of discreetly proportioned mansions." Not much has changed.
Some of those mansions house institutions rather than wealthy families. I've been to events at the Players' Club (there's a statue of its founder, Edwin Booth, in the park), the National Arts Club, and the Brotherhood Synagogue, for example.
The Bowery Boys have a good podcast about the history of the park and some of the interesting people and events associated with those "discreetly proportioned mansions" surrounding it.