One more jewel in the Battery Park City Parks Conservancy's necklace of green (we've already visited others) is this riverside stretch along the Hudson River just north of Battery Park itself, named for Robert F. Wagner Jr., Mayor of New York from 1954 to 1965. Wagner is known for finally breaking away the city's Democratic Party from control by Tammany Hall. He presided over the genesis of the New York Mets, Lincoln Center, and the New York City Landmarks Preservation Commission. On the negative side, his frosty attitude toward the gay community – attempting to rid the city of gay bars to "improve" its image prior to the 1964 World's Fair – makes it seem quite all right to feature his Robert F. Wagner Jr. Park in the dead of a snowy winter.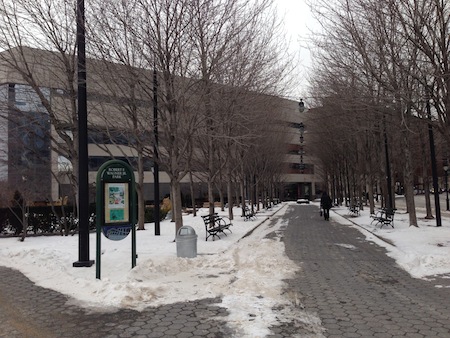 This sculpture is half of Tony Cragg's "Resonating Bodies" – this piece resembles a tuba.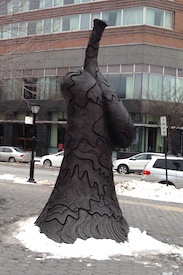 The other piece (not shown) looks like a lute, and that's the one I should have photographed because I was on my way to an early music concert at the Museum of Jewish Heritage, conveniently located in Robert F. Wagner Jr. Park. Plenty of lutes – theorbos, to be exact – but no tubas.
But honestly, I didn't recognize this as tubaform. Probably because it was so cold I was walking as fast as possible. If anything, what I got from it was human genitalia and an elephant's trunk. YMMV, as they say.
Sculpture aside, the park was more or less deserted. The entrance to the museum is on the street side, not in the interesting hexagonal part of the building, so the pedestrian traffic was anywhere but back in the icy wind off the river.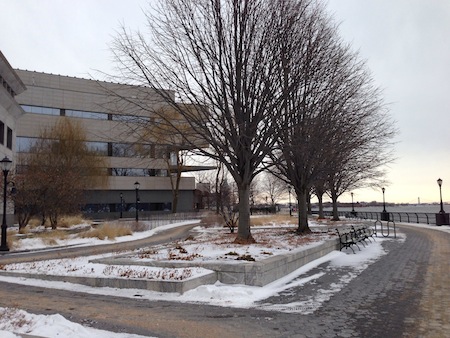 Here's the Museum of Jewish Heritage (subtitled "A Living Memorial to the Holocaust," lest we forget). Two sides of its distinctive hexagonal architecture, anyway.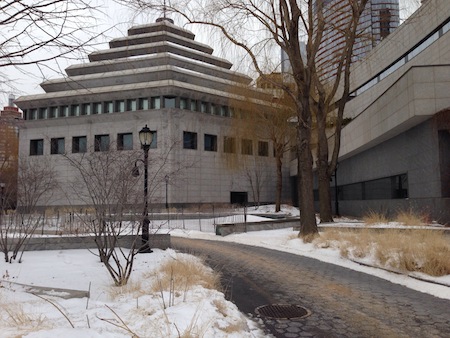 Finally, it would be wrong to leave Wagner Park without a gaze at the Hudson River, rough and grey on this January day, and the Statue of Liberty in the distance.