I must have come in and out of the subway station at 72nd Street where Broadway crosses Amsterdam Avenue in Manhattan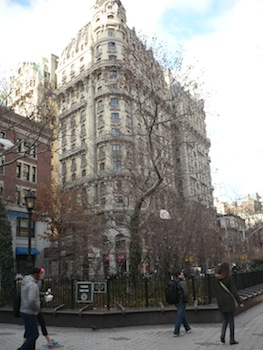 a hundred times without realizing it's situated in the midst of a plaza that, by a stretchy definition, might be considered a park. Verdi Square has seating, landscaping, shrubbery, and a tree with an artificial owl in it. What more could you ask?
If nothing else, it provides an opportunity to gaze at the Ansonia, one of the city's grandest (former) hotels. According to Wikipedia, the turn-of-the-20th-century residential hotel's famous residents included Arturo Toscanini,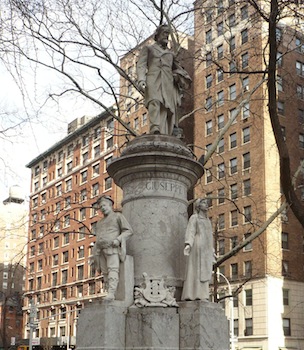 Igor Stravinsky, and Enrico Caruso. The legendary tenor, in an early example of what today we call "pre-war" real estate preferences, apparently "chose the hotel to live in because of its thick walls."
It's fitting then that the adjoining plaza honors Giuseppe Verdi, one of opera's greatest composers. The monument, with a sculpture by Pasquale Civiletti, was dedicated in 1906, just five years after Verdi's death. The statues on the base below Verdi represent some of the most famous characters from his operas (Falstaff, Aida, Otello, and Leonora of La forza del destino).
Standing guard over the square (actually, like most Manhattan "squares," it's a triangle), an owl keeps the composer company.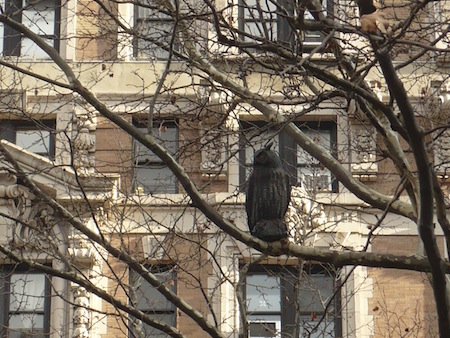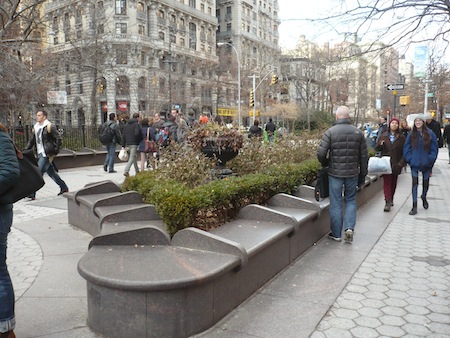 I don't know the significance of the astronomy-themed paving design. If you do, please leave a comment!