One brief stretch of summer; two brand new New York City parks. I just covered the ribbon-cutting ceremony at Chelsea Green Park in Manhattan. Today Park Odyssey presents our first visit to Shirley Chisholm State Park on the Brooklyn waterfront.
Residents of Starrett City, the huge apartment complex now officially called Spring Creek Towers, have long lacked good access to their adjacent waterfront.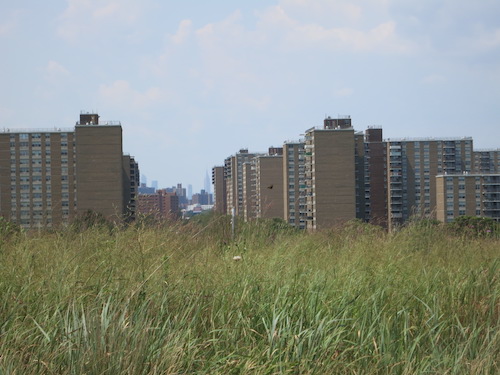 But now, creative re-use of landfill, much like what's been (and is still being) done across the water to create Staten Island's
Freshkills Park
, has transformed the 110-acre Pennsylvania Avenue Landfill into a beautiful, if not yet fully baked, tract of hilly grassland with miles of trails for walking and biking.
The park actually has two large sections, separated by Hendrix Creek which opens out into Jamaica Bay. We explored the western section; the entrance to the even bigger eastern part (on the former Fountain Avenue Landfill across the creek) wasn't open yet. The first phase opened last month, with an entrance just off the Belt Parkway's Pennsylvania Avenue exit. Curbed has a good article detailing the remediation steps planners have taken over the years to get to this point.
This isn't a very easy place to get to by public transportation. I'm guessing they're going to need to expand the parking facilities once the place gets popular.
Just off the parking strip, a couple of trails beckoned us into the grasslands.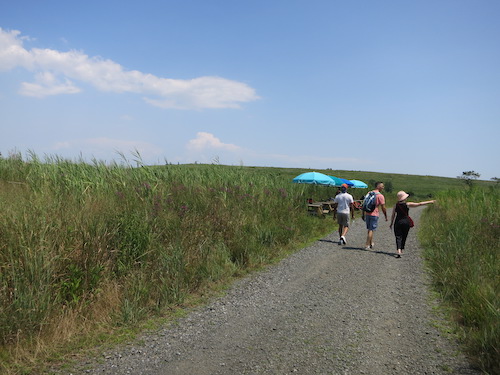 We saw many signs of nature reasserting its presence in and around the former dumps. Plants were flowering.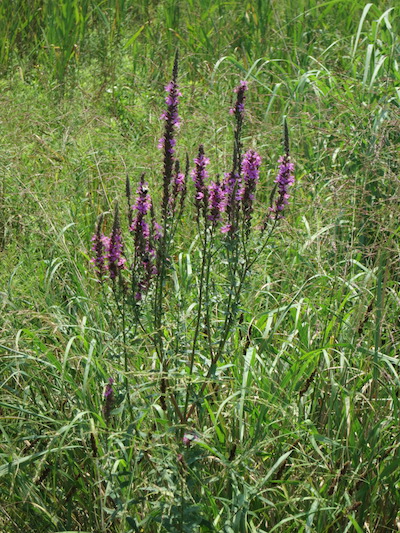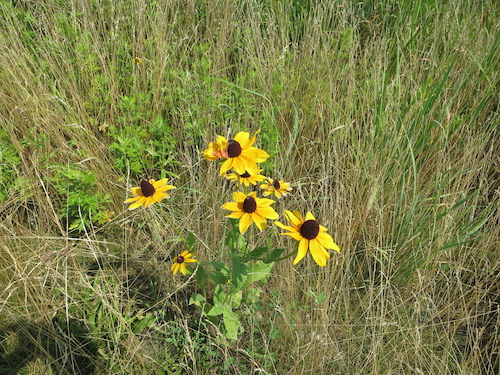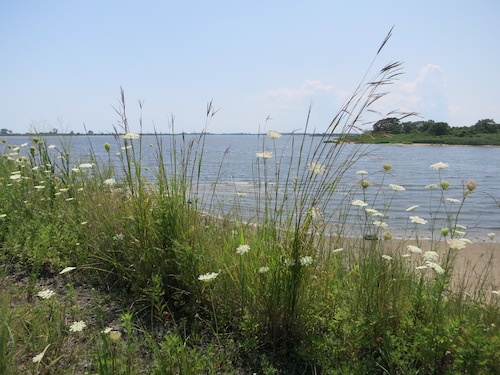 Fish were swishing, hunted assiduously by birds (and anglers).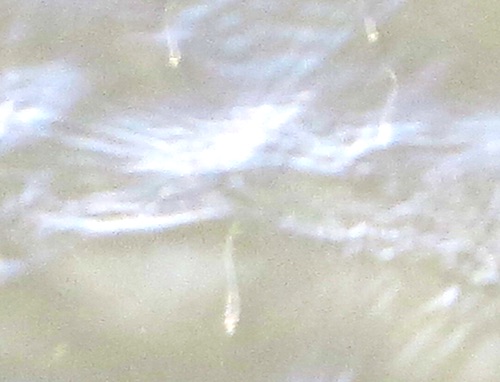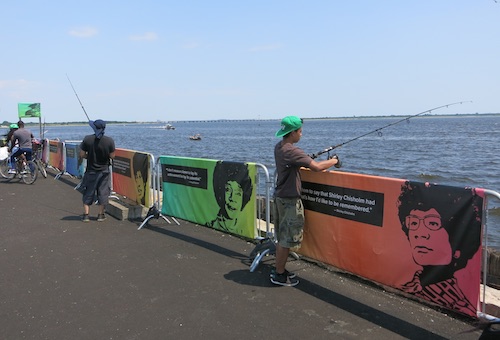 Even seasonal kayakers were already populating the creek.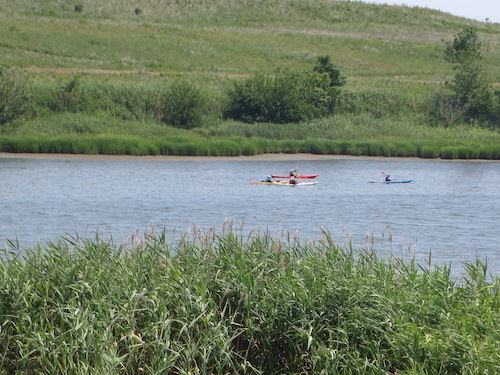 As at Freshkills, decades of toxic garbage have been covered by layers of plastic and soil, with venting to safely release the belowground methane. At the end of long Penn Pier, infrastructure remains to remind us of the garbage barges that would unload their "cargo" here.
From the heights of the onetime piles of garbage, the Manhattan skyline is visible on the horizon, as it is from so many of New York City's outer-borough parks.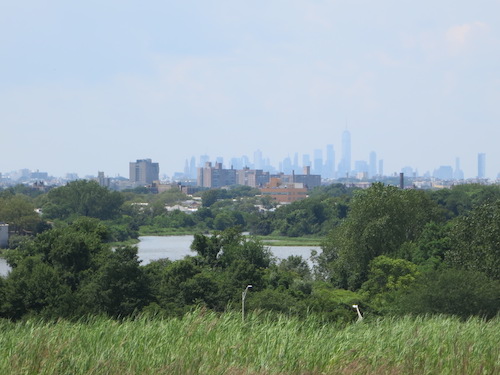 Brooklyn's "Fighting" Shirley Chisholm was the nation's first black congresswoman, first elected in 1969 and serving until 1983. She was also the first black woman to run for President, in 1972. I remember seeing her on TV, with her odd-looking hair and her funny (so it sounded to me) accent, which was rooted in having spent part of her childhood in Barbados receiving a British education.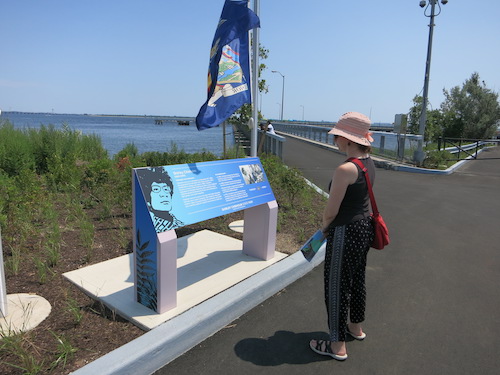 It's well past time the city had a significant memorial to Chisholm. We're actually getting more than one. The She Built NYC initiative aims to redress the extreme imbalance between male and female honorees around the city. Its first commission is a Shirley Chisholm monument planned for Prospect Park, which, like Shirley Chisholm State Park, is in Chisholm's home borough of Brooklyn.
It's also a positive step to have a big new park named for a black leader. Chisholm joins Marcus Garvey, Jackie Robinson, and a very few others – Herbert Von King, for one local example – to be given such an honor.
By the Pennsylvania Avenue entrance of "Fighting" Shirley's park, it's hard to miss the new mural of Chisholm by Brooklyn artist Danielle Mastrion.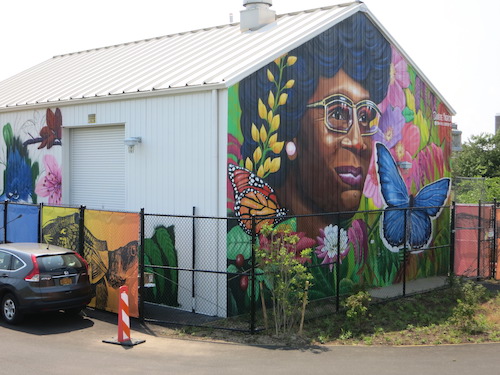 More art was being created as we visited a few weeks ago.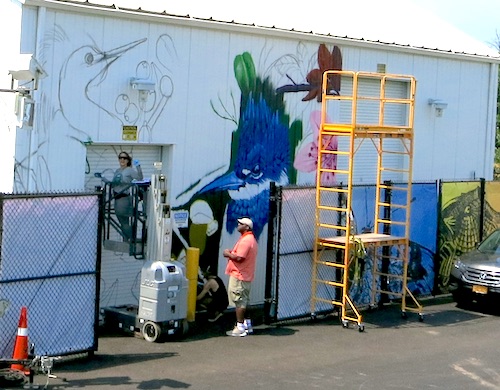 We even liked the color schemes of the banners and signage that deck the piers and waterlines.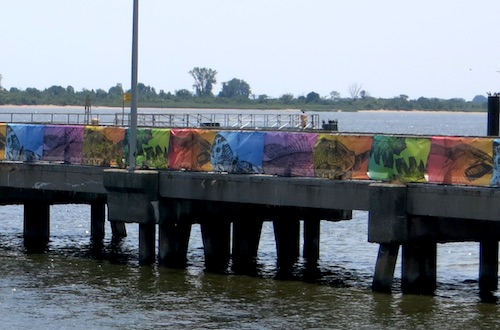 Much more can and will be done to develop this park. There's already a "bike library" – free bicycles to borrow so you can take a spin around the 10 miles of crushed stone paths. (Walking the whole thing could take all day and more.) But it's the views of the water that most refresh the spirit here.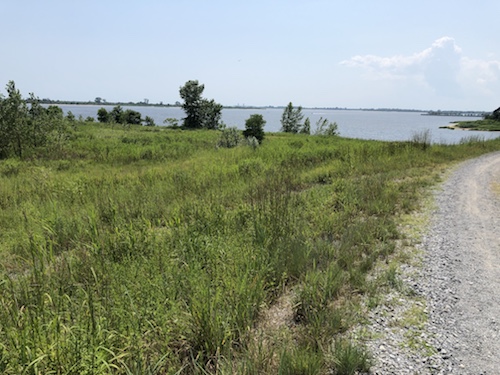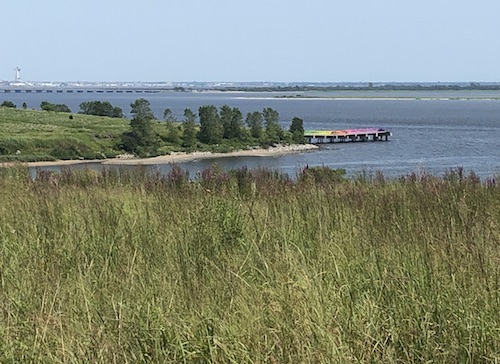 Going on a sunny day? Take sunblock, a hat, and water. There's not much shade. But there's a good deal to see and think about. For one thing, how a city and state with so many problems, in a country with so many problems, can still not only create something large and new and good, but create it out of toxic dumps. For another, how right it is to use the occasion to pay tribute to an extraordinarily deserving person.
All photos © Jon Sobel, Critical Lens Media