It may not be grand, and no ferry stops there at present, but Grand Ferry Park bestows charm and individualism to its stretch of the waterfront in Williamsburg, Brooklyn.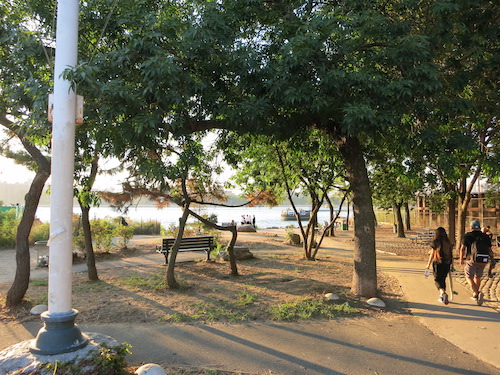 Once there was a ferry landing here. From 1812 until 1918 the Grand Street Ferry carried farm goods and passengers across the East River, between Grand Street in Williamsburg and Houston Street in Manhattan. (Click this link for an 1847 map showing the route.)
Then spelled Williamsburgh, the area was chartered as a city in 1852, and became part of the City of Brooklyn three years later. All through these changes the ferry rocked on.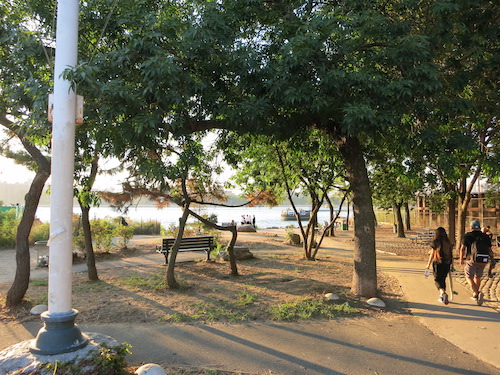 Long abandoned but remaining accessible to the public, it became an unofficial park in the 1970s before opening as an official city park in 1998, incorporating elements from the site's history, such as a red brick smokestack that had been part of an early-20th-century Pfizer Pharmaceuticals molasses plant.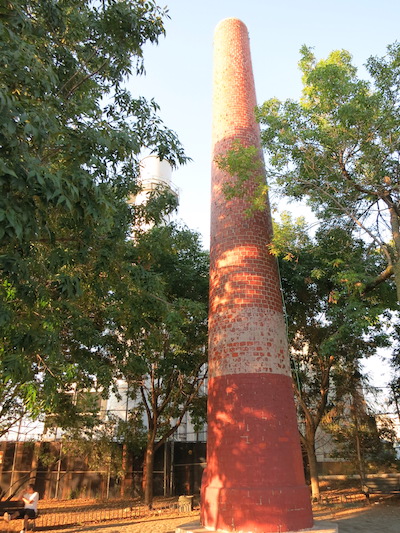 Relics of the ferry landing are visible in the water, with Manhattan across the way. The Empire State Building is near the center of this photo, behind the stacks of Con Edison's power plant at 14th Street. (Hurricane Sandy caused a rather spectacular transformer explosion there, knocking out the power in my neighborhood for four days on that memorable occasion.)
Shortly before sunset on the day I stopped by, the park's clientele was a mix of family types, Hasidic Jewish men, and Williamsburg hipsters.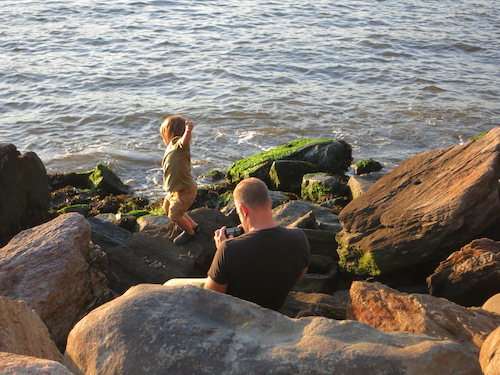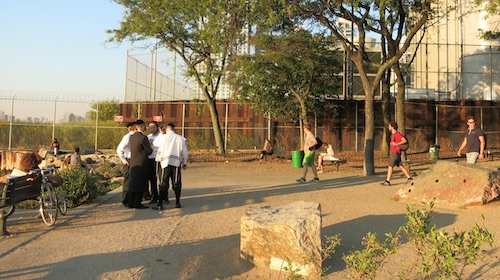 I really appreciate the focus on gravel instead of grass. Grass can hide too many sins. And it's unnatural.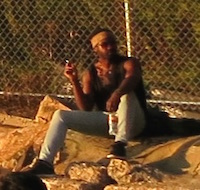 Much better, if you ask me, is what was done during the park's 2008 landscape reconstruction, funded in part, as the Parks Department website explains, "by the New York State Power Authority, in connection with their new plant just north of the park.
"As part of the wetlands requirements for this waterfront parcel, mandated by the Department of Environmental Protection, these new plantings show an emphasis on native species of trees, shrubs and perennials. Native tree species include varieties of dogwood (Cornus), American holly (Ilex opaca) and river birch (Betula nigra)" which joined pre-existing pines, honey locusts, and white ash trees "which bring," as the Park Department so gracefully describes it, "shade and elegant leafage to the site." Somebody over there knows how to write good marketing copy.
Native shrubs "chosen for their ability to withstand the wetlands, brackish air and windgusts of this littoral environment" were also planted. ("Littoral." Nice touch.)
Europeans of the 19th-century Romantic era loved to visit, sketch and paint picturesque ancient Greek and Roman ruins. I like to photograph picturesque sites of abandoned commerce.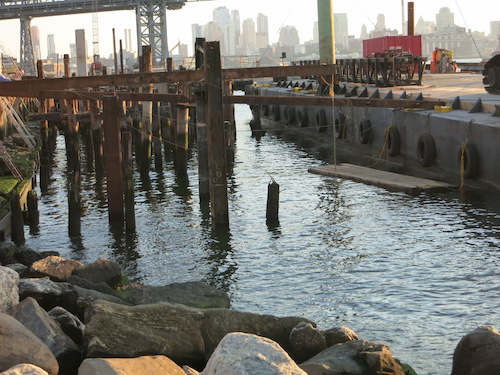 I wonder what will become of those relics when work is completed on the erstwhile Domino Sugar Factory next door.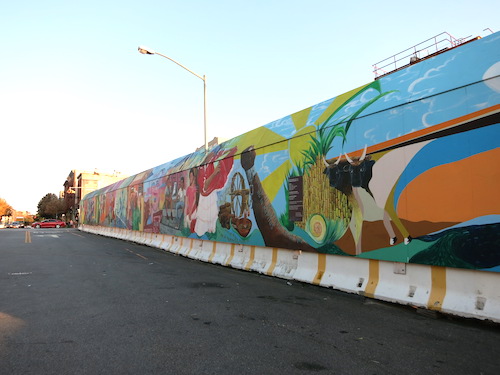 I guess we'll find out in 2023. (Because as any New Yorker can tell you, our construction projects always finish right on schedule.)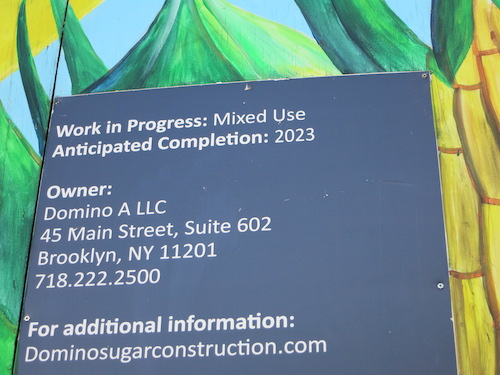 All photos © Jon Sobel, Critical Lens Media