Though named for the founder of the New York Herald, a newspaper launched in 1835,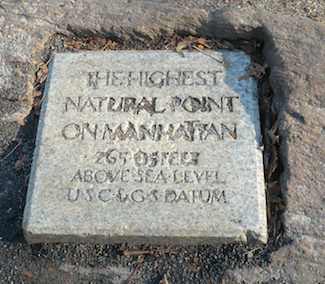 Bennett Park in Washington Heights carries much more history than that. Belying its modest appearance, this small uptown park occupies the highest point on the island of Manhattan and the site of Fort Washington, where General George Washington and his Continental Army made their last stand on Manhattan in 1776 before the British rolled over the city.
I would have figured the island's highest point above sea level would be somewhere along the western edge, with its dramatic views down to the Hudson River, or maybe in an uptown park with a real climb in its midst, like Marcus Garvey Park. But no, it's at this much humbler site a few blocks inland from the river.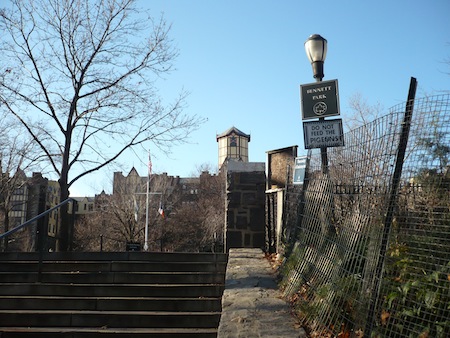 Ron Chernow in Washington: A Life describes Fort Washington as "a huge pentagonal earthwork" whose "defenses meandered across a rocky bluff stretching from present-day 181st to 186th streets." But it "had several significant defects" – no internal water source, no topsoil for trench building, not enough room to shelter all the forces, and so on. In the fall of 1776 Washington's men "were shivering with cold, ravenous for food, and prey to one malady after another."
Not only that, the strategy of using Fort Washington, together with Fort Lee across the river in New Jersey, to prevent the British from moving ships up the Hudson failed, and Washington's army didn't last long on this site. Granite paving marks the original contours of the fort. The engraving in the photo below reads "Fort Washington Built and Defended by the American Army 1776."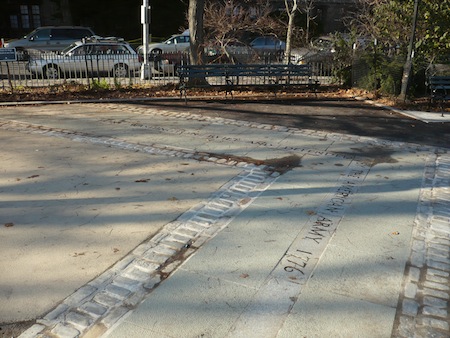 A replica of a Revolutionary War cannon stands guard: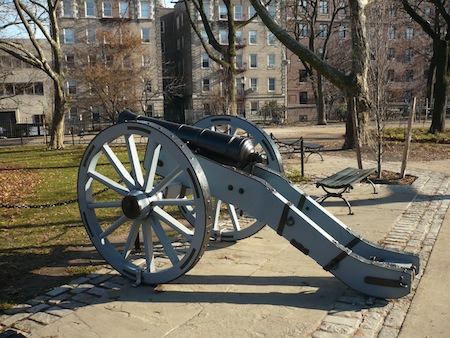 At the high point of what now feels like a very modest hill, an outcropping of good old Manhattan schist bursts up out of the pavement: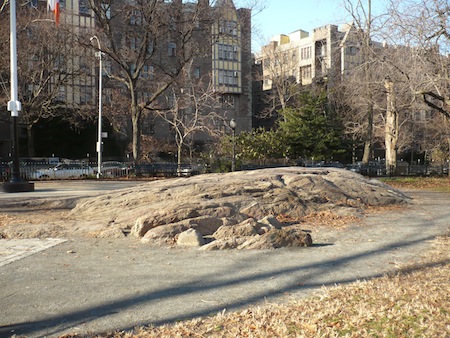 Bennett Park has a nice playground as well, but the park as a whole is in the midst of a multiyear upgrade project. With budget cuts, and in our new era of superstorms, there's no telling when any particular parks project will get finished, but another visit next year or the year after might produce very different photos than these December shots. In the meantime, pay a visit to this historic high point and remember New York City's importance in America's struggle for independence.