Park names are a jumble in the bustling part of Queens known as Corona, a neighborhood I admit I'd previously known only from the line in Paul Simon's song "Me and Julio Down by the Schoolyard." ("Goodbye Rosie, queen of Corona.")
Aiming for a park that's called Linden Park on all the maps, we disembarked from the No. 7 train at the stop just a block away called 103 St./Corona Plaza. That the Corona neighborhood should have a Corona Plaza seems to make perfect sense, but they have changed the name. To National Plaza. Because it's at National Street, I presume, but why the change? And why does the subway station still have the old name?
The plaza, a block-long triangle under the El, is part of the Park Department's Greenstreets program and on the day we visited it was hosting a busy marketplace at which, as in the rest of the neighborhood, we heard not a single word of English – Spanish only. Here's the plaza, whatever it's called.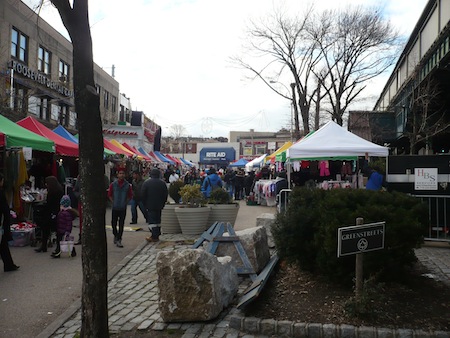 And the naming confusion doesn't stop there. We're only just now getting to our actual destination,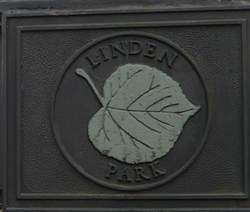 the onetime Linden Park.
For a reason I haven't been able to uncover, Linden Park has been renamed Park of the Americas, though the old sign has much more character than the generic new ones, as usual.
On this blustery December day an airplane cut through the agitated sky.
Was the name change to Park of the Americas related to the famous one that turned Manhattan's Sixth Avenue into Avenue of the Americas? That happened way back in 1945, but it never stuck – no one uses the new name except the post office. Were they trying again with a sneak attack at an obscure little park in Queens? Or could it be because there's a Linden Park in Brooklyn too?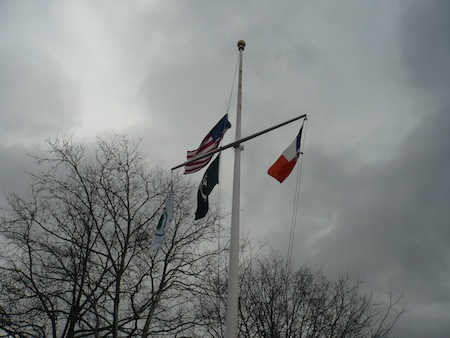 As you can probably imagine, I don't go looking for flower photos in December. But if I happen upon a rosebush that's still putting out, how can I not take advantage, even if I do have to wait a while for a pause between gusts of wind?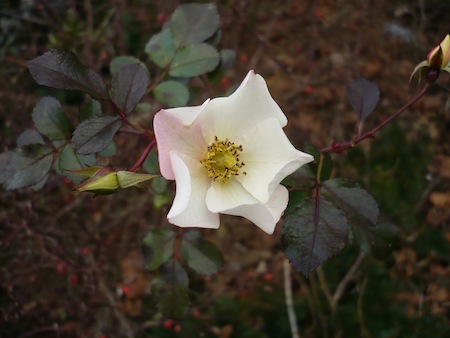 A rose of another sort, this compass rose, points any way you want to go: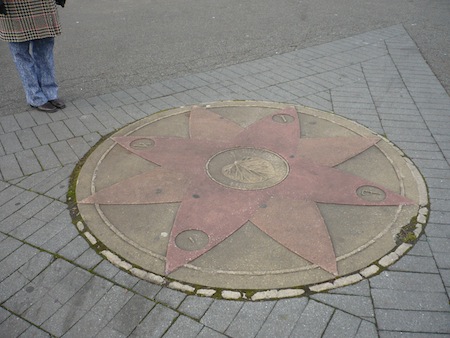 This old detailing on the facilities building continues our horticultural theme while evoking decorative times gone by, when Linden Park was still Linden Park.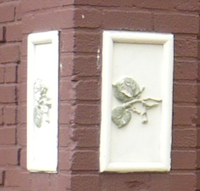 Meanwhile, the playground displays a more modern flair. One good thing about winter is you can sometimes take a picture of a photogenic playground without anyone playing in it.
This one has appealing yellow squiggles and roofs.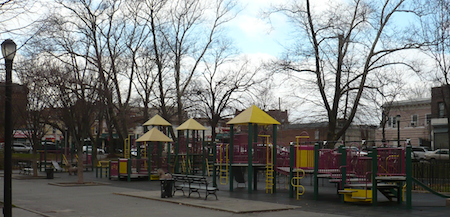 Our visit to Linden Park/Park of the Americas was actually occasioned by a trip to the nearby Louis Armstrong House Museum, where Satchmo and his wife lived for decades and which is now operated as a museum – well worth visiting for music fans – by Queens College and a fundraising foundation. It gets a mention on this parks-focused blog because the Armstrongs turned the lot next door into a very nice garden, which now hosts concerts during the warmer months. Despite what I mentioned above, the museum tour is given in English, not Spanish – the only English we heard during our entire excursion to Corona, although the tour guide did mention that the neighborhood has a growing Asian population. In any case, Corona's ethnic makeup has certainly changed any number of times, even just since Lucille Armstrong decided to buy the house on 107th Street back in the early 1940s.
The museum has two paintings of Satchmo by Tony Bennett, who, speaking of name changes, signs his work "Benedetto." But regardless of ethnic changes or name changes of parks and plazas and singers and everything else, I hope we can all agree on one thing: Long live the Louis Armstrong House Museum. And its garden.