While not parks per se, Swinburne Island and Hoffman Island, east of Staten Island's South Beach and west of Brooklyn's Sea Gate and Coney Island, are managed by the National Park Service, mainly for the benefit of birds. But in recent years the smaller of these two former quarantine islands has become an important home to New York City's newly thriving population of harbor seals. Last weekend New York City Audubon sponsored a Winter Eco-Cruise via New York Water Taxi to observe the seals at Swinburne.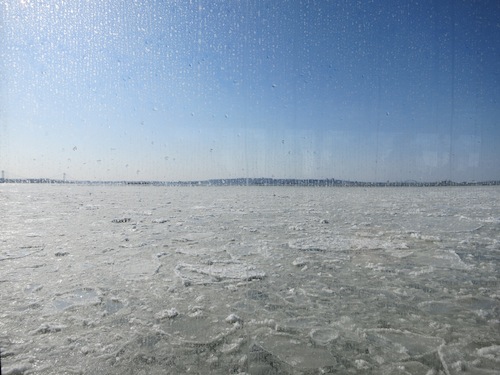 It was a frigid February day with a freakish amount of ice floating in Buttermilk Channel and other parts of the harbor. I felt like I was on an ice-cutter in the Arctic. I don't know much about boats, so it was interesting (and gratifying) to see that New York Water Taxi's yellow boats were equipped to push through fields of floating ice.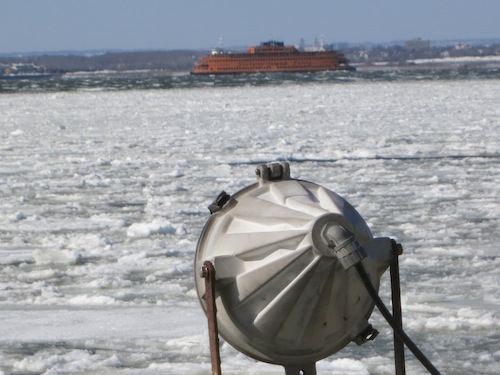 The bitter-cold wind kept us in the boat's warm interior for much of the trip, and the spray on the windows often froze into a temporary glaze. Still we had plenty of opportunity to observe the many species of birds the Audubon guide pointed out – cormorants, merganser ducks, hawks, grebes, and brants to name just a few. And when we arrived at Swinburne the crowd of gulls was a sight to behold.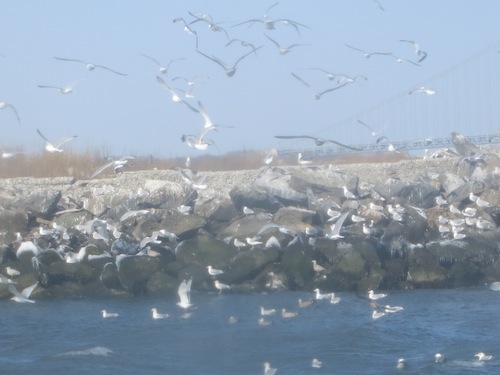 Though long since abandoned, some of the four-acre island's buildings had stood until Hurricane Sandy flattened them in 2012. Created out of landfill in the 1870s, the islands were used to quarantine immigrants with contagious diseases, and victims of the cholera epidemic of 1910-11. According to Untapped Cities, which has some warm-weather photos of the islands and more details on their history, "Swinburne Island housed a hospital dedicated to cholera and yellow fever cases, a crematory, and a mortuary. Here, patients were fumigated with sulfur, and those who passed away on the island went to either the mortuary or crematory, depending on the season as well as the preferences of their relatives or friends."
Hoffman Island was later used as a military training facility.
As for Swinburne Island's 21st-century seals, we saw not a one, though the guide did profess to spot a seal poking its head up from the water for a breath of air. It may be that the rocks of the island were too icy for the pinnipeds to get comfortable perches. Whatever the cause, our band of 40 or so hardy human souls saw no seals that shivery day.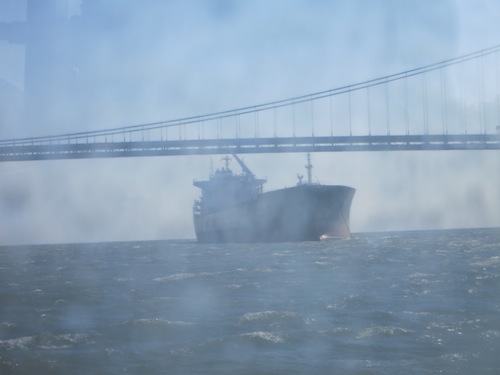 Oil tanker near the Verrazano Bridge