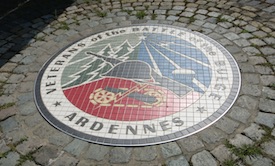 With a beach, freshwater ponds, a forest, lots of recreation facilities, and even a Battle of the Bulge memorial, Wolfe's Pond Park covers more than 300 acres on the south shore of Staten Island, split across the middle by Hylan Boulevard, one of the island's main thoroughfares. The park includes part of the Staten Island Bluebelt, a huge storm drainage and landscape architecture project that's still in progress.
A Bluebelt sign greeted us as we made an initial stab into the park from its northern end, thinking we might be able to find paths all the way through to the pond and the shore.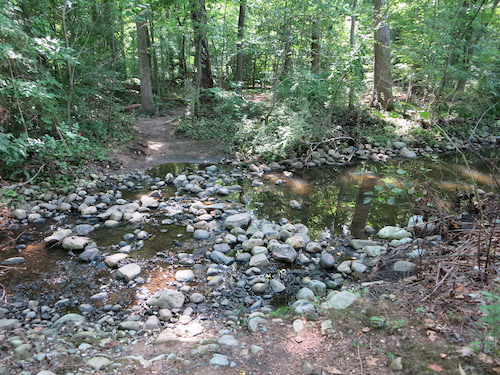 The trail was clear, but with neither a map nor the right footwear for the terrain, we decided to drive down to the beach end instead.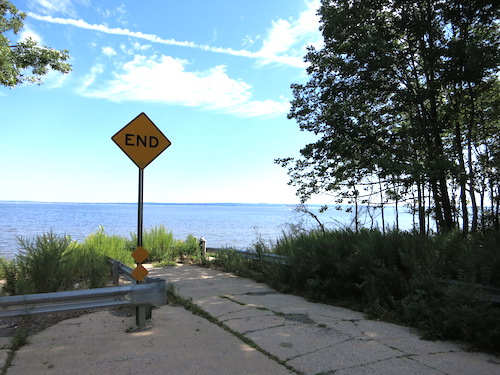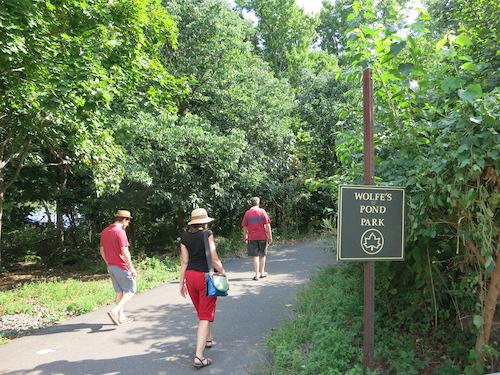 If you see berries that look like the ones in the next photo, do not eat them. It's pokeweed. Pokeberries are deadly poisonous to humans, although, according to Outdoor Life, birds and deer and other animals can eat them with no problem.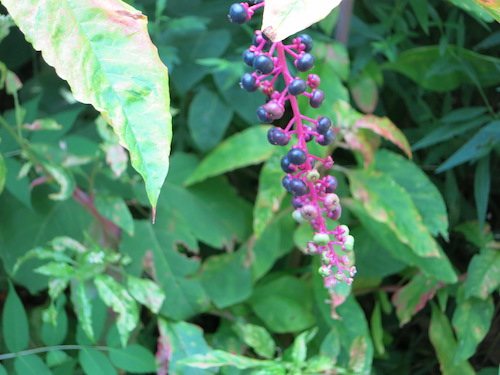 Can dogs eat pokeberries? Outdoor Life doesn't say. They can have a good time in the Wolfe's Pond Park dog run, though. Because of the clean-looking wood-chip surface (and the absence of dogs) I didn't even realize it was a dog run until I noticed the POOCHES sign on the shed.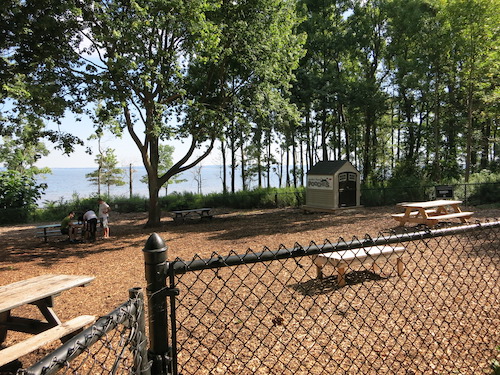 Walking a winding path through the high shrubbery gave us our first view of the beach, which looks pretty nice, even though this summer a New Yorkers for Parks report rated it the worst of eight city beaches. (Like other Staten Island beaches, it suffered damage during Hurricane Sandy.)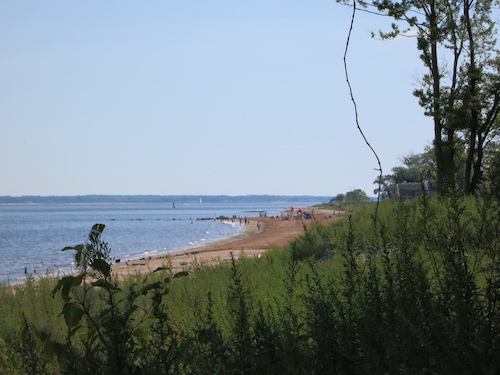 Basketball courts, tennis courts, even a hockey rink were in use. Absolutely not in use was this fenced-off, overgrown playground . The equipment doesn't look old. Hurricane Sandy shut off the "lights" here, I believe. There's a notation on the parks department website that restoration of the playground and surrounding paths is underway.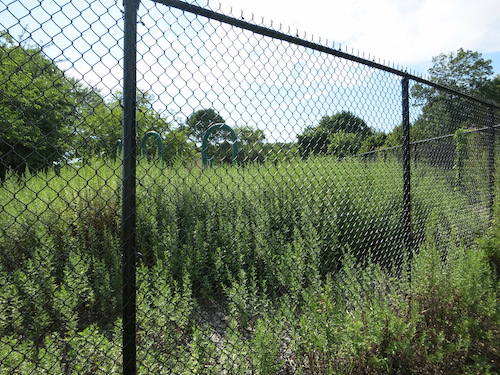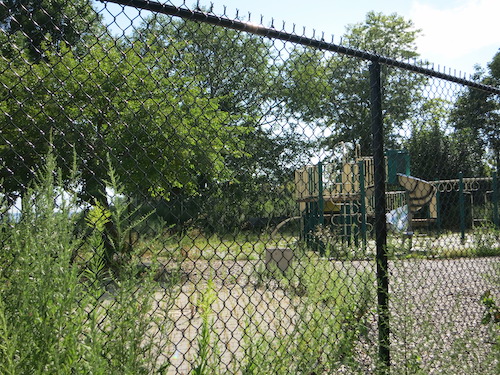 Out of nowhere the Plaza of the Battle of the Bulge appears, with its striking memorial. Its dichroic glass star is said to change color throughout the day.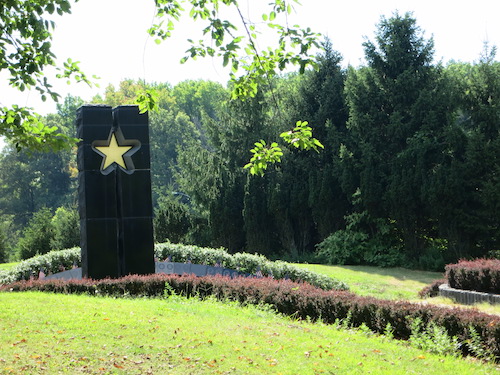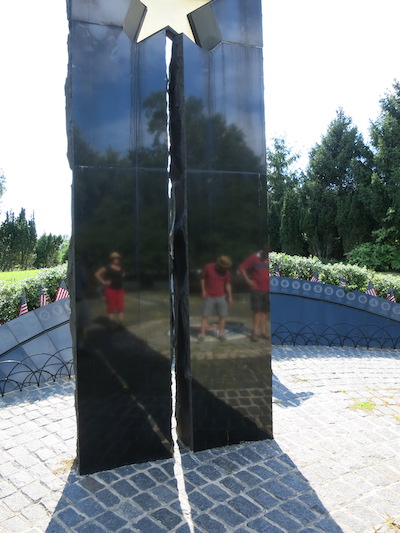 Partly funded by contributions from Luxemburg and Belgium, the memorial, built in 2001, pays "tribute to the 600,000 American men and women who participated in this epic [1944-45] battle," as the Parks Department website explains.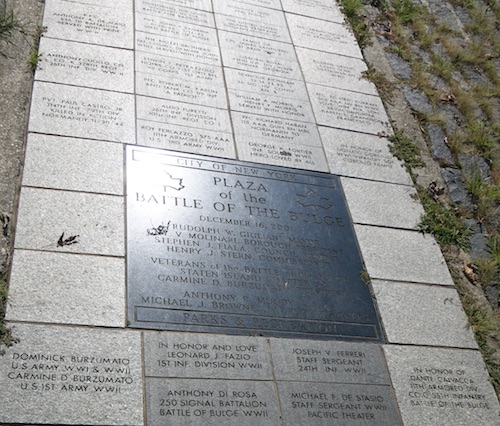 We made our way towards the pond itself across a big grassy area strewn with families and groups of friends. There seemed to be roughly as many ethnicities as groups.
At last, Wolfe's Pond.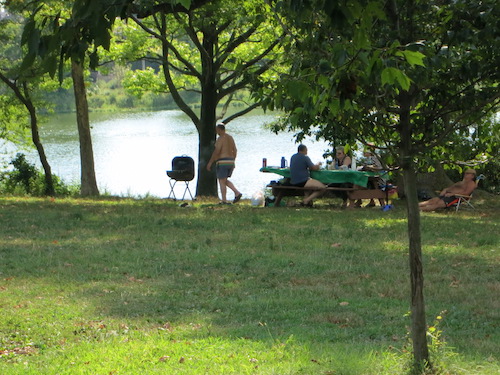 The city acquired the area for a park in 1929, but it was already a popular spot for waterside recreation. Prior to that it was owned by the state, which used it as a quarantine site for sick immigrants. Before that, a man named Joel Wolfe who had come up from Virginia farmed it until 1857 (credit goes to an old Forgotten New York post for that hard-to-find tidbit). And before that, Native Americans used the shells of the Quahog clams they found here (later given the wonderful scientific name Mercenaria mercenaria) to make valuable wampum.
The freshwater pond extends south to where, pace the little dam, it sometimes connects to Raritan Bay – and floods with seawater. How fresh, salt, or brackish is the water this summer I have no idea.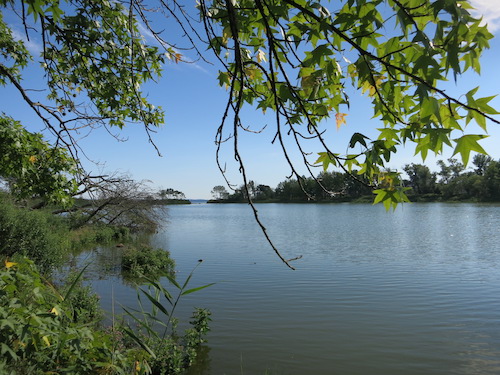 Looking northward, you could almost be in a pristine wilderness.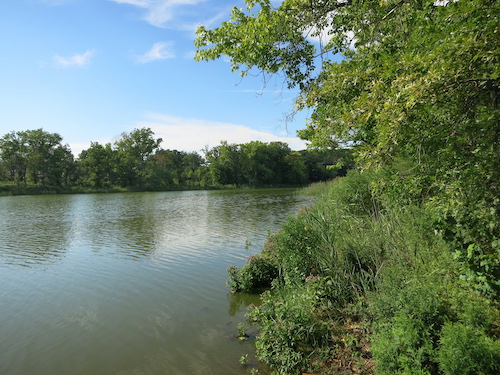 Looking at children chasing geese, well, it's a wild scene, but maybe not so pristine.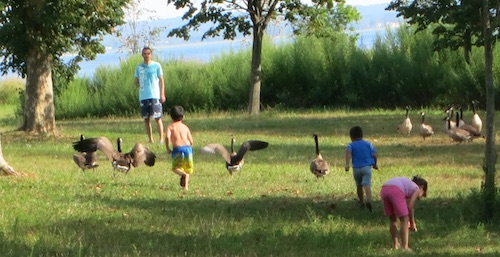 One goose had found a more protected spot. Though if it came down to a real fight, I suspect the children would need more protection than the geese.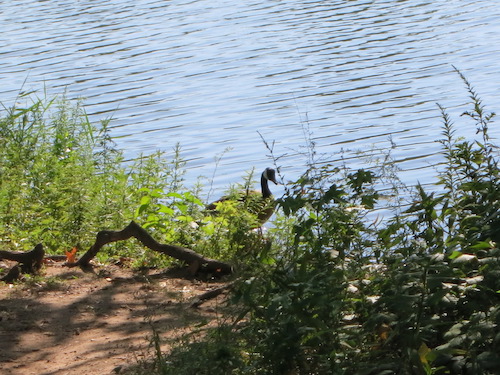 These guys had secured a quiet little eden too, a shady spot by the water where they listened to one of their number sing and play a stringed instrument. Is this a saz? If anyone knows for sure, please let me know in a comment below.