The last thing I expected when we headed to the Jacob K. Javits Convention Center the other evening was to discover a new park. But there's a new plaza by the new Hudson Yards subway station, a station that opened last Sunday, though not without some squabbling. Little remarked in all the news coverage of this long-awaited extension of the 7 train was the new plaza, which, while it may not have a name, sure resembles a park.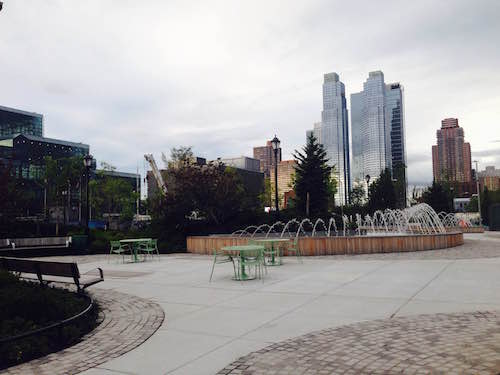 On the north side of 34th Street, across from the fancy new station entrance, the fountains were attracting small crowds.
I took these photos the very day the station opened after a decade of planning and a two-year delay. It will serve the future commercial and residential communities of the huge Hudson Yards development, a gaggle of large buildings rising atop the train yards, as well as attendees of Javits Center events.
Later that evening on the way home we rode the 7 train from here, just so we could say we'd used the station on its first day.
The station entrance itself, on the south side of 34th, has parklike landscaping too, with little trees, curved walkways – even benches, for crying out loud.
(I mean that literally. I'm certain people will sit on those benches and cry out loud. People having huge public fights with their significant others. People who are homeless and/or mentally disturbed. People who just spent a whole day going to panel discussions at a convention at the Javits Center.)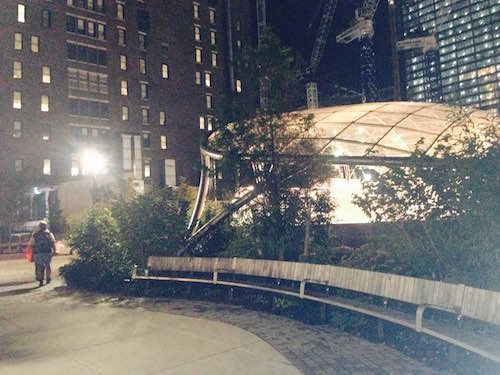 Even without a new subway, the Javits Center surroundings have always offered dramatic sunsets. For crying out loud.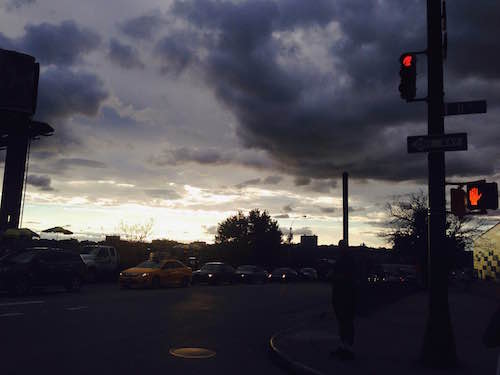 In closing, let me suggest that if the plaza really doesn't have a name, we should dub it Odyssey Park or Odyssey Plaza in honor of the blog you are reading right now. Smile and nod if you agree.