Tiny Septuagesimo Uno has something of the feel of a medieval alley (and something of the moldy smell too). According to the Parks Department website, Mayor Lindsay undertook a "vest pocket park" initiative in the 1960s to increase the amount of open space in the densely developed Manhattan grid. At just 0.04 acres, Septuagesimo Uno, off 71st Street between Amsterdam and West End Avenues, is a good example. I've heard of a few others, specifically in Harlem, which I plan to investigate. But I'm pretty sure I'm safe in saying that not many parks resulted from the vest pocket initiative.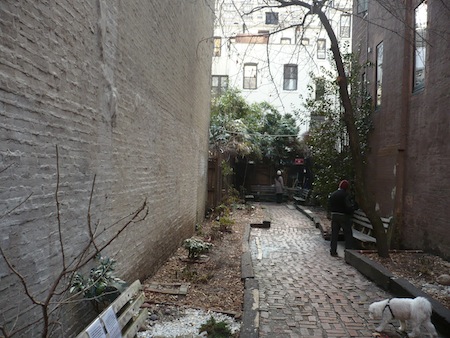 Originally and boringly known as "71st Street Plot," the park certainly deserved a name change.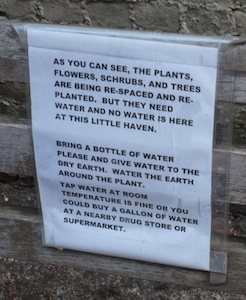 Parks Commissioner Henry J. Stern's choice of the Latin for "seventy-one" was an odd one, but I'm not complaining; the varied and the strange help make New York City the infinite wonderland that it is.
Just as its giant cousin a few blocks away is splashed with banners seeking contributions to the Central Park Conservancy, Septuagesimo Uno isn't shy about begging for alms – specifically, water for its "plants, flowers, schrubs and trees." I was particular taken with the Yiddish-ish misspelling of "shrubs," but unfortunately hadn't brought any water.
The widely spaced paving bricks, alcove-like rear, and heavy iron gate at the entrance (closed at night) make this parklet a surprisingly resonant space. You could almost be in the Old City of a European (or let's say alt-European) metropolis.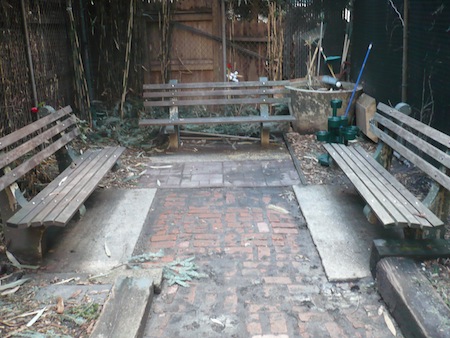 Taking landscape-oriented photos here was a challenge for me. This place is basically a corridor. To offer a sense of it in a snapshot means angling into portrait mode. So here goes: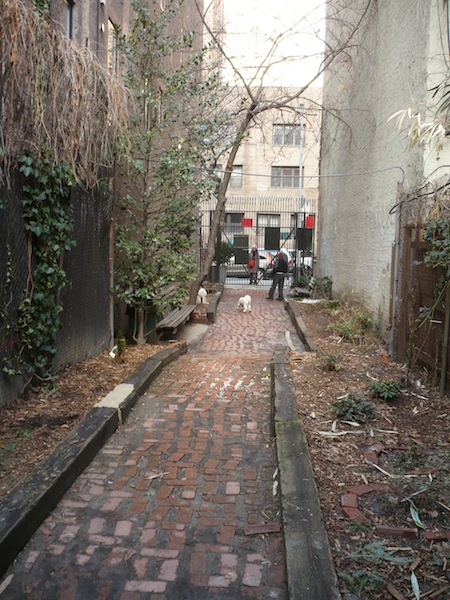 If you have a little extra time and you're on the Upper West Side during daylight hours, dash into Septuagesimo Uno for a moment and pretend you're in a city much older than the 19th century grid that made Manhattan into the huge block of warrens it is today. And judge for yourself whether you've come to the smallest park in NYC. Me, I'm withholding judgment.