The aptly named Forest Park is the third-largest park in Queens, at over 500 acres. It abuts several neighborhoods, including Woodhaven, Kew Gardens, and what is probably New York City's most verdant section, Forest Hills. With a little imagination one could almost think of Forest Hills itself as a park.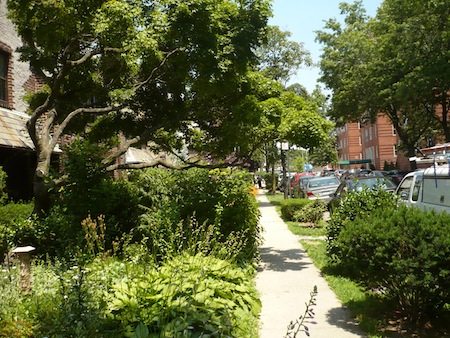 I read recently that 24% of New York City's land area is "forested." That doesn't mean with actual forests – it includes all forms of parkland and undeveloped areas, I think – but it's surprising nonetheless, until you think about the fact that a huge park like Forest Park is only the third-largest in Queens, which is only one of the five boroughs. Still, entering through the Kew Gardens Gate at the northeastern tip of the park, you're greeted with grassy fields that don't look anything like a forest.
Even in this section, though, there are some impressive trees. I grew up in a suburb sticky with maple trees,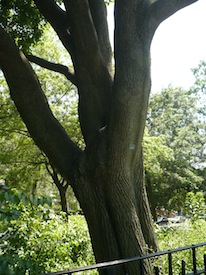 so I'm always aware that you don't see too many of them in this plane-tree city. This Norway Maple is a welcome sight.
Walk through the grassy areas and around the playground, feed through a narrow connecting strip of parkland, and you enter the spacious main eastern section, where you'll understand why it's called Forest Park. There are few places in the city where you can feel like you're really hiking in the woods. The Forest Park trails (three of them, marked with different colored blazes, plus a bridle path) constitute one of those places.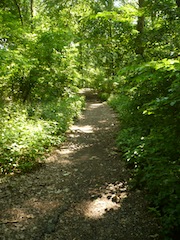 The Parks Department says there are some trees here over 150 years old, and with the fatness of some of the trunks I believe it. I enjoy knowing that the parklands here were known as Brooklyn Forest Park before the boroughs were consolidated into one big New York City in 1898. "Brooklyn Forest" – that has a nice ring to it, doesn't it?
On the other hand, we're in Queens, not Brooklyn, so go figure.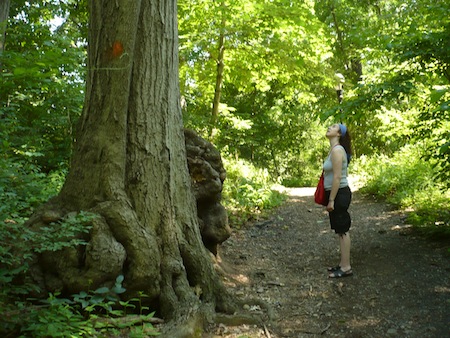 I don't know what happened here. It wasn't a fire. Did the Blair Witch have a murderous fit?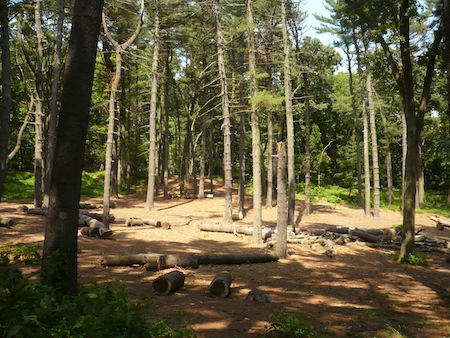 Things soon got back to normal along the orange trail.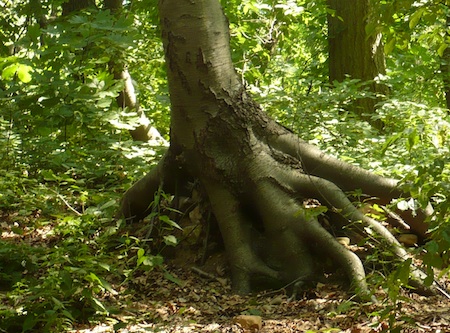 As it was a hot, muggy day, we appreciated the coolness of the forest shade. But shortly after passing the tree above, we were attacked by a battalion of unstoppable mosquitos, and were glad to escape back out to Forest Park Drive – a road designed by Frederick Law Olmsted, incidentally – with our lives.
Near some big athletic fields there's accommodation for more cerebral combat. These chess tables must have been around for a while, because the "black" squares have faded so much you can hardly see that they're darker than the white ones.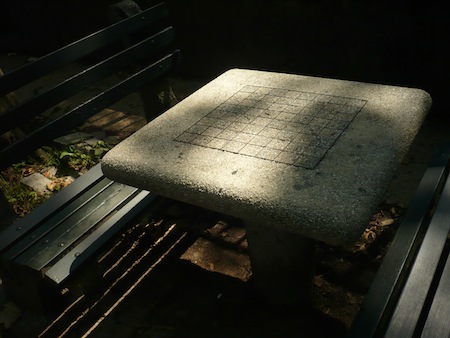 It's nice to see Urban Park Rangers still up and running in this era of program cutbacks and corporatizing of government.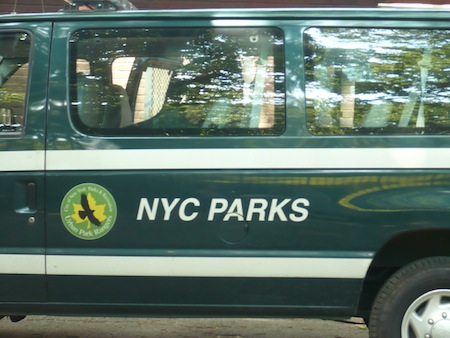 In the central wedge of the park spins the Forest Park Carousel, which was just designated an official New York City landmark and is so self-satisfied it even has its own website.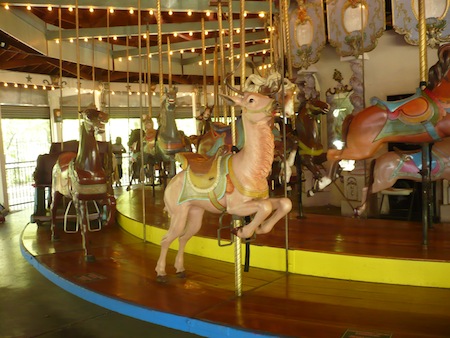 Crafted by Daniel Muller, the carousel's hand-carved horses and other figures date back to 1903. (Its frame is even older.) After a long first act in Massachusetts the carousel embarked on a second life here in Forest Park in 1973, several years after the park's original merry-go-round had burned. Shuttered in 2009 after apparent mismanagement, it reopened last year run by a new concessionaire. With its new landmark status, it looks good for another century, especially since Forest Park appears to lie outside even the most pessimistic new flood zones.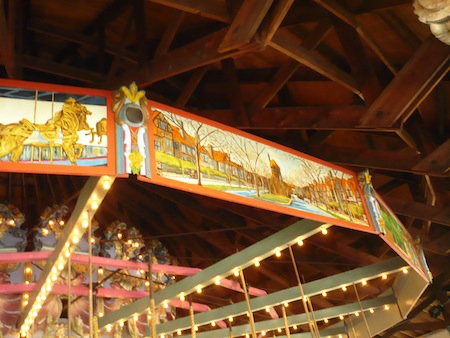 That's right. Hurricance Sandy changed everything, at least in my thinking about the future of this city (not to mention the world).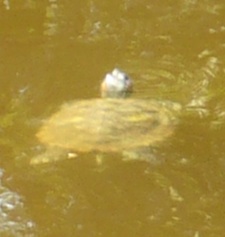 City parks, being small concentrated patches of nature in the midst of the concrete jungle, are especially good places to think about where we're going and where we've been from the standpoint of terrain. Case in point: Forest Park's Strack Pond. When Pfc. Laurence Strack died in Vietnam in 1967 at the age of 19, having spent happy childhood hours here, he probably couldn't have imagined that a) it would be named for him one day, and b) 46 years later we'd be worrying about which parts of Gotham will be submerged in the next decades.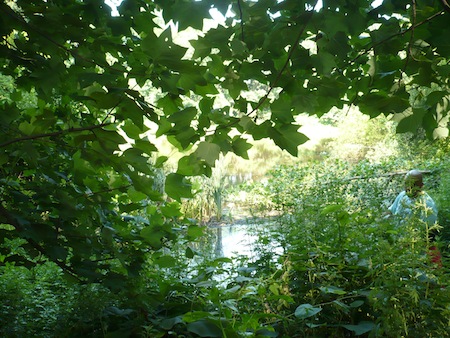 This charming body of water is a kettle pond, a depression left by the Ice Age's retreating glaciers. Turned into ballfields in the 1960s, it soon reasserted its true nature, and the city wisely decided to let it revert to a pond, lining the bottom and building runoff streams to stabilize it. Today it's a transcendently lovely big-city oasis.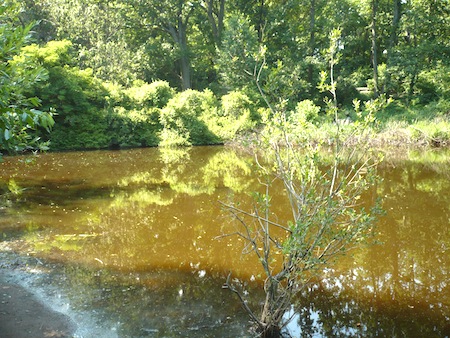 Families come to the shores to experience the isolating shock of nature. Artists set up easels and paint. Birds sing in the trees. Turtles, lots and lots of turtles, sunbathe and swim about.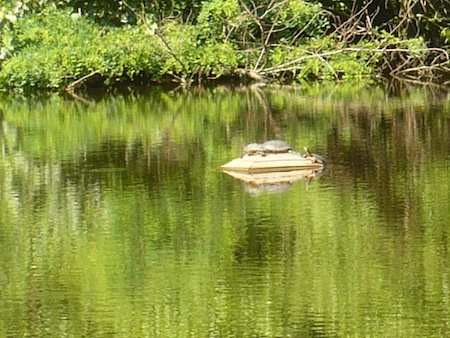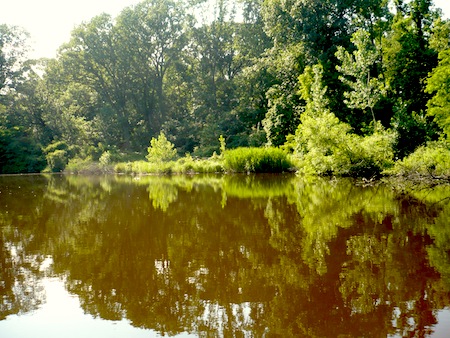 A short path through the woods led us back to the quiet street and thence home. We skipped visiting the western half of the park, devoted as it is mostly to a golf course. So for a report on the condition of the greens after a very rainy June, you'll have to find a very different blog. But come back here soon. We have many, many more parks to visit.