Searching out every park in the city, you're bound to come upon some strange ones. South Oxford Park in Brooklyn's Fort Greene neighborhood has a playground and two tennis courts, not surprising since the site used to be a tennis club, but its most striking feature is this huge "multi-purpose synthetic turf lawn" as the Parks Department describes it. I like the term "multi-purpose" here. Looks like this little girl was using it learn how to ride a bike.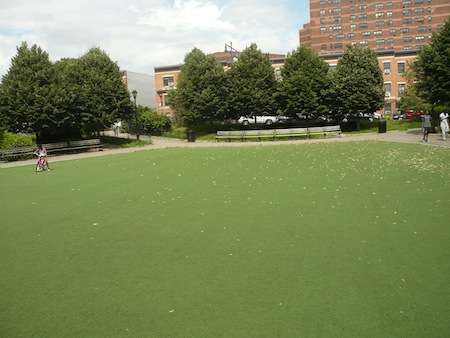 Here she is a again, being observed by someone who is apparently still looking for her purpose. But the swirly pattern on the pavement is what had caught my eye.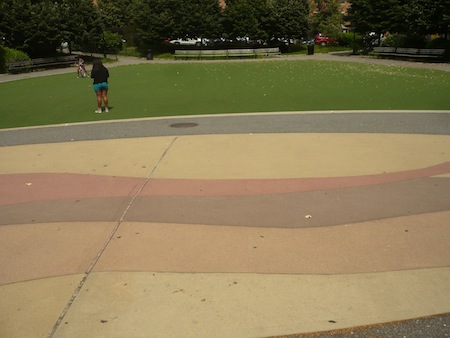 Another eye-catching aspect of South Oxford Park is the lighting.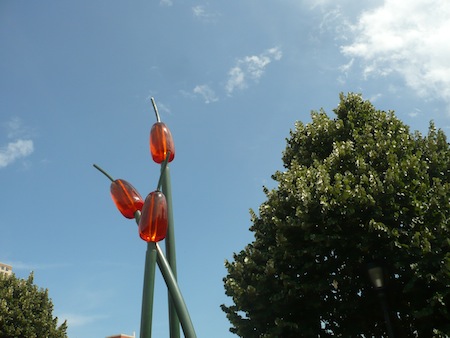 The Parks Dept. website also describes a "large cat-tail themed spray shower." I guess that's this; you can see the hesitant upsquirt of water.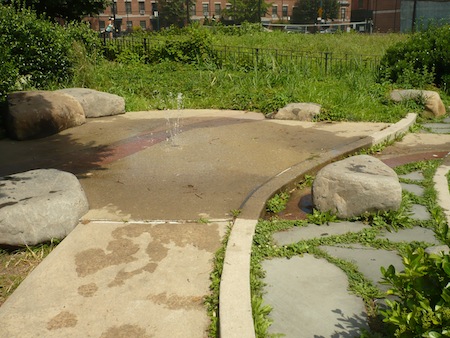 I had all this playful landscaping to myself, since the weather was so confusing on the day of my visit – soupily humid, little rain showers on and off, then blazingly hot sunshine. I don't think there was a single kid in the playground. And since South Oxford Park hasn't got much in the way of shade, I didn't tarry long.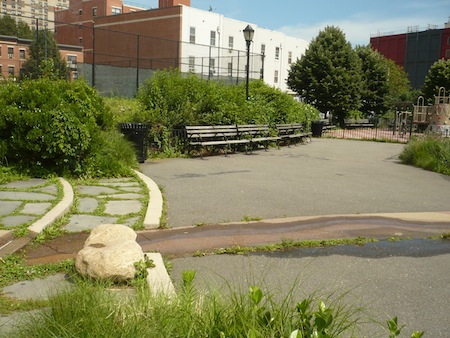 My tramp through Fort Greene also included a stop at Underwood Park, which to my disappointment doesn't have a typewriter-inspired design. However, it is where typewriter mogul John Thomas Underwood had his mansion. It doesn't merit its own post here because it is almost nothing but playground, except for the Sarah Anesta Samuel Garden.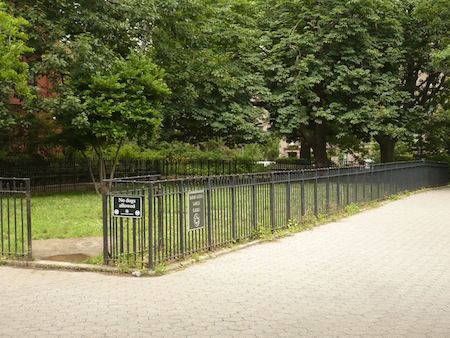 At present this "Garden" appears to be just a lawn, but we all have our hopes and dreams, don't we? Maybe next year John Underwood will hit that great carriage return in the sky and start the garden afresh.
Sarah Anesta Samuel was an educator and community activist who also, according to this obituary, "developed a chain of successful beauty shops in the Republic of Panama." You just can't predict what you're going to learn when you explore the parks of New York City.