Here we are at primal
Bowling Green
—which, come to think of it, should have been the first entry in this blog, because in terms of New York City parks, Bowling Green is really where it all started.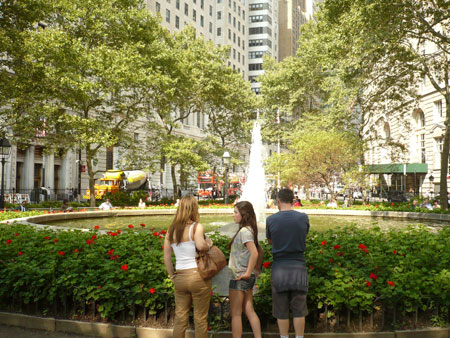 The fountain is one of Bowling Green's nicest features, and definitely its wettest
Along with Battery Park and
City Hall Park
, Bowling Green was among the "unappropriated lands" of the 1686
Dongan Charter
of the City of New York. Prior to that, during the years of the Dutch colony, it served as a parade ground and cattle market. Officially designated a city park in 1733, Bowling Green is the oldest with that status.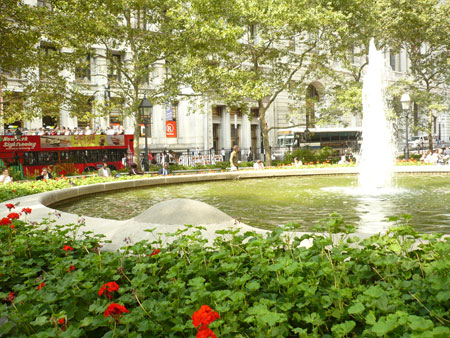 Manhattan in microcosm: tiny visitors and Wall Streeters enjoy the nice weather while a tourist bus and a city bus circle behind them
Bowling Green rests at the southern terminus of Broadway, which you've probably heard of. Formerly, in New Amsterdam days, Broadway was known as Heere Staat (High Street), and prior to that an Indian trade route; today, a few miles to the north, it's home to
Mamma Mia!
and
Wicked
. (Not to mention
Jersey Boys
,
Memphis
, and the hit revival of
Chicago
, proving that whatever other city or state you're from, you'll probably wind up here eventually.) At the northern corner of the park is that famous symbol of Wall Street, Arturo Di Modica's
Charging Bull
.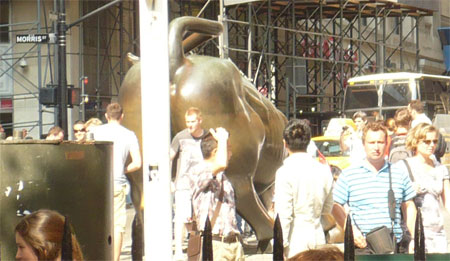 Just as flies surround a real bull, tourists throng about this bronze one
My favorite element of the park is actually the iron fence. (Get it? Element...iron?) It's the original 18th-century fence, and the park's designation on the National Register of Historic Places includes the fence. Legend has it that after the Declaration of Independence, when rebellious colonists tore down the park's equestrian statue of George III, they also removed the royal crowns from the fenceposts. But the fence, now thoroughly democratized, remains.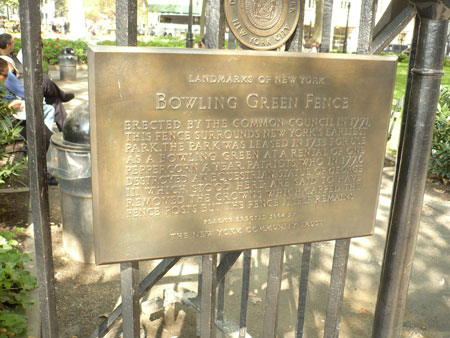 Few fences get their own plaques like the Bowling Green fence does
To the south is Cass Gilbert's
Alexander Hamilton US Custom House
, now partly given over to the Smithsonian National Museum of the American Indian. The museum is very worth a visit, but I also recommend checking out the main hall of the Custom House itself. The artwork and architecture are unique and impressive.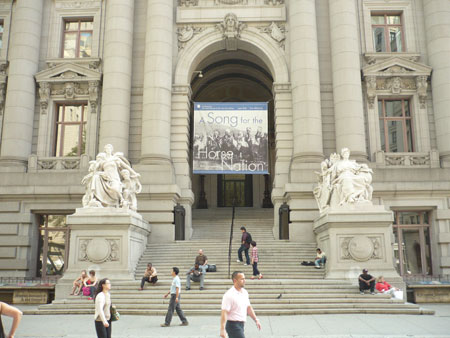 So next time you're downtown, for whatever reason—and I mean way downtown—pause a while and admire the oldest park in New York City. Relax, watch the tourists, eat lunch, look at the flowers and the fountain—go ahead, even touch the bull if you like.
You can't bowl, though. For pétanque, head up to
Bryant Park
.