Eugene O'Neill, John Sloan, and Rudy Giuliani all take their turns in the history of this obscure little corner of Greenwich Village. The
Golden Swan Garden
is so obscure that Google Maps
doesn't even show it
, though the decrepit-looking Washington Square Coffee Shop adjoining the Garden merits a listing.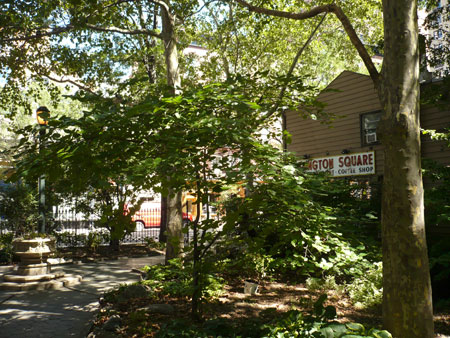 As "megan c."
says on Yelp
, the Golden Swan Garden is a "sad, scrungy little patch of land" that's worth a visit because of the history attached. The Golden Swan Café stood here many years ago and played a part in inspiring O'Neill's
The Iceman Cometh
.
But there's not much to say about the Garden that you can't read on this 'ere sign: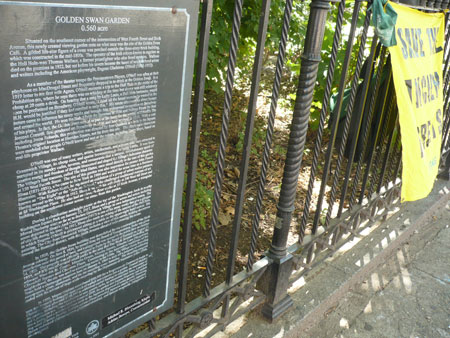 No need to squint, you can read the text
here
. The yellow banner bears an environmental message, resonating in its fluttery way with one of the place's earlier incarnations: a local recycling center which predated citywide recycling. (Greenwich Village residents were always forward-thinking in that way.)
On my recent visit, the Garden's only occupant was an apparently homeless man rooting through some stuff he'd collected, although the woman in this photo, just beyond the impressive iron fence, had just used it as a shortcut from the West Fourth Street shops and restaurants to Sixth Avenue.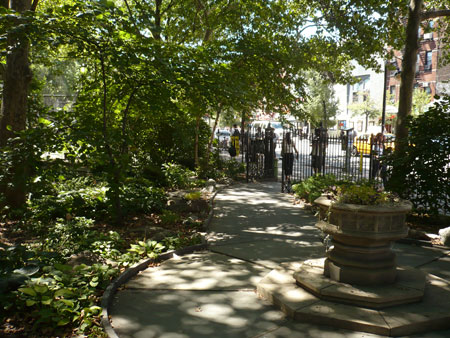 Too bad. It could be nicer. Maybe because it's in a commercial area rather than a residential one, it doesn't get the loving care other Village green spaces get. Right next door are the much more famous
West 4th Street Courts
, which, as a purely athletic facility, don't get their own post on this blog. But there's a lot more action in The Cage than in Golden Swan Park.