Madison Square Park
. Ring a bell? Madison Square is where the world-famous arena, Madison Square Garden, got its name.
The original Garden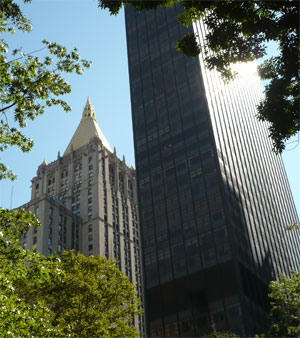 lived here starting in 1879 when P.T. Barnum converted a railroad depot to an open-air arena at Madison Avenue and 26th Street. In 1890 it was replaced by a magnificent "Hippodrome" designed by Stanford White, who was later murdered there.
This second incarnation closed in 1925, giving way to the New York Life building with its distinctive gold pyramid. (In the photo to the left you can see it gleaming next to a dark, modern monstrosity of a tower.)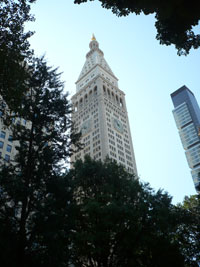 I worked in the New York Life building some years ago, and spent many a peaceful lunch hour in Madison Square Park. That was before the arrival of Shake Shack, which now dominates the southeast corner of the park with the smell of French fries and lengthy lines of lunchers.
Of course, it's commerce that's responsible for all the fantastic architecture that surrounds the park (except for the wonderful Beaux Arts
Manhattan Appellate Courthouse
building). The photo on the right shows the Metropolitan Life tower. And below is the even more famous Flatiron Building. Walking around the park's southern environs, you have to watch your step, or you'll bump into a tourist taking a picture of it.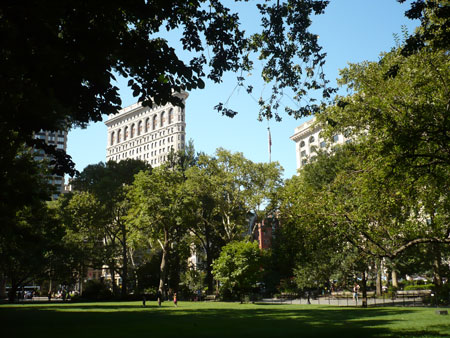 With all its famous skyscrapers, this is a much quieter neighborhood than the biggest centers of Manhattan commerce, like Wall Street and Midtown.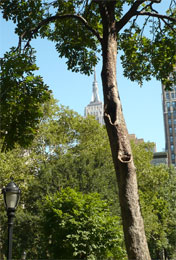 But just in case you forget where you are, here's the Empire State Building peeking out from behind a tree, granting a taste of its majesty to Madison Square.
The girls below, in the cheery red dresses, are focused on something much more homely. Probably pigeons or squirrels on the lawn, which, though frequently the site of art installations, was on this hot late-summer day in 2010 just plain grass, which was just plain fine with me.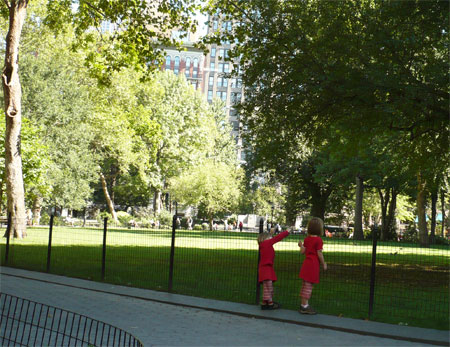 And on a sunny Saturday morning, before the Shake Shack throngs descend, these Falung Gong practitioners can enjoy some peaceful meditation…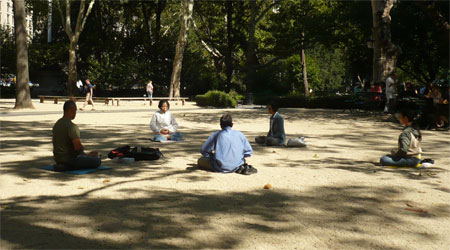 …while this old elm stands guard over the northern end of the lawn, confident it will outlive us all.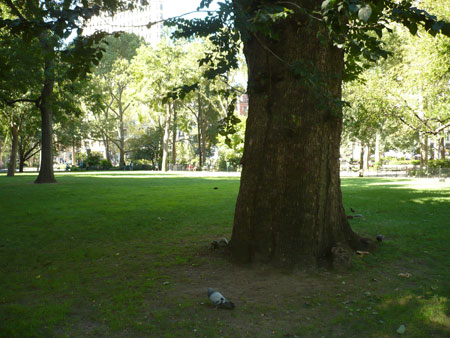 A worker skims leaves out of the pool. Just like in your suburban swimming pool!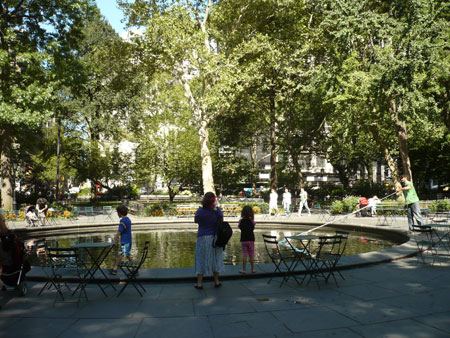 Of course, you can't swim in this one. But at your house in the suburbs, you probably have to skim the pool yourself. Unless you're rich enough to have someone to do that sort of thing for you. In which case, what are you doing living in the suburbs? You can get a great apartment for just a few million here in Manhattan. Just look at these pictures, isn't it gorgeous?
Madison Square Park also boasts a lovely fountain, and three statues, the best of which, to my eye, is the imposing 1876
seated figure of William Seward
—Governor, Senator, Secretary of State under Abraham Lincoln, and purchaser of Alaska.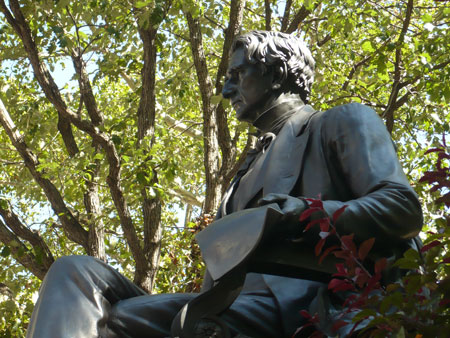 If you're ever in upstate New York,
Seward's mansion
in Auburn is worth a visit. But then head on back to New York City. We have hundreds more parks to visit.