This long, skinny park between Ninth and Tenths Avenues is given over mostly to recreational facilities, but it gets an entry here because the tip that faces Ninth is parklike, in a humble sort of way, with some benches and trees and two monuments.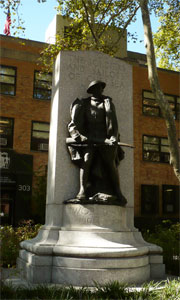 The central World War One monument holds the Chelsea Doughboy statue, a striking piece by Philip Martiny, who studied with Saint-Gaudens. It was dedicated in 1921.
More interesting to me are the granite gateposts memorializing Frank L. Dowling, a Tammany Hall leader who served as President of the Board of Aldermen (an antecedent of today's City Council) in the nineteen-teens. Faded, eroded, they're rather fitting as a remembrance of those bygone days of corruption. (Because as everyone knows, local politicians today are squeaky-clean, every last one of them!)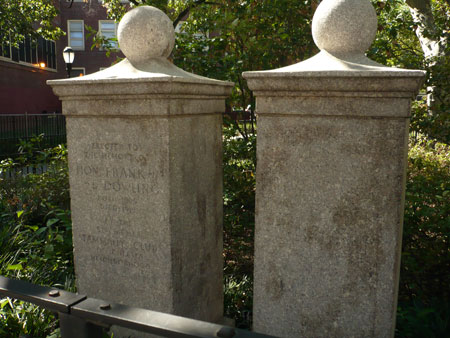 The Parks website seems confused about the pillars, noting correctly that the Horatio Seymour Tammany Club put them up, but
getting the year and the honoree wrong
. One suspects there might be some confused old ghosts passing through the posts, over and over, wondering "What's my name?" and "Why have I been misremembered?" Or even "Have I been totally forgotten?" (Yes, pretty much.)
The guy in this photo is probably thinking about something more current. We'll never know. At least he found a nice bench.