Deep in southwest Brooklyn, next to the massive on-ramp to the Verrazano-Narrows Bridge, sits square-shouldered
John Paul Jones Park
.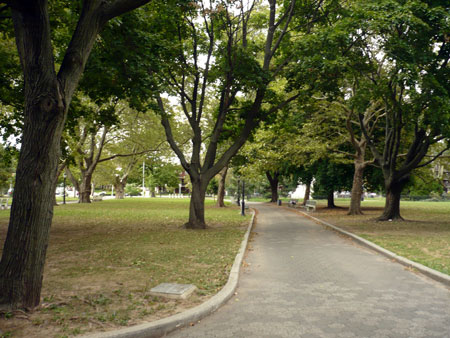 Named for the naval hero of the War of 1812, not the Led Zeppelin drummer, the park is chockablock (I always wanted to use that word!) with military monuments, as is perhaps appropriate given its proximity to Fort Hamilton. From within, the park feels pretty substantial in area, especially when you think about it compared with some of those tiny parks we've been talking about squeezed into crowded Manhattan, but its most dominant feature is a monstrous Civil War era cannon.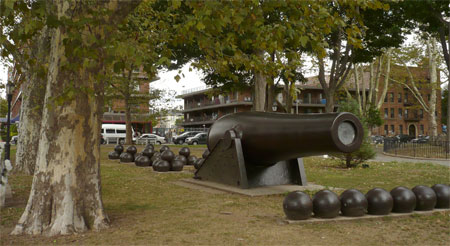 The cannon is used now only for the most peaceful of purposes—like climbing on. Still, this is not a quiet park. The reason: that aforementioned on-ramp, which pours a constantly undulating stream of traffic noise over the soft spaces below.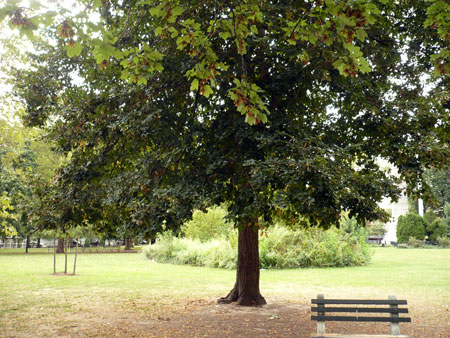 I visited on a blustery, cloudy September afternoon with fall in the air, but just as I was leaving,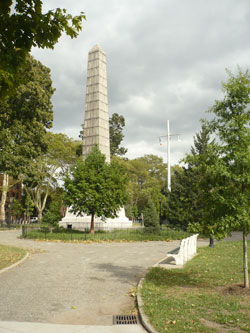 the sun came out for a moment, illuminating the great granite obelisk and the flagpole. The obelisk commemorates the
Dover Patrol
of the First World War English fleet. The flagpole comes from a Navy destroyer. The park also contains memorials to the Civil War and the Revolutionary War.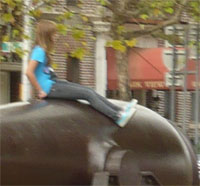 But while we're mindful of the sacrifices of our warriors and those of our allies throughout the seemingly countless wars that gape through our history, let's remember one of the main purposes of parks: parking. As in, parking your butt on a retired cannon. Which is to say: playing.