There are so many layers of history on the old Commons, you can get dizzy reading about them. Pastureland in the seventeenth century; not one but two almshouses beginning in the eighteenth; a debtors' prison, where the British who occupied the city held American prisoners of war during the Revolution; a post office; the famous
African Burial Ground
, discovered during construction in 1991; and tons more. There's prettier history underneath, too—one of the most beautiful subway stations in the world, a
City Hall stop
that's been closed to the public since 1945. It was designed by Heins and LaFarge, architects of the Cathedral of St. John the Divine. You might need to say a few prayers if you ever hope to see it, though.
The Mould fountain has had
a few adventures of its own
. But why wasn't it turned on the day I went down to take pictures? Why??? WHY?????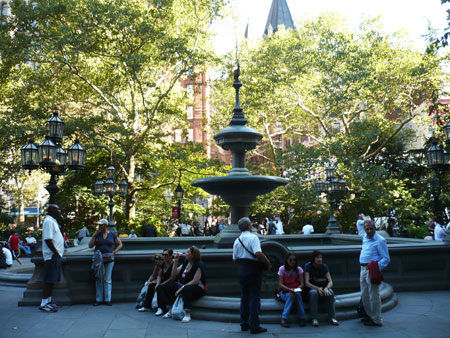 One thing you can't get much of a look at from
City Hall Park
—which I'm considering to be the southern triangle, not the greenery to the north surrounding City Hall and the Tweed Courthouse—is City Hall itself.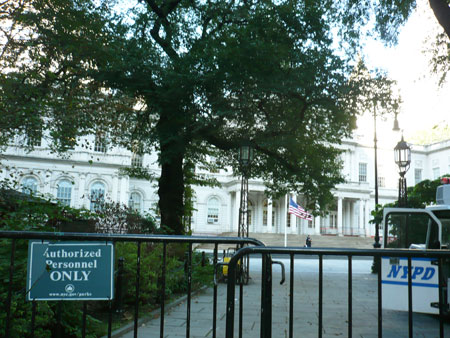 Since 9-11, not too welcoming
This year, through December 3, an installation of figurative sculpture called
Statuesque
is gracing the park.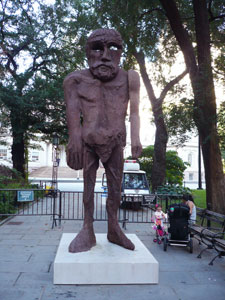 If the barricades and police presence aren't enough to discourage your unauthorized self from getting too close to the House of Bloomberg, maybe Thomas Houseago's bronze
Untitled (Red Man)
will do the trick.
He ain't scaring these little kids, though, in spite of his large size and holes for eyes.
In Manhattan parks, looking up usually pays dividends. Here we see pretty lamps on the left, lit for the approaching evening hours, and the white towers of McKim, Mead and White's Beaux-Arts Manhattan Municipal Building on the right. Maybe one day I'll have a camera that can show things in shadow and things in light in the same photo.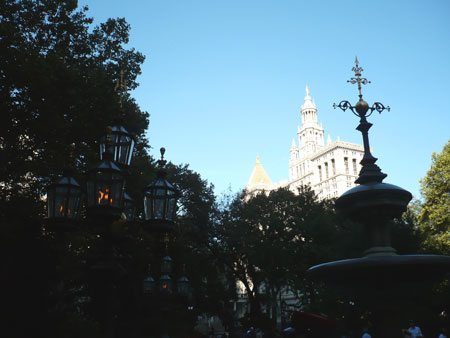 Nathan Hale keeps an eye on City Hall, courtesy of sculptor Frederick MacMonnies. Hale was actually hanged about four miles north of here. There's a Starbucks there now, so this is probably a better spot for him.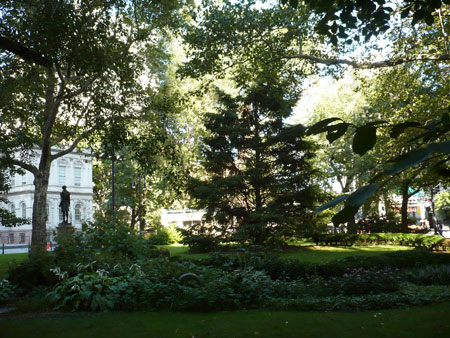 Today, City Hall Park seems mostly a place for working people to eat lunch on nice days, and tourists to wander through on their way to gaping at Ground Zero. But there's culture to be had as well, and not just silent sculpture installations. Here, patriotic quartet 4Troops sing at the southern tip of the park.