Like a great many of Manhattan's small green spaces,
Dante Park
is a triangle defined by streets that cross at something other than a 90-degree angle. In this case it's Broadway and Columbus Avenue, across from Lincoln Center.
But unlike some of those semi-accidental greens, Dante Park isn't much of a park.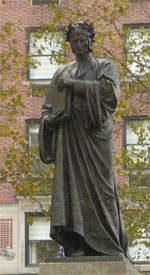 With no fountain or flagpole and little seating, it's usually seen, but often hardly noticed, by those crossing to or from Lincoln Center and the restaurants immediately to the east of that great cultural institution. But Dante Park is worth a pause.
First, it's one of a number of testaments throughout the city to the influence of New York's Italian-American population. Like the statue of Garibaldi in Washington Square Park, the one of Dante Alighieri here is a point of pride for New Yorkers with Italian roots—especially, in this case, those with a literary bone. The Italian sculptor Ettore Ximenes didn't complete the statue until 1921, the 600th anniversary of Dante's death, but Dante, who died in 1321, predates the other famous Italians celebrated by New Yorkers, even Christopher Columbus and the explorer Giovanni da Verrazzano, whom Ximenes also depicted in statue form several miles south in Battery Park.
Staring at Dante from the other end of the park is a much more modern sculpture, architect Phillip Johnson's 1991 bronze "TimeSculpture," with its four clock faces oriented in the four directions of the compass. Shaped like a prism, it reminds me more of the obelisk from
2001: A Space Odyssey
than anything else.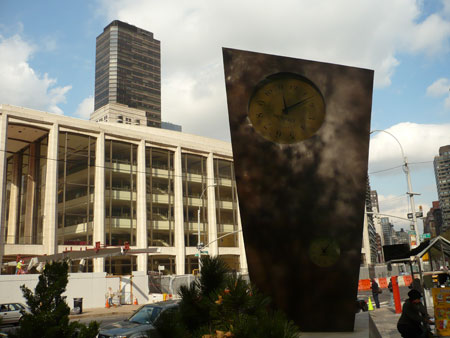 Dante Park is also rooted in a small mystery. When, exactly, did the space become a park? 1852? 1868? The Parks Department
doesn't know
. Just a small reminder that despite our desire to know all, we can never do better than knowing much.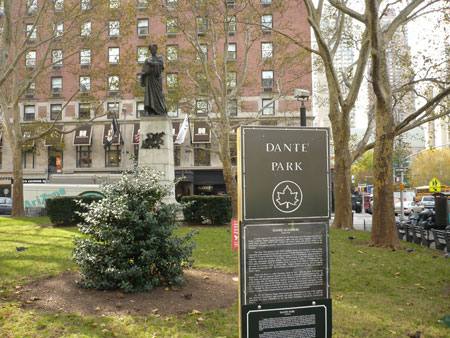 Finally, Dante speaks across the centuries to anyone who writes, reads, or hopes to understand anything about this heavenly and hellish world. Wrote the great poet in the
Divine Comedy
: "He listens well who takes notes."
Noted.