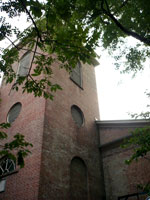 There's not much to say about the
garden at the Church of St. Luke in the Fields
except that it's a beautiful, quiet spot with surprisingly tall trees, roses, and, when the weather is right, lushness.
I'm glad, however, that I took the gorgeous photos below in 2009. The summer of 2010 has been the summer of monster heat, which has rendered the greenery around the city a bit dingy.
The light for taking photos has been ugly most days, too. Skies more white than blue, air thick like gravy. Not so last year: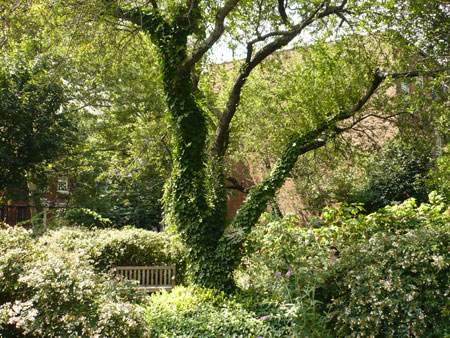 St. Luke's is an Episcopal church in Greenwich Village that caters to the LGBT community as well as serving the neighborhood in general. When I stopped by the other day to grab the above photo of the tower—the building dates from 1822—the church was holding the West Village Chorale's Summer Sing. Its
website
has all kinds of information. You can buy the book
How to Cook like an Episcopalian
at the online store, and learn that Clement C. Moore was a founding warden of the church. But there's nothing about the garden, with its impressive birches.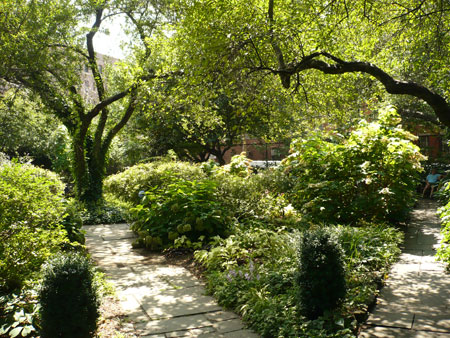 One Yelp contributor
wrote
: "I love visiting this spot in the winter and fall; sipping the dregs of my Mud Truck coffee and listening to the house sparrow by the tool shed. It's that simple. It's that good." I can imagine Moore sitting here in wintertime writing "'Twas the Night Before Christmas" when the church was young.