Continuing our
Tribeca miniseries
, today I'm giving a nod to
Duane Park
, a triangular traffic island with a wee footprint but a dense history and a
Friends of Duane Park website
that's almost more substantial than the park itself. At least some of the rich people who made this former warehouse district into the luxury haven it is now really do care about their tiny little park.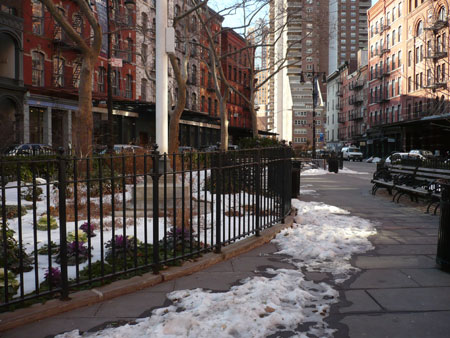 By calling Duane Park a "traffic island" I mean no insult—after all, almost by definition a city green space is surrounded by pavement. The park is named (as are Duane Street and, by extension, the ubiquitous drugstore chain Duane Reade) for James Duane, a member of the Continental Congress, signer of the Articles of Confederation, and New York City's first post-Revolutionary War mayor.
The park has an equally impressive history. After Bowling Green, it's the oldest public park in the city, and the very first space the city purchased specifically for use as a public park, acquiring it from Trinity Church for five bucks in 1797 specifically to be "promotive of health and recreation."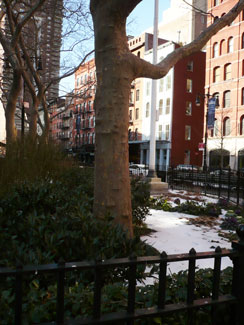 Recreation? Well, sports-wise you couldn't fit much more than a foursquare court here, but there's enough historical information on the Friends of Duane Park website to occupy your mind while you promote your health by sitting in the "fresh" air for a little while.
The sycamores of Duane Park, planted around 1940, provide a welcome break from the thousands of London plane trees (Robert Moses' favorite species) that make arboreal near-monocultures out of some of our New York City parks. You can see several of them behind the fence in the first photo, above, and another trunk in the photo to the right. Of course like most trees these look nicer when they have leaves on them, but as I've mentioned before, our Park Odyssey does not cease in the wintertime, though it may slow down. If Captain Picard can boldly go for years and years through the galaxy, I can go for a walk in the cold.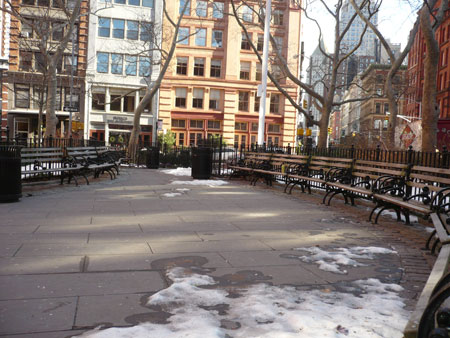 I don't understand the layout of the park. Why is there so much empty space smack in the middle? Why not more green? Shrubbery? A fountain? Why not a statue (might I suggest a likeness of yours truly?) set amidst a flowery, landscaped mini-garden? The park's long
history
of
redesigns
suggests that no one's ever quite known what to do with it. Calvert Vaux himself "must have scratched his head over how in 92/100s of an acre to fulfill [the park superintendent's] instructions to 'create a feeling of quiet and restfulness by having pathways that meander.'" Meander for five seconds here and you'll find yourself out in the middle of Staple Street in front of an oncoming FreshDirect truck.
Even amid winter snows, though, there's green, and even red, to appreciate if you look. Even in a pocket-sized spot like Duane Park.