We're not through with Tribeca yet!
Washington Market Park
, covering more than two acres, links the neighborhood with the Borough of Manhattan Community College. As New York City parks go, it's is a baby, conceived in the 1970s in the wake of the urban renewal projects of the previous decade and named for the Washington Market, the city's wholesale market until it moved up to Hunts Point in the Bronx. (See
Forgotten New York
for some details on the neighborhood that used to be called the Lower West Side, and
click here
for a great photo of West Washington Market in the 1880s.)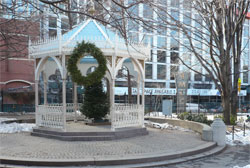 But in its short life the park has seen a lot; just as an expansion and freshening-up was about to get under way, the September 11 attacks damaged the park, just a few blocks north of the World Trade Center. In the aftermath of the attacks, according to
the park's website
, "Covered in debris, the park was used as a lot for emergency vehicles and as a power station. Thereafter, the playground had to be closed for several months, delaying the construction and improvement project." However, a new playground was completed in 2003.
To my eye the park is remarkable not for its modern playground or gazebo but for its unusual trees, and for its wide open spaces, looking especially broad and stark in the wintertime, full of shadows…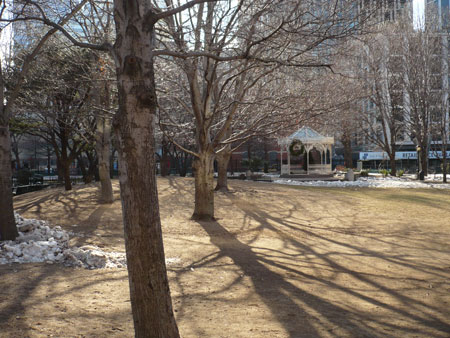 …and the occasional pedestrian.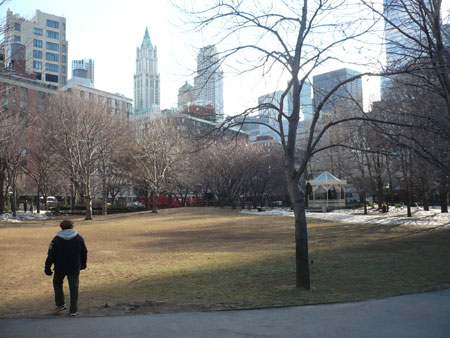 Here, through the fence, you can see a parks worker in a green uniform taking a breather from shoveling in the aftermath of the 2010 Christmas week blizzard: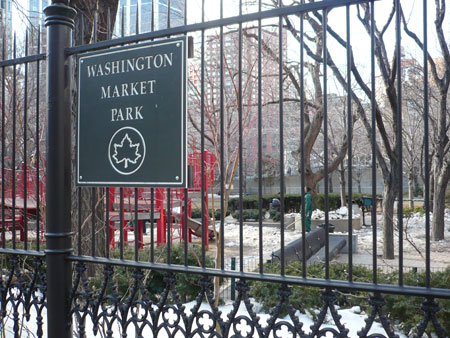 And here, a student walks through the park towards BMCC, which sits at a height above the park: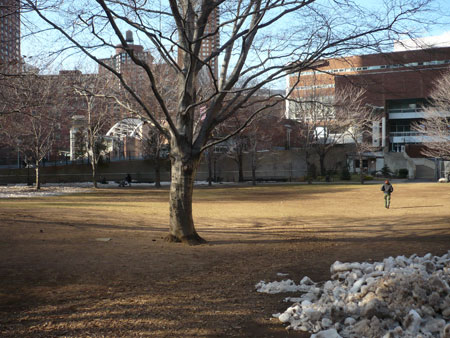 According to the invaluable
Garden Guide
, Washington Market Park "boasts a handsome stand of dawn redwood, a grove of cherry, beech, and willow trees, a blue Atlas cedar, and several dogwoods and crab apples," and it "succeeds in being both greener and more adventurous than most city parks [with] an almost suburban atmosphere…" Greener? Probably. More adventurous? I don't know exactly what the authors of this excellent book mean by that—"adventurous" and "suburban" seldom go together in my mind—but a real greensward in a small city park like this is rather unusual, so perhaps in that sense it's adventurous.
The coolest thing, though? This shed, built into the wall that forms the park's western boundary: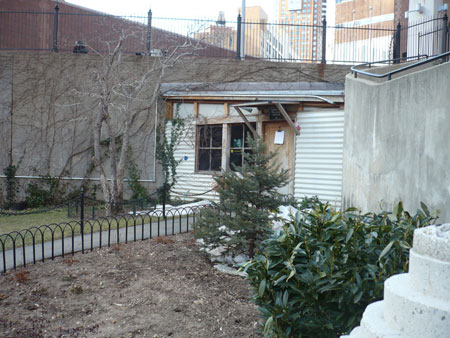 Hardly looks like a New York City building, does it? But that's the great thing about wandering the city and its parks—discovering surprises like this.
A view from the steps leading up to BMCC puts the park in context...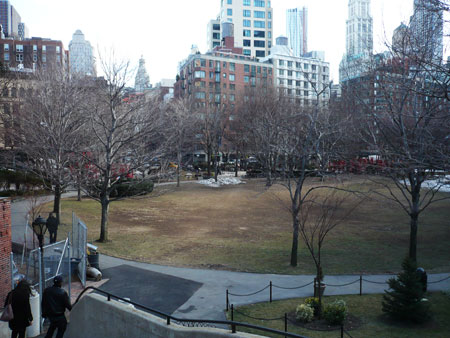 …and a look at its signage often provides a clue to a park's priorities. What's that in the bag, human?
Not a blanket, I hope…