The former Bushwick Park is named for a community leader who was shot through her window in 1989.
Maria Hernandez
didn't live to see the Bushwick neighborhood's recent hipness infusion, but it's nice that the folks moving in and opening little coffeehouses and such will know her name because of the park.
Mostly devoted to athletic fields,
Maria Hernandez Park
is nevertheless a nice place to walk through, which I did the other night after a four-inch snowfall. Parks don't go away when it's cold and dark out—they await you, cloaked in winter mystery. A police car with bright headlights crunched through this diagonal path, too, shortly after I took this picture:
Neither the Parks Department website nor a Google search turned up an explanation for the buffalo reliefs on this gate. Perhaps a reader will…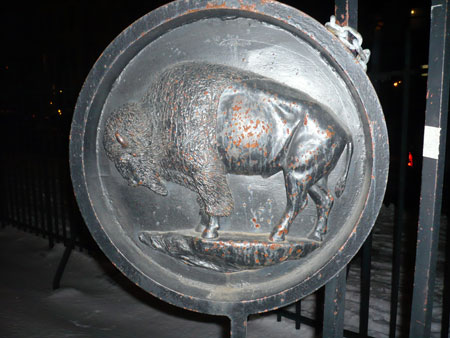 Meanwhile, imagine yourself in the quiet chill of a January night in the 17th century Dutch town of Boswijck, which means "heavy woods." Or imagine walking through the neighborhood in the late 1800s when, heavily German, it was home to more than a dozen breweries (including Schaefer—"the one beer to have when you're having more than one," as old Mets fans like me all remember).
Or just go back to September 2010, when a tornado trashed the park, as this video attests:
That's right, a tornado. Snow's not the only thing we get around here. But snow is what I'll leave you with.