This big stretch of waterfront greenery is a treasure most people from other boroughs (or even other parts of Queens) rarely if ever see.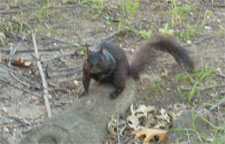 And by "see" I don't just mean "visit," I actually mean see. For one thing, from the Manhattan side of the East River it's difficult to even get a look at
Astoria Park
because Ward's Island is in the way. How many Manhattanites know that this Queens waterfront park, which dates from 1913, has the city's oldest and biggest swimming pool? Olympic trials were held there in 1936 and 1964. There's also a great track, lots of fields and play areas, and plenty of room to just wander around enjoying the open spaces and sublime river views.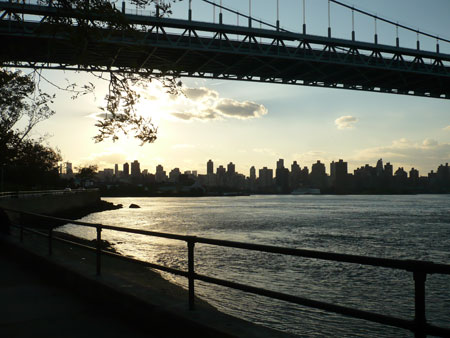 Facing Southwest as the sun sets
The RFK Bridge (formerly the Triboro Bridge) dominates the southern section of the park, but unlike at, say, Brooklyn Bridge Park, the span is so high up that you don't get much traffic noise.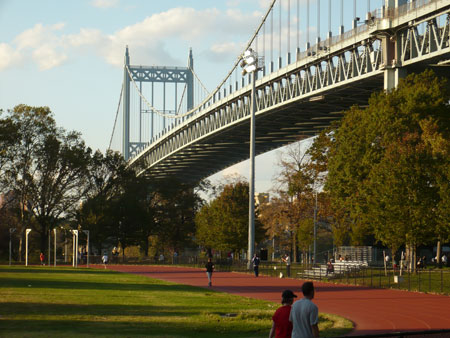 Farther north you can walk under Hell Gate Bridge, which carries trains. The water looks pretty from the vantage of these photos, but Hell Gate wasn't named for nothing; look down on it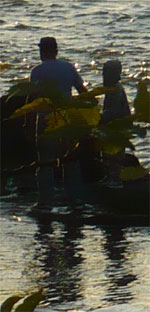 from the path along the waterfront and you can see it eddying and charging like Scylla and Charybdis. It's rough stuff.
And it has a rough history—over a thousand people died in the
General Slocum disaster
, an accident which took place in these waters in 1904. Until 9/11 the burning and sinking of the paddle steamer
General Slocum
ranked as the most deadly accident in New York City history. Centuries earlier at Pot Cove, at the park's southern end, an Indian village thrived off maize and fish. There are no more farms along the East River, but people still come to the park to fish.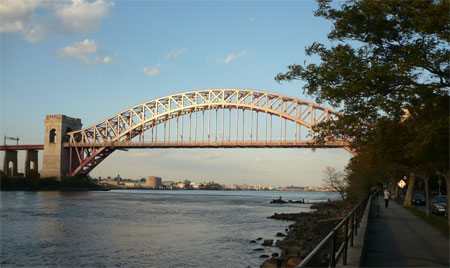 Look similar to something? The Hell Gate Bridge, pictured here, inspired the design of the bigger and more famous Sydney Harbour Bridge in Australia.
I don't think these people were supposed to be out there on these rocks...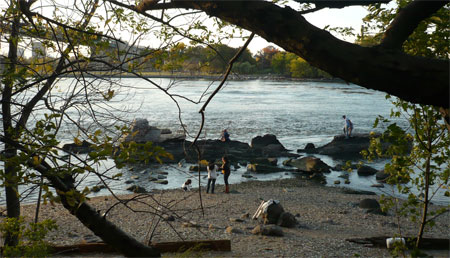 But I like the fact that they could climb their way down there without any uniformed nannies bothering them. Of course, it's probably less dangerous to run around the track…

…or just take a walk. Which you can do for a good while in Astoria Park without running out of things to see.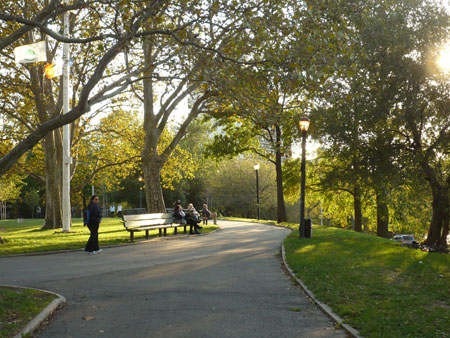 Under the Hell Gate Bridge, nature gives way to monumental found art. Or something. Why is this bridge support painted just this way? What's the big font of dirt for? For every city secret we penetrate, a hundred more remain locked in mystery.