We talk all the time about the past on this blog, but for a minute let's think about the future. In the future, there will be a park on the waterfront in Greenpoint, Brooklyn, called
Transmitter Park
, named after the former WNYC radio transmitter station. Presumably this is the old radio broadcasting building, under the tarp—slated, according to one source, to become a café: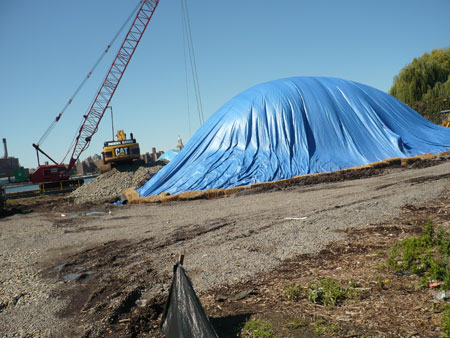 It's interesting to see what Google Maps are hip to and what they're not. Transmitter Park already exists, according to Google. But on the ground, right now it's just a dig, scheduled for completion in late 2011. There'll be a pier for fishing, an esplanade, and, according to the
NYC Economic Development Corporation
, "the former relieving platform is being replaced with a natural wetland shoreline." That's what I love about the big city—you can replace an industrial structure with something "natural," and do it with a straight face, and be absolutely delighted about it.
The Greenpoint-based blog New York Shitty
has more
. Until the park is open, enjoy these Munchkin-blue buildings (for boats? anyone know?) on Kent Street. The park site is behind the fence past the buildings.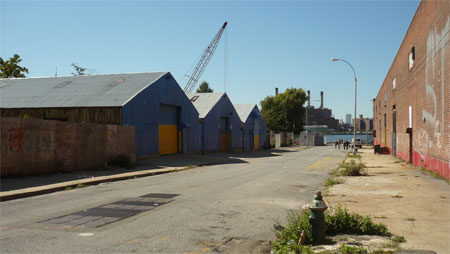 As a bonus, enjoy this security company logo. Look at that futurey/deco-y skyline artwork. A doff of the hat to the unknown artist.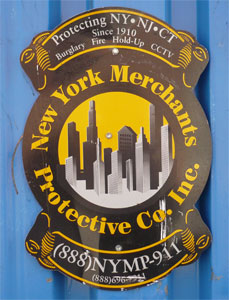 And a nod to Google Maps, without which I would never have wandered down Kent St. to explore the time-warp mystery of Transmitter Park.