It's grand. It's a plaza. But the only "army" in
Grand Army Plaza
is the swarm of cars that zip around it. It was created as an impressive entranceway to
Prospect Park
. But entering the Plaza itself is a pedestrian-hostile process from most directions. So on nice days, you'll see plenty of people in Prospect Park itself, but a paltry few visiting the Arch, the Bailey Fountain with its startling Neptune, and the smaller monuments. Pity.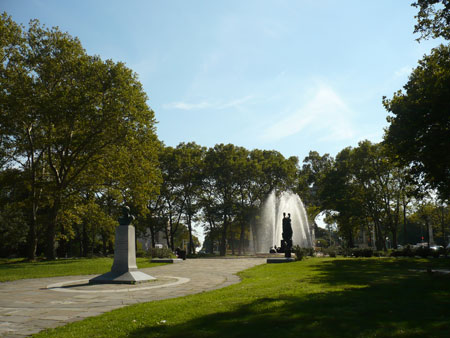 The bust of JFK (foreground) was gone for renovation for what seemed like decades, but it's back
The Bailey Fountain features nude figures representing Wisdom and Felicity...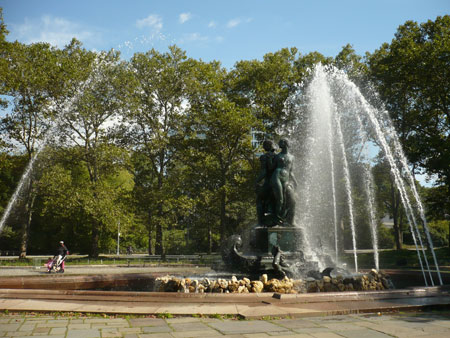 But below them is Neptune, a figure I find much more artistically compelling: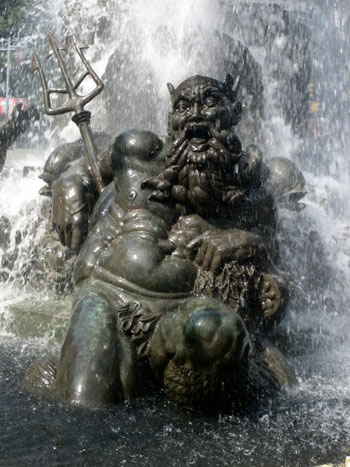 Photo found on Wikipedia.
When summer comes, try to find out when the arch is open to the public and go up inside it. The view is nice, the interior even more interesting. I once saw a theatrical production inside the arch. It used a lot of puppets, and was very long. Anyway, here it is:
It's big. It's over-the-top. It's...the
Soldiers' and Sailors' Memorial Arch
! In 1889, William Tecumseh Sherman
laid the cornerstone
. Covered in Civil War action figures, it would be one of the Seven Wonders of New York City if such a list existed.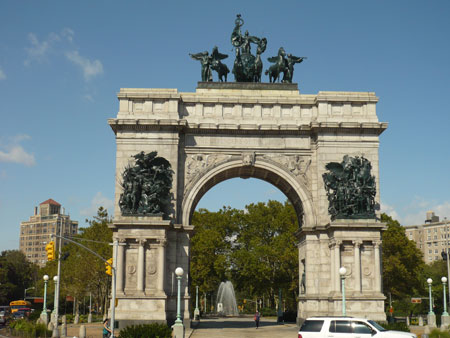 So when you visit Prospect Park, brave the traffic (and the uneven paving stones) and check out the Arch and Grand Army Plaza's other sights. Maybe you'll run into a wedding party taking pictures in front of the fountain. Maybe you'll run into nobody. Either way, there's no other public space quite like this in NYC.