This beautiful Manhattan park overlooking Hell Gate covers 14.9 acres along the waterfront.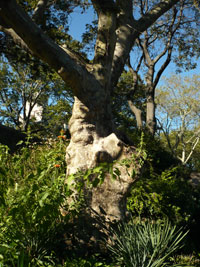 Carl Schurz Park
's winding paths can make it feel bigger than it is, and Calvert Vaux himself had a hand in the 1902 landscaping, though the park has undergone a few re-imaginings since the city set aside the first section of it for parkland in 1876.
Towards the north end sits Gracie Mansion, the Mayor of New York's official residence. But I'm more interested in the elements that (literally) ground the manmade park to the natural geology of the Earth, like this outcropping of (what I assume is) Manhattan schist: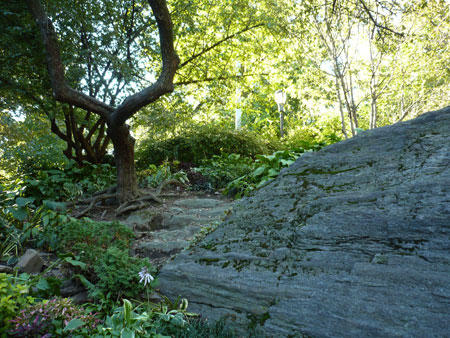 Parts of the park offer some peaceful, even semi-secluded spots for reading or contemplating.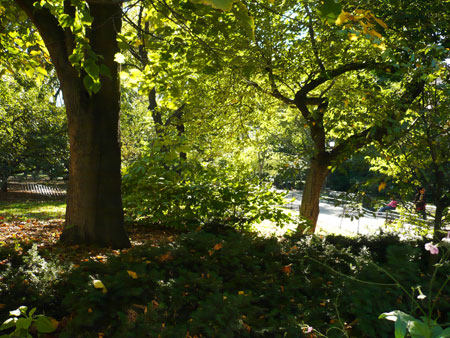 Can you spot the humans in the far right of the photo?
The surrounding community actively supports the park. It's not an accident that it's named for a German-American statesman.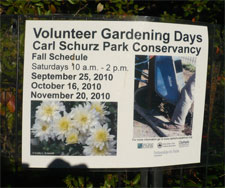 Carl Schurz was a Union Army General in the Civil War, a Senator, a newspaper editor, and a Secretary of the Interior, among other things. The nearby neighborhood of Yorkville used to be well-known as a German-American neighborhood, remnants of which remain (in the form of one or two restaurants, at least).
Schurz had an admirable take on the sentiment "my country, right or wrong." His 111-year-old gloss: "Our country, right or wrong. When right, to be kept right; when wrong, to be put right." Words to try to live by in our insanely partisan age.
This grassy "avenue" has a pleasant look…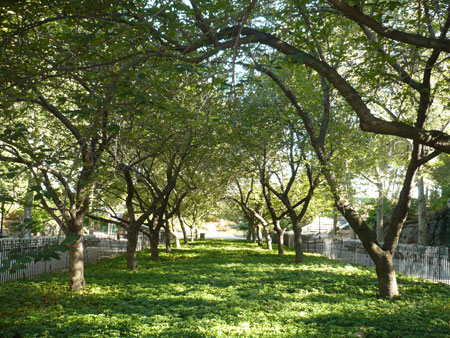 …but you can't beat this recessed circle (what's it called, anyway?) for visual appeal: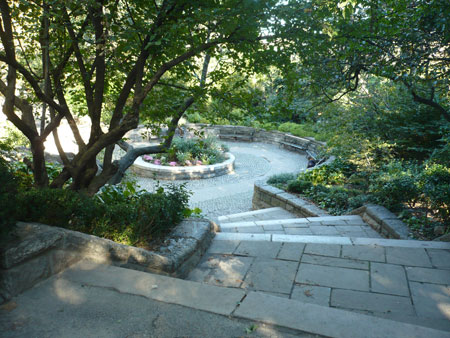 The statue of Peter Pan is a nice attraction. Sculptor Charles Haffen created it in 1928 for a lobby fountain in the old Paramount Theater. It found a new home here in 1975, around the time the Carl Schurz Park Conservancy began working to bring the park back from years of neglect and decay.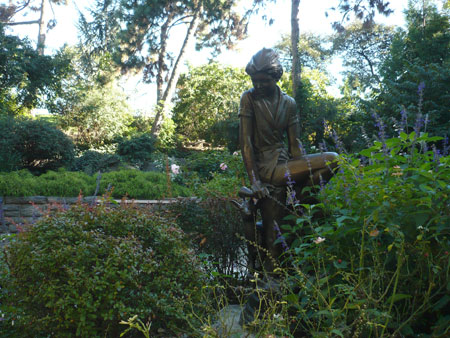 Peter Pan is a universal symbol of not wanting to grow up. By contrast, what could be less universal and more New York than this Vauxian archway? Almost makes you think you're in Central Park or Prospect Park.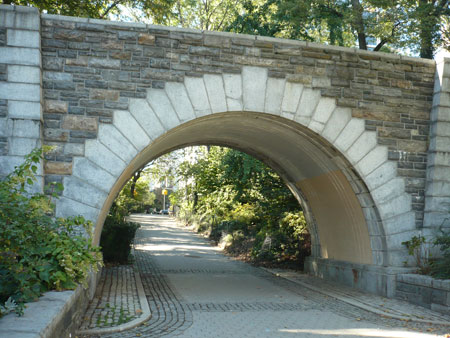 Combine a visit to Carl Schurz with a walk on the
East River Esplanade
which it adjoins. Waterfront vistas and secluded woodsy groves all in one place, right in Manhattan. You probably won't run into Mayor Bloomberg—he uses Gracie Mansion only for official dinners and such. But wander over to First Avenue or Second Avenue and you can get a darn good bagel.