I've passed by James J. Walker Park in the West Village many times, but never thought it of interest because it looked like little more than a big ballfield.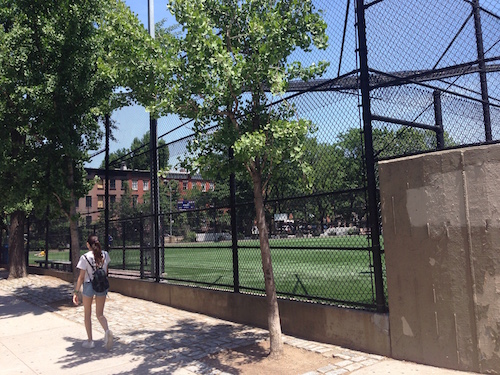 However, there's more to this unprepossessing one-and-two-thirds acres. And I'm not referring to the colorful life of the famous NYC mayor after whom it's named.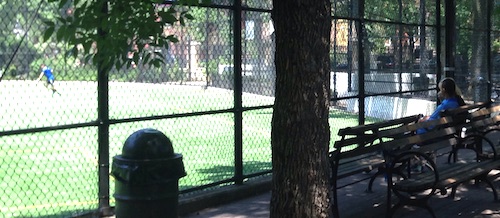 Jimmy Walker, Mayor of New York from 1926 to 1932 (and at one time an aspiring songwriter), led a flamboyant and controversial public life. But "Beau James" was but a teenager when the city acquired Trinity Church's St. John's Burying Ground in 1895, intended to convert the cemetery into a park.
In fact, the plan originated with the future mayor's father, Assemblyman William H. Walker.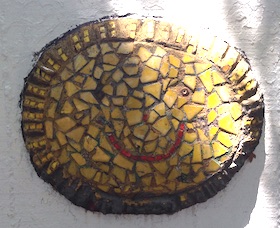 More than 10,000 bodies had been interred here since 1812. Their fate would be much discussed 80 years later, as an article called "A Great Opening of Tombs" in The World from December 4, 1892 explained.
As transcribed here on the NYCNuts website, the paper reported that the elder Walker "said that the city would remove the bodies now in the cemetery and would do it very carefully and in a manner that could not offend and of the relatives of the dead."
But it seems it was not to be. As I understand it, the vast majority of the bodies – those that did not have families to claim them and arrange for reburial – are still there, beneath the ballfield, the pavement, the handball courts, the playground, and the sitting area, which I discovered sandwiched between the fields.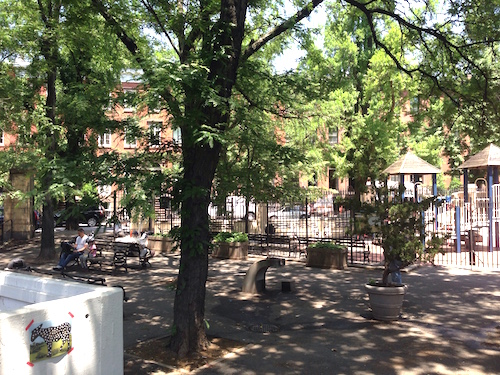 When I slipped in early on a recent Sunday afternoon, there were people using the handball courts, and kids in the playground.
No one was using the bocce court, though. It's one of only two Manhattan bocce ball locations listed by the Parks Department. It's also one of the locations listed and presumably used by the good people at NYC Bocce.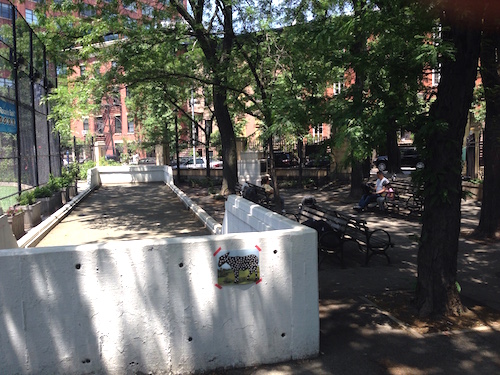 Whatever you do, don't confuse bocce with pétanque, which you can find at Bryant Park. Bocce is Italian; pétanque is French. (Although the word, Wikipedia informs me, is actually Occitan. Didn't know that was a language? You learn all kinds of stuff researching New York City's parks.)
Anyway, next time you're in the southern reaches of the West Village, stop by James J. Walker Park and give a thought to the memory of one of Gotham's most memorable mayors. Then give a thought to the memories of the thousands of people in the ground beneath your feet.