The quaint word "knoll" isn't one you hear too often around New York City. Aside from Greywacke Knoll, the site of Cleopatra's Needle, the Central Park obelisk – and be honest, did you know that was called "Greywacke Knoll"? – Green Central Knoll in Bushwick seems to stand pretty much alone.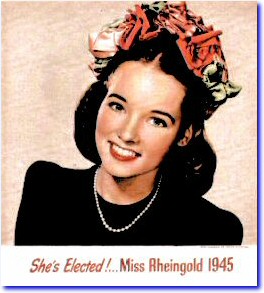 Specifically, it stands alone on the site of an old Rheingold Brewery, according to the Parks Department – though recent real estate news identifies a different Bushwick location for the historic suds factory. Maybe there were multiple Rheingold buildings or sites. Anyway, the park is called Green Central Knoll because it's bordered by Evergreen Avenue, Central Avenue, and Noll Street. (As to the derivation of the name Noll Street, your guess as is good as mine. Maybe a neighborhood historian can clue us in.)
Bushwick, the name given to the area by Peter Stuyvesant in 1661, comes from Boswijck, meaning "little town in the woods," "refuge in the woods," or "heavy woods" (depending on whom you ask) in 17th-century Dutch.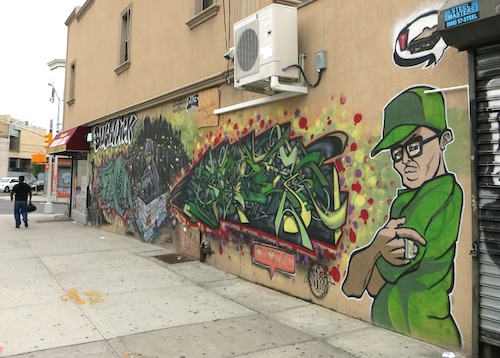 For modern times, I'd pick the "refuge" sense, since that's what city parks are. Most of Green Central Knoll is occupied by a large ball field.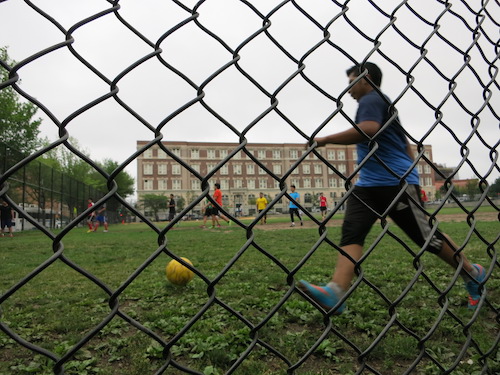 At a lower level there's a sitting area, complete with cuddle benches.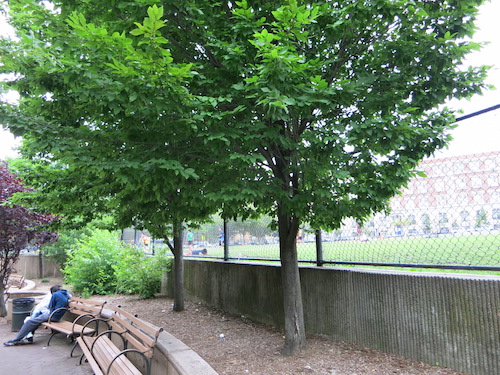 The park's striking feature is an artificial rocky stream bed, complete with artificial (brass) fish and a painted landscape with white birds (ducks?) flapping by.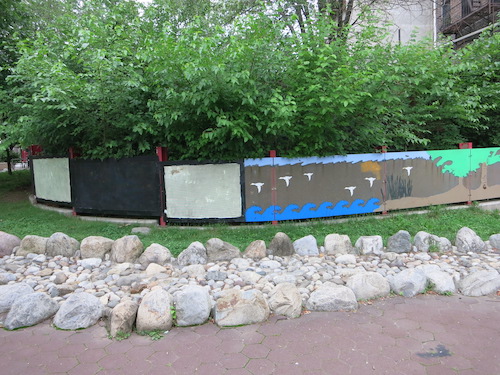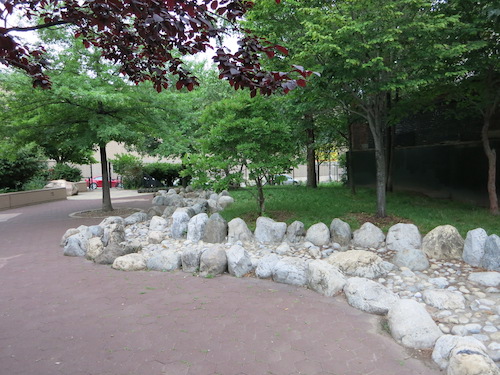 Because of a disabled L train, I was running late for the show I was reviewing that night, so I didn't have time to go down to the park's lower corner where, according to the Parks Department website, "the water pours into a catch basin adjacent to an area adorned with spray showers."
I did have time to observe, though, that there wasn't any water in the stream bed, leaving the metal fish just as dry as the artificial frog up at Highbridge Park in The Bronx. So I guess it would have been moot.