If the Parks Department bestows a name upon a tree-lined sitting area by a subway station, it's a park.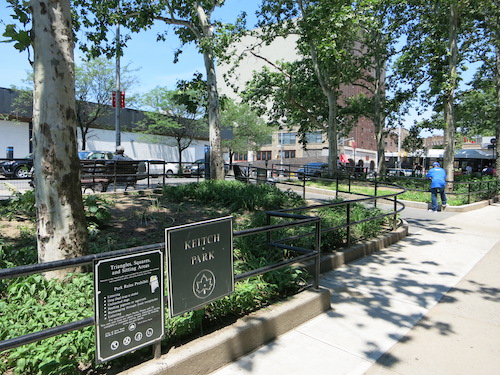 Keltch Park along Jerome Avenue in The Bronx is a narrow, oddly shaped triangle with the elevated 4 Train above. It's been Parks Department property since 1899, but in 1944 it got the unusual distinction (unusual among NYC parks) of a name honoring a hero of World War Two rather than of World War One. Robert Keltch was serving aboard a navy ship in 1943 when a German U-boat torpedoed it "just 90 miles east of Elizabeth City, New Jersey," as the Parks Department website details. The war did get closer to our shores than most of us who weren't alive then usually imagine.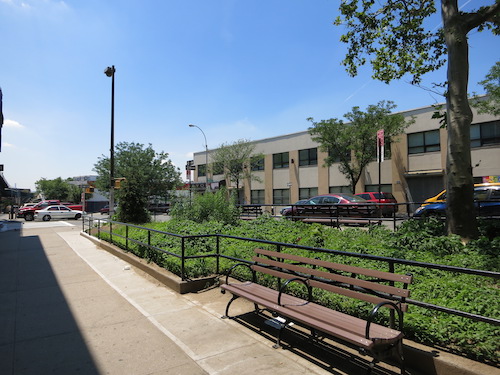 Upstairs at the 170 St. station, there's more than the 4 Train. These striking stained glass windows are well worth a visit. They're by Dina Bursztyn, as the invaluable blog Scouting New York helpfully informs me.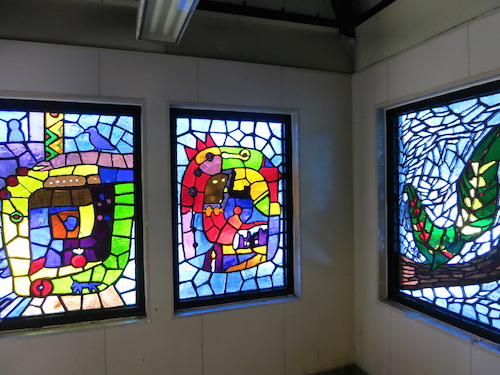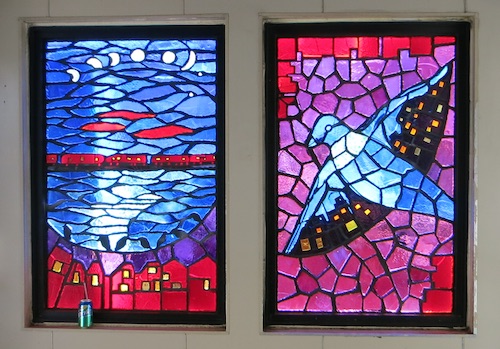 Coincidentally, it was an art exhibition that led us to happen upon Keltch Park in the first place. We'd come to The Bronx to see the crumbling Old Bronx Borough Courthouse, open until July 19 for an art show presented by No Longer Empty.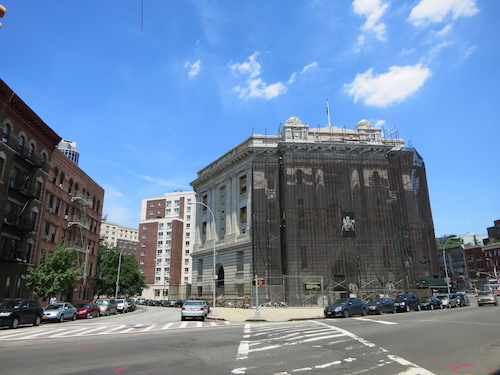 It's a double whammy: a rare look inside a fine building left to decay for decades, and a superb show, some of whose art incorporates the debris from the building itself.
"Alien Souvenir Stand" is by Ellen Harvey:
And this installation, which includes sound, is by Daniel Neumann and Juan Betancurth: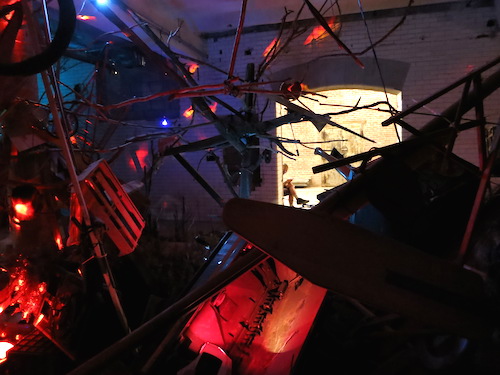 Beth Campbell and Adam Helms were among the other artists whose work impressed us. I know, I've strayed pretty far from the park theme – this isn't an arts blog. But this exhibition, in this building, is so extraordinary I had to cover it.