Another park that's an easy walk from Yankee Stadium in The Bronx is Franz Sigel Park, the rockiest and most forested of the area's green spaces (at least those you can enter without sneaking or blasting your way in).
To get there I started at Joyce Kilmer Park and the Bronx Supreme Court at 161st Street, and walked down Walton Avenue, which, like Broadway in Manhattan, was once an Indian path.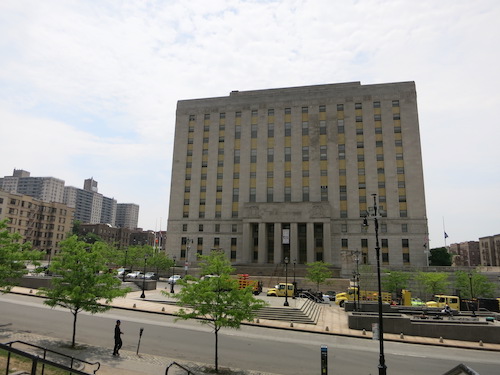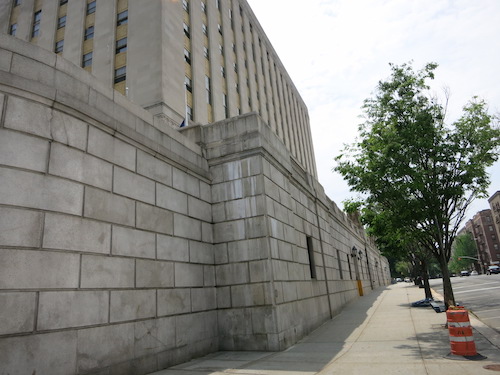 I passed the Congregation Hope of Israel building, which in its present condition isn't a very good advertisement for hope. According to BronxSynagogues.org, it closed in 2006. The same website explains that while over 360,000 Jews lived in the South Bronx in 1940, by 2007 the count had dropped to fewer than 2,500.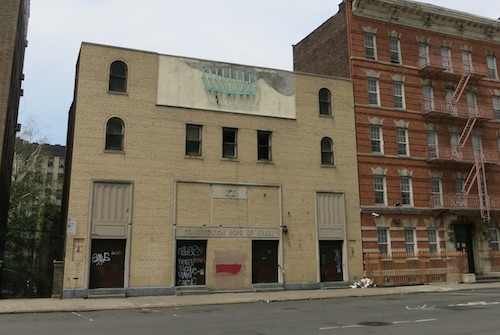 I approached the western entrance to the park, and the appealing vistas made me take several photos before I even went inside. But the rocky ground, the trees, the stone wall and steps, and the smell of rich earth full of life got me going. What can I say? It felt like a pretty grand entrance.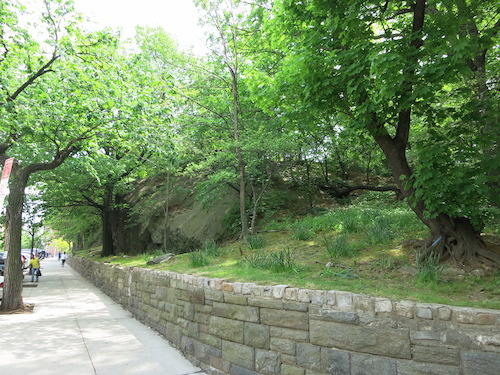 Historic, too. According to the Parks Department website: "During the Revolutionary War, George Washington, Count de Rochambeau, and their respective American and French military staffs, used a high rocky ridge at the site to monitor the movements of British troops camped alongside the Harlem River."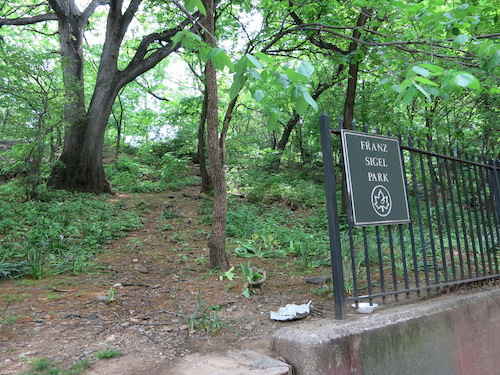 With a little imagination, you can picture Washington with a spyglass here.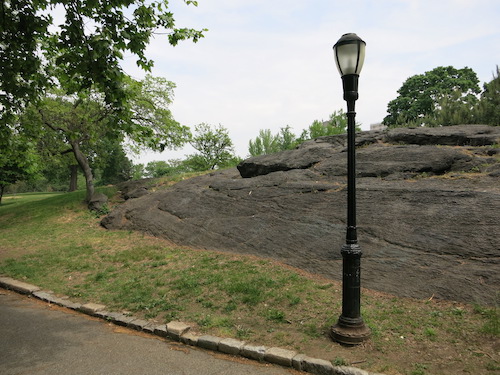 Franz Sigel Park's modest heights don't offer sublime views today, but at least you can get a feel for their strategic value.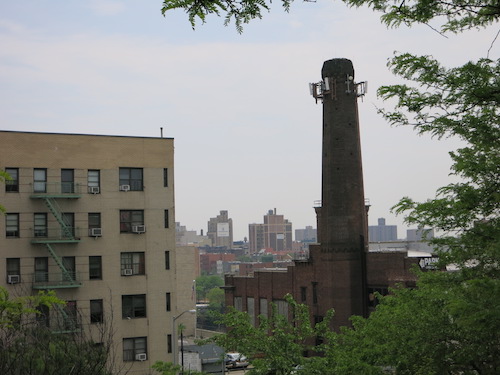 Troops on waiting-around duty would be more comfortable today: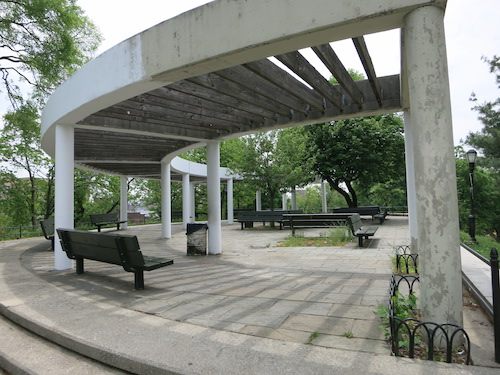 Franz Sigel made his name in a different war. I knew the name looked familiar, and sure enough, there he is in the second volume of Abraham Lincoln: A Life, Michael Burlingame's tremendous biography, which I recently finished reading (and I'm not ashamed to admit it took a very long time).
Major General Sigel had good and bad moments during his Civil War duties in the Midwest. Unfortunately, he didn't look good at Wilson's Creek. Fortunately, he helped to win at Pea Ridge and end the Confederate threat against Missouri. Unfortunately, during the Spring Offensive of 1864 he got bogged down in the Shenandoah Valley.
Sigel's commission had been partly political, as Lincoln had constantly to soothe and placate the German-American constituency that had contributed to his election victory. In the book Burlingame calls the German "hypersensitive" and adds that Lincoln "tolerated Sigel's behavior because the general was popular with his countrymen, who formed an important voting bloc."
Sigel established himself in the U.S. after the German revolution of 1848. In 1852 he settled in New York City where he taught in public and German schools, joined the 5th New York Militia, and wrote, much like his fellow park commemoratee John Mullaly, for the newspapers, in Sigel's case the New York Times and the New Yorker Staats-Zeitung.
Over at Joyce Kilmer Park, I'd just seen the Lorelei Fountain, another mark of the German immigrant presence in The Bronx.
I've also learned that across the river, over on Riverside Drive in Manhattan, an equestrian statue by Karl Bitter (who was not German but Austrian) honors Sigel's contributions in the Civil War.
Towards the south end, near where the ballfields were added in the 1960s, Franz Sigel Park is bright and welcoming.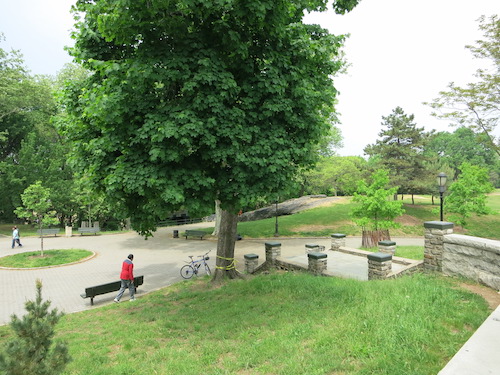 By contrast, an abandoned structure near the park's west side – an erstwhile bathroom facility? – looks like just the place for a mugging.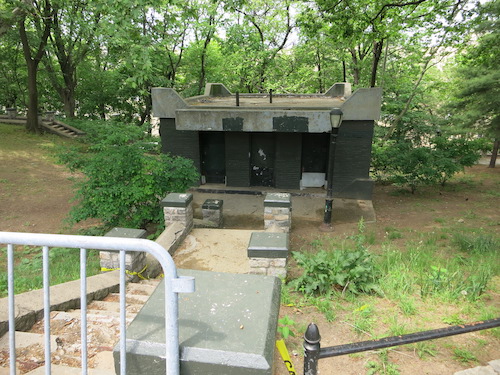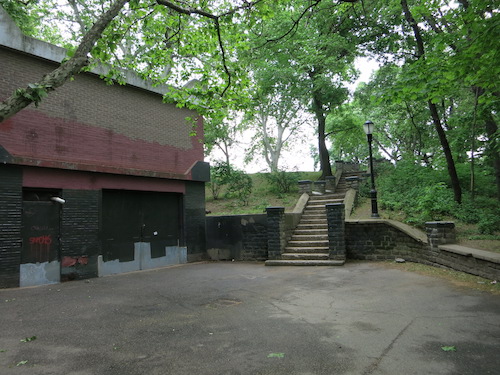 Here's one of the most common types of tree found in NYC, a London plane tree (Robert Moses loved to plant these), in a shape I've never before seen one stretch to.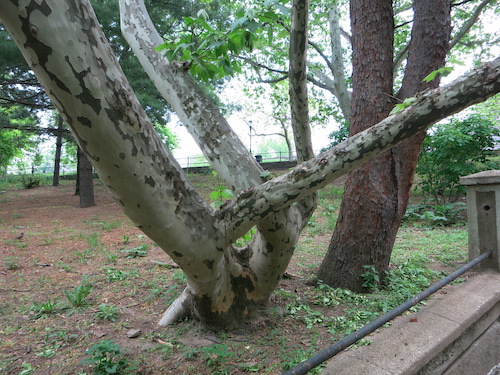 On the way out, headed for the final leg of my Bronx parks excursion that day, I couldn't help capturing this composition of lamppost, tree, flowering bushes, and wall. Then it was on to Railroad Park.