I walk down to Washington Square Park frequently and often hear very good music there in the open air, especially jazz. Sadly, sometimes a loud drummer accompanying a dance or acrobatic act ruins the whole park's aural atmosphere for everyone else. It was not so late yesterday afternoon, when I heard an unusual variety of music.
This act included a bass banjo, or banjo bass (take your pick). Outdoors and with no amplification, the instrument was barely audible, but it sure made a visual statement as Coyote and Crow played "House of the Rising Son." Here they are doing an original.
There are a few different pianists who wheel full-sized pianos, even grand pianos, out to the park to entertain the crowds on nice days. There's also the Sing for Hope piano project, which sets out "brightly colored" pianos at outdoor locales around the city. This piano isn't "brightly colored." But people were taking turns playing it, and I got to hear this gentleman playing Schubert's Impromptu in A-flat minor, one of my all-time favorite pieces to play when I was a piano student (and still today, once in a great while).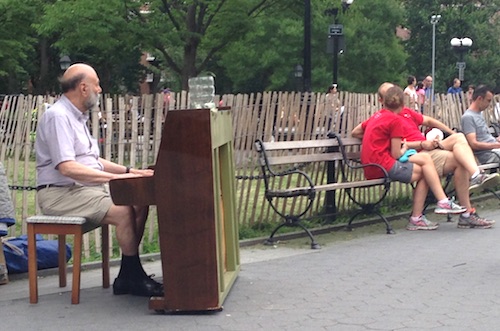 There's a long tradition of guitar "circles" in the park where ad hoc groups of players and singers gather to play favorite songs, usually classic rock and folk. I've taken part myself now and then. This gang was pushing out Dire Straits' "Sultans of Swing" as I swung by.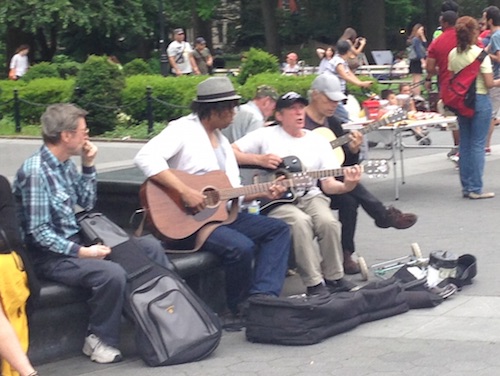 So it was a good day for music in Washington Square Park. As the sound of a lone sax player piping under the arch caught my ear, the visual music of a tableau of flowers with one of NYC's iconic brass water fountains caught my eye. The water of life.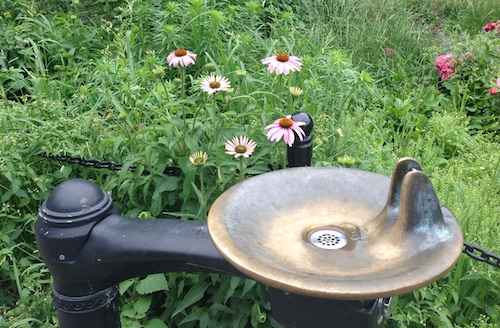 Come to think of it, that's almost a Dire Straits song too: "Water of Love," one of my favorites, from their first album.
Finally, this seems a good spot for one of the best Washington Square Park images I ever captured, from September 2013.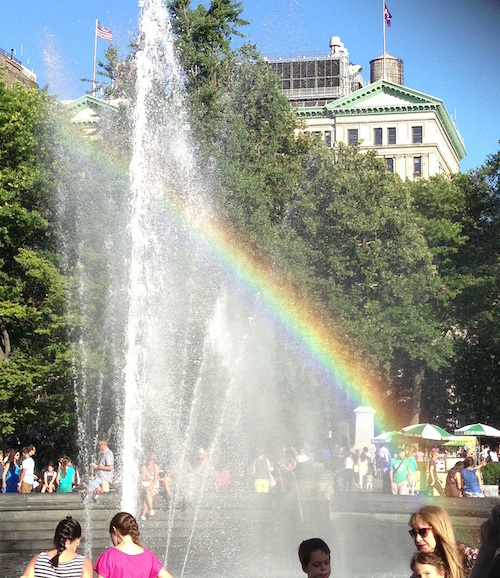 Talk about serendipity.
I mean, talk about consummate skill and artistic vision.