A day in the life of a parks blogger:
Quietly, almost without telling anyone, a big new park opened just last fall on the waterfront in Sunset Park, Brooklyn. Absent the kind of fanfare (and controversies) that accompanied the High Line and Brooklyn Bridge Park – the brightest new stars in the firmament of New York City parks – Bush Terminal Park began welcoming visitors a few months ago, after a decade of planning.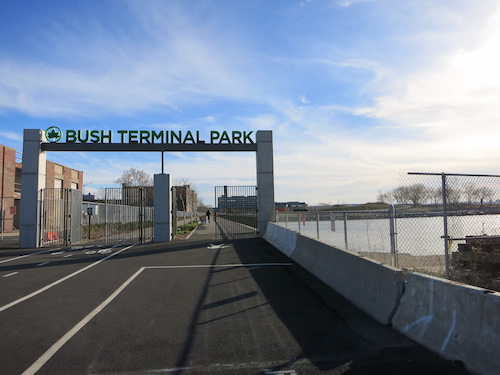 It happened on the eve of a cold and seemingly interminable winter, during which, naturally, hardly anyone was thinking about parks. I was, of course. But I hadn't heard the news about Bush Terminal Park, also known as Bush Terminal Piers Park.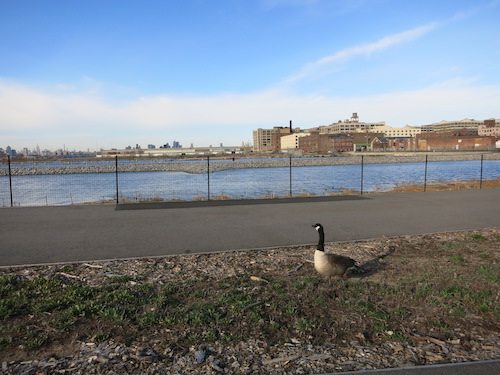 Fast-forward to last Friday morning. We've got the TV news on, and an item appeared on NY1's "Community Calendar" about an event at Bush Terminal Park in Brooklyn. I did a literal double take: There was a park in Brooklyn I'd never heard of? A park big enough to have an event in? Maybe it was a typo – maybe it wasn't a park, but a misprint for "Bush Terminal Armory," or "Bush Terminal Market," or "Bush Terminal Moraine." Or maybe it was a park, but in Brooklyn, Missouri.
As it turns out, Bush Terminal Park is very real and definitely in Brooklyn. I headed there that very same day, as the sunny afternoon faded into evening and a blustery wind made the upper-50s temperatures feel brisk.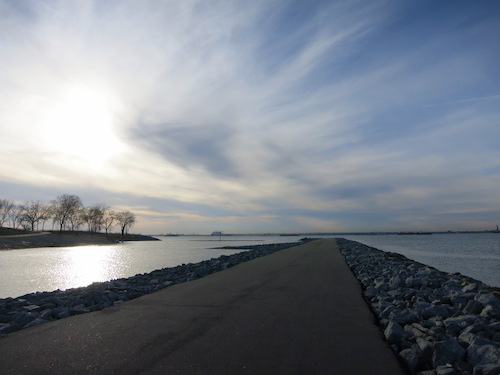 The new park was built on a former brownfield site, which means it was contaminated by hazardous or toxic substances ("oils, oil sludges, and wastewaters" according to Wikipedia). The former Piers 1-4 now hosts restored tide ponds and beautiful blue water. Everything looks and smells nice. Still, the grassy rises near the water made me think about what might lie, or have lain, beneath.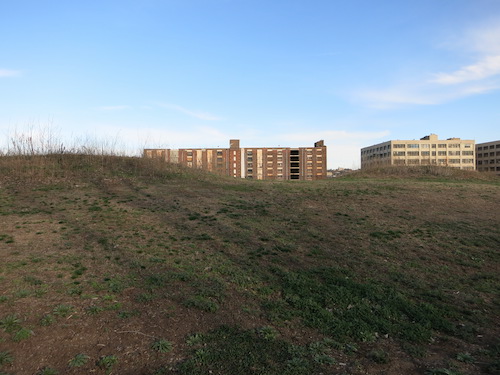 Athletic fields take up big chunks of the park's 22 acres, but they're closed off and separate from the waterfront areas.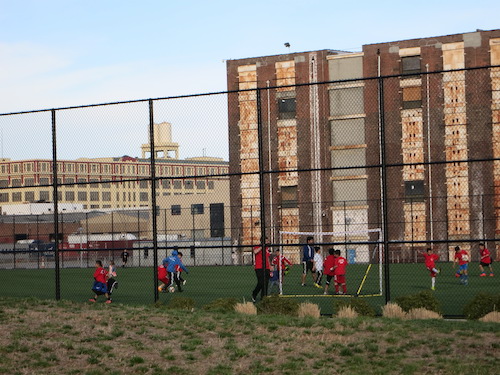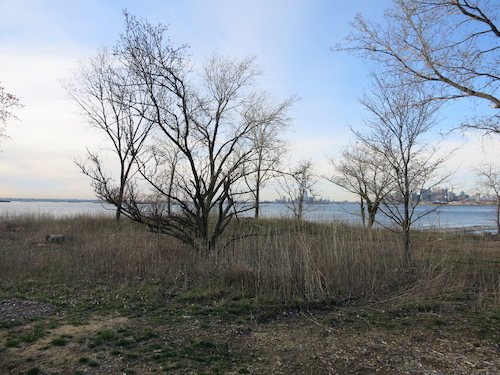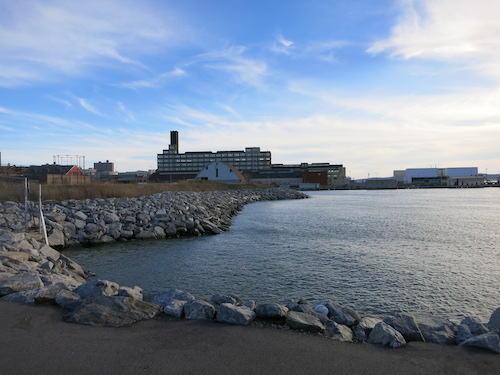 I wasn't surprised to see geese and ducks. In the next image, the strip of earth covered with netting is part of the fenced-off "Protected Natural Area No Access" – a part, I guess, of what the Parks Department website refers to as "a nature preserve that allows a fun glimpse into Brooklyn's wild side." Which is, as things look now, really pushing the point. But nature will take time to take its course!

I did hear and see some unexpected wildlife here, two kinds of non-urban-typical birds. One songbird flew into a high tree before I could get a good look or a photo, but these black birds were less shy, though hard for me to identify in this faraway image. Might they be rusty blackbirds?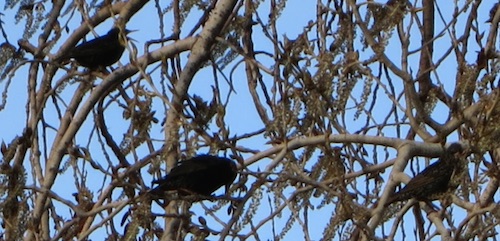 One thing I didn't expect, after looking at the site on a map, was this great view of the Lower Manhattan and Jersey City skylines.

Another skyline view, from the south end of the park, takes in a small fraction of the enormous quantity of grey rocks that were employed in the construction and landscaping of the park. I'd be interested to know where they came from.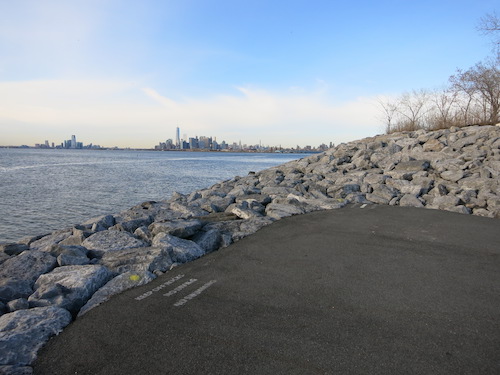 So what's Bush Terminal, and who was Bush?
Irving T. Bush began freight and warehousing operations here in 1895. After some struggles, his Bush Terminal Company became very successful. Wikipedia has a good history on its page about Industry City, the modern name for what the complex has become. The company headquarters, complete with a statue of Bush, still stands, just outside the entrance to the park.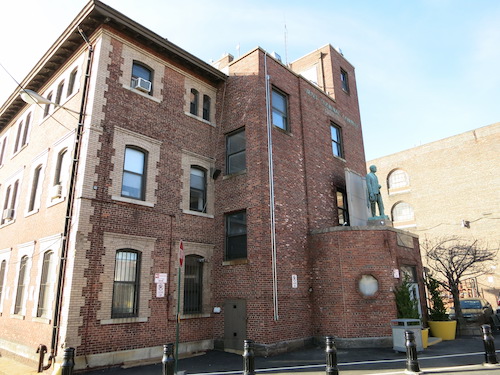 Though today Industry City is noted for artists' studios and modern businesses,
I gather from the Trainweb website that the modern-day New York Cross Harbor Railroad still floats goods, including steel and biosolids (fertilizer made from treated sewage), on rail cars between Brooklyn and New Jersey.
I habitually looked both ways before crossing these disused tracks. The local stray cats take no such cautions.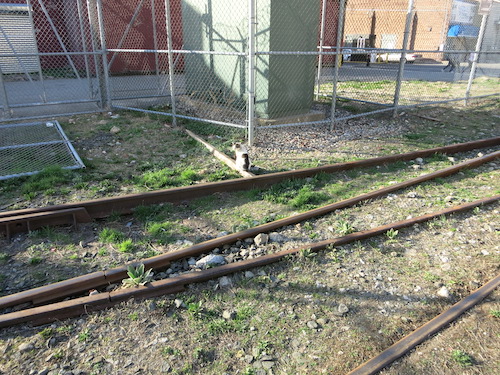 Not everything here has been preserved or refurbished.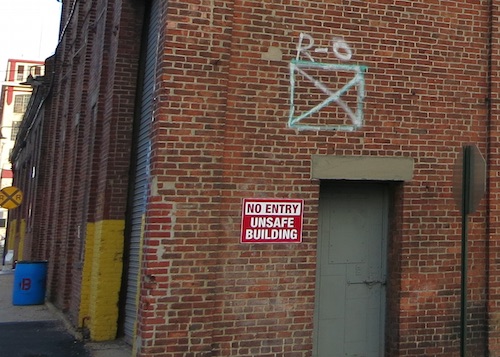 But after seeing all the businesses closing up shop for the day, I didn't need Prosperity Noodle, way back up on Fourth Avenue, to tell me there's a lot more going on in Sunset Park in 2015 than Sunset Park.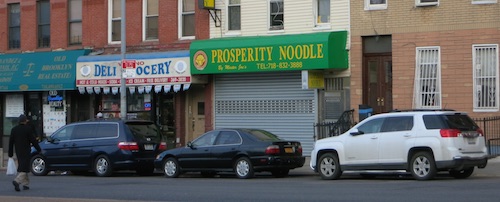 One of the best things about my quest to visit every park in New York City is the history I uncover as a by-product, including recent history. If Bush Terminal Park had not come into being, nobody who doesn't work in the Industry City area would pass by this firefighters' memorial.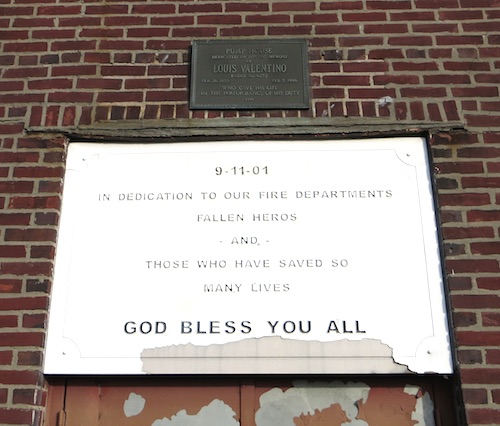 The editor in me feels they deserved a possessive apostrophe and a correct spelling of "heroes." But the explorer in me is glad to know that it's here – along with all the rest of the history of Bush Terminal, which in its heyday had thousands of employees, its own police force and fire department, two power plants, restaurants, a bank, a trolley for commuting workers, and a longshoremen's hall. (I wonder what the longshoremen did in their hall. Did they drink mead?)
Don't be fooled by looking at a Google map: the only entrance to Bush Terminal Park is via 43rd Street. Take the R train to 45th or the N to 36th and walk west through the extremely un-park-like industrial district separating the neighborhood's commercial area from the waterfront and the new park. Enter through a gate that looks like it might be private, but isn't (you can tell from the bike-path markings).
In closing, here's a pump by the building with the fire department memorial. I have nothing to say about it. It just looks cool.