The Queens neighborhood of Woodside makes good use of its traffic triangles where streets cross at oblique angles. Several of these contain small memorial parks. Woodside Memorial Park and John Vincent Daniels Jr. Square honor war dead, and John Downing Park memorializes a firefighter.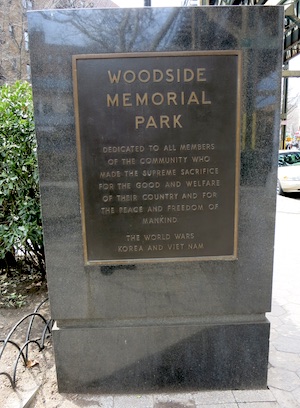 Woodside Memorial Park, also called Woodside Plaza, is a general war memorial honoring local residents who died in World Wars I and II, Korea, and Viet Nam. Its notable features are its blocks of schist which, unlike most such rocky New York City outcrops, are trimmed like hedges to fit in the sculptured landscaping. It's a weird effect.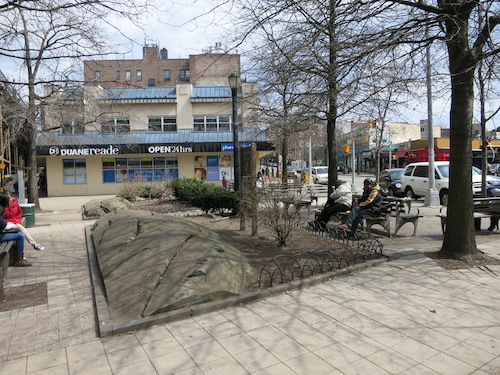 I don't imagine the water fountain gets much use. I always take note of these, though, because I'm glad they still exist amid the enormous bottled water scam that's bamboozled our whole misguided nation.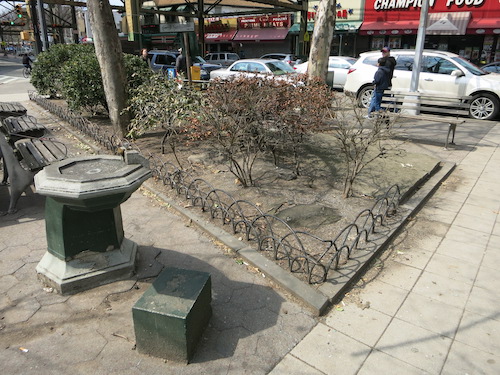 One stop away on the #7 train you'll find John Vincent Daniels Jr. Square and John Downing Park. Daniels was a Woodside resident who died near the end of World War I. His triangle is a relatively large one, large enough for its own page on the Parks Department website, and his memorial is a relatively new one, which is clear from its mention of "World War I." Most such memorials around the city refer to the Great War. Who in the 1920s imagined that after the horrors of the "war to end all wars" another such conflict could ever happen?
The Board of Alderman named the site in 1933, "to pay tribute to a son of Queens County who made the supreme sacrifice in the World War."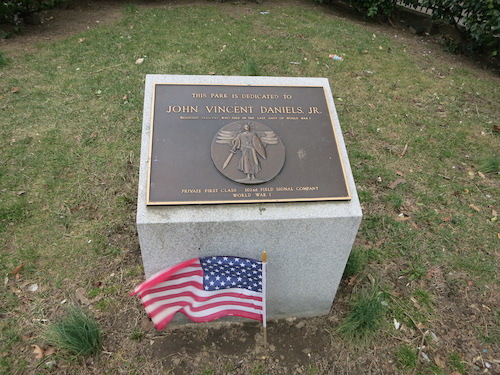 We have Maurice E. Connolly, Queens Borough President from 1911 to 1928, to thank for the parcel's initial development as a park. Connolly was later convicted for his part in a sewer graft scandal, despite being represented by Max Steuer of Triangle Shirtwaist Fire fame. Do ill-begotten sewers run underneath John Vincent Daniels Jr. Square (which is, in fact, a triangle)? Maybe. But the upshot, a nice little park, is nicer to think about.
The much smaller triangle of John Downing Park honors Firefighter John Downing, who died in the line of duty on June 17, 2001.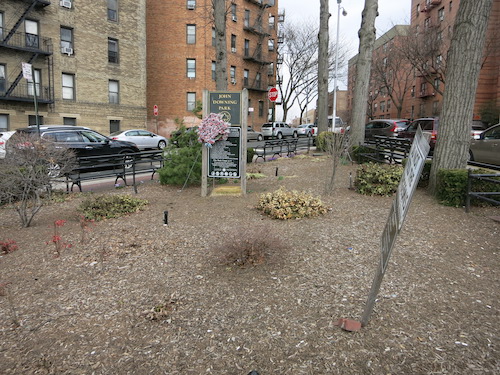 This park is so small the benches are on the outside. But no park is too small to show signs of spring.