Exploring Alley Pond Park last summer, I came upon the historic old Vanderbilt Motor Parkway, also known as the Long Island Motor Parkway. According to the Parks Department, this 48-mile road was America's first limited-access all-elevated road for cars. Built for racing and leisure in 1908 by William K. Vanderbilt Jr. (Cornelius Vanderbilt's great-grandson), it ran from Queens to Suffolk County. A surviving section in Queens has been lovingly turned into a biking and walking path that runs for two and a half miles between Alley Pond Park and Cunningham Park.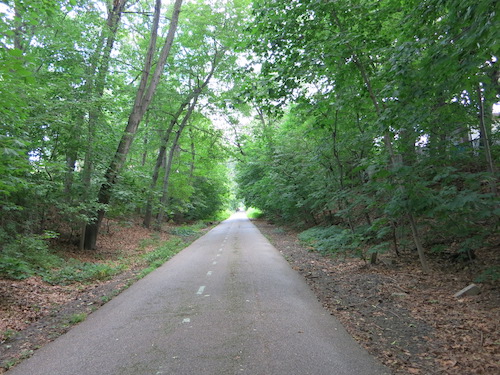 The parkway itself is a mostly flat, featureless straightaway. Two things make it remarkable. First, its history of innovative roadbuilding, racing and rumrunning, and the continued existence, albeit transformed, of sections of this roadway from another time. Second, the heavy vegetation that has grown up along both sides since the toll road was shut down in 1938, which give it the atmosphere of a country road right here in Queens.
The strip between the modern pavement and the leaves looks like the original roadbed.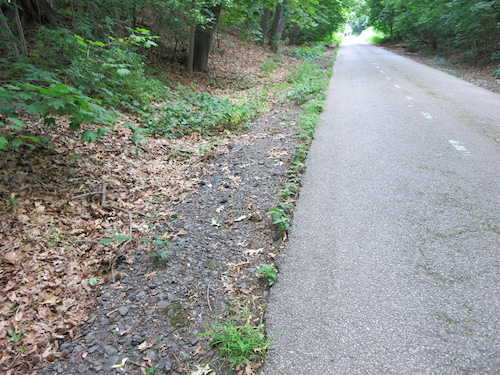 Some of the original roadside posts remain, too.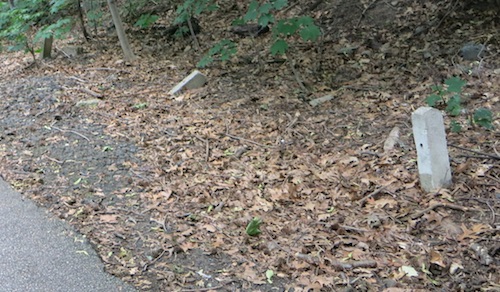 Here's the entrance from the eastern end, in Alley Pond Park.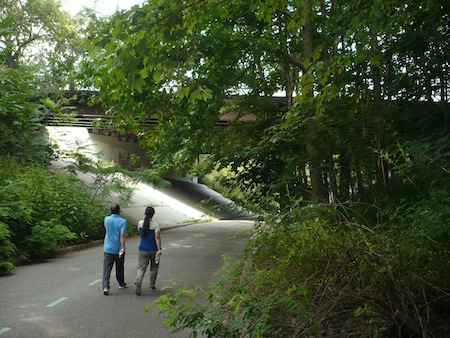 Back in Cunningham Park, there wasn't much action when we visited, though evening concerts, movies, and Shakespeare are all on the schedule.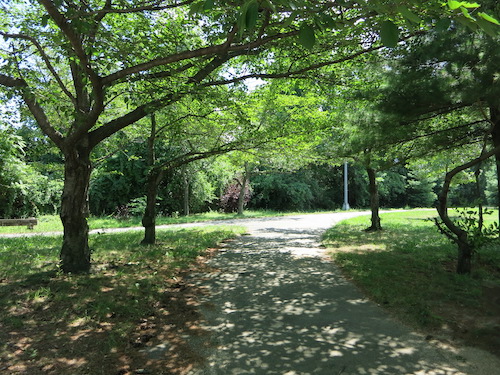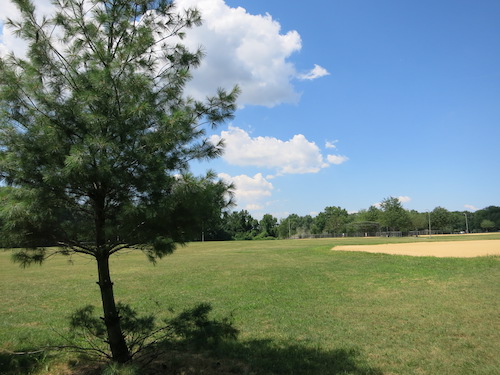 The Clearview Expressway bisects the park north to south. You can walk from one side to the other through an underpass.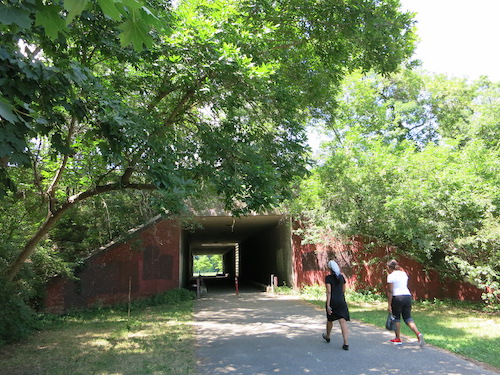 Some nice woodsy paths wind about.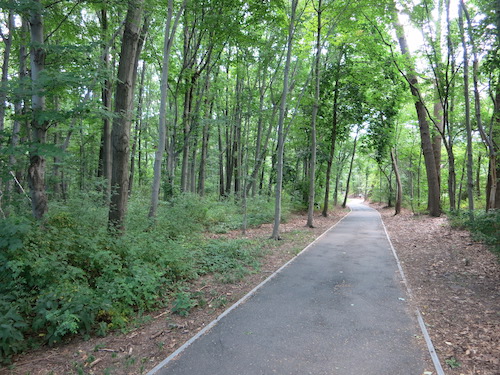 The Parks Department website notes that the British soldiers who occupied New York during the Revolution clear-cut the area's forests for firewood, so you won't find many fat trunks around here. The vines are back, though, happy to get a hold on younger trees.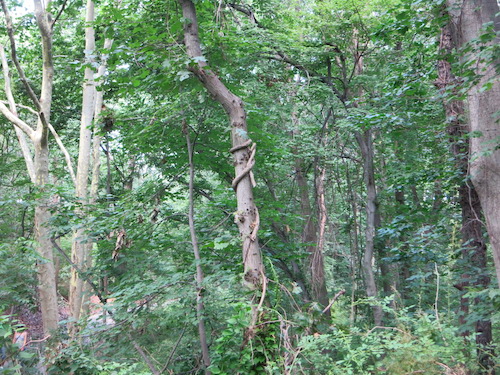 When I see a dirt path through the woods I instinctively want to follow it. It's the way some people feel about the smell of bacon. According to the Friends of Cunningham Park, "more than two-thirds of the park remains undeveloped natural land lush with greenery and wildlife." But experience with marauding mosquitos has taught me caution around the unmaintained trails of New York City's large outer-borough parks.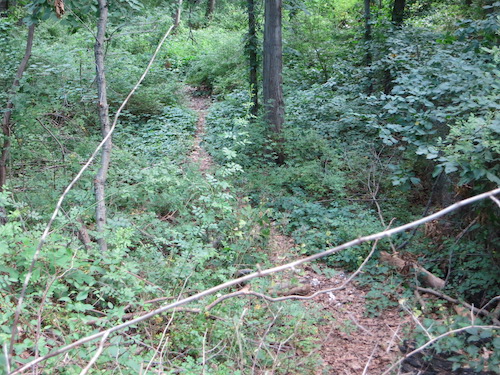 The city began to acquire the land that would become Cunningham Park in 1928.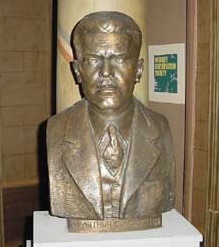 Originally called Hillside Park, it was renamed in 1934 for W. Arthur Cunningham, a lawyer and World War One veteran who was elected City Comptroller under Mayor Fiorello LaGuardia in 1933, only to perish of a heart attack while horseback riding on Long Island the following year.
Sculptor Emil Sieburn was already at work on this bronze bust of the rising political star at the time of Cunningham's death. It was dedicated in 1941. But when vandals cut off one of its ears, Cunningham's widow was so upset that she asked that the repaired statue not be put back in the park. It has been kept safely indoors since the 1940s.
And so we take our leave of Cunningham Park, but with one burning question on our minds: Where's Cunningham's ear?