Like a giant utility belt that's just not that useful anymore, Liggett Hall bisects Governor's Island almost all the way across. The story goes that the municipal government was considering turning the island into a commercial airport, so in 1929 the army built Liggett Hall to cut the island in half and eliminate any possibility of a landing strip.
In any case, it sure is a long building – said to have been the longest in the world at the time, and designed by McKim, Mead, and White, architects of the Morgan Library, the Boston Public Library, the original Penn Station, and many other famous edifices.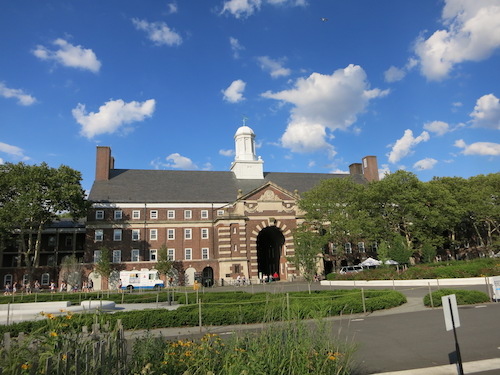 West of Liggett Hall lies Liggett Terrace, newly swirled with paths through beds of greenery and flowers; fountains that, perversely, weren't active on the crazy-hot day we visited; and a hedge maze with "hidden" sprinklers (also inactive).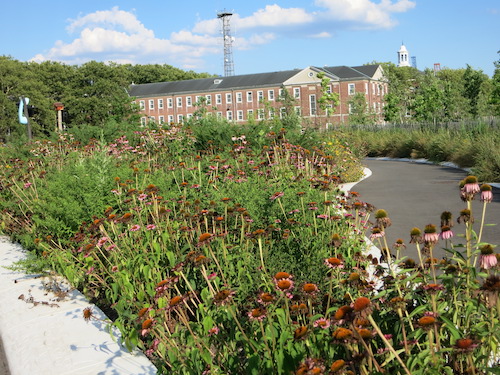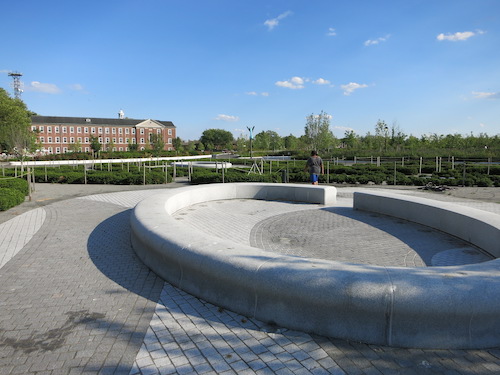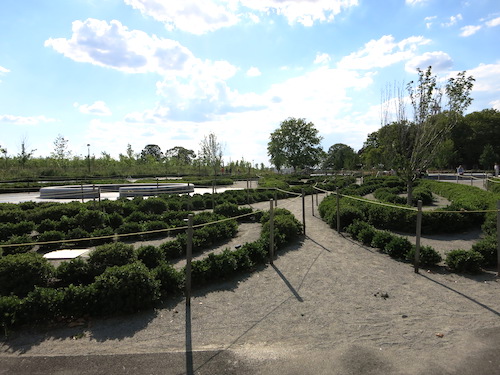 Continue southwest down the narrower part of the island and you come to another new feature, Hammock Grove, named for Lt. Col. Edmund C. Hammock, a hero of the U.S. First Army during the Third War of Attrition.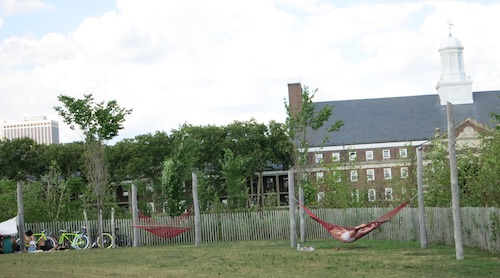 Sorry, I'm getting word that's not correct. It's called Hammock Grove because it has, well, hammocks. Fifty of them.
I've never had much success with hammocks. When I get into one, it usually tosses me out onto the ground. So I was content to walk through the grove and merely observe the hammock-hangers-on wherever they appeared.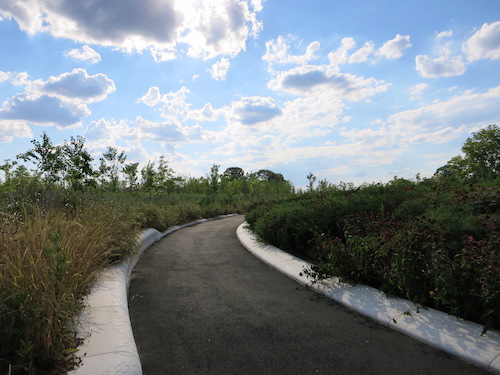 At the far end of the grove you get a view of The Hills. Scheduled for completion in 2016, these four man-made hills made of recycled construction and fill material will "tower" 25 to 70 feet above sea level. From the tallest you'll get a "360-degree panorama of the Statue of Liberty, New York Harbor and the Lower Manhattan skyline," promises the "Future" page of the Governor's Island website.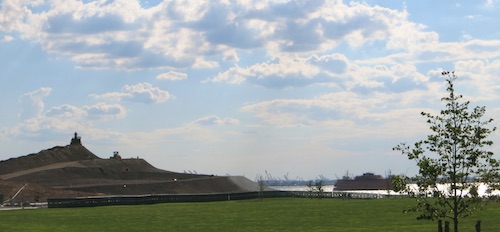 I like the whole idea of creating artificial hills on top of an already artificial land mass. This whole end of the island was created during the construction of the New York City subway system. Four centuries ago the Dutch found an island half this size. With no hills.